Justin Sander: "I Want to Go as Far as I Can—To the Top"
April 30, 2012

It may sound cliché, but if you're a young person in rural Saskatchewan without an interest in strapping on a pair of skates and taking to the ice, then you're probably going to find yourself with more than a bit of time on your hands.
As it turned out, this was the case for Luseland's Justin Sander.
Aside from the fact that Sander has never been too comfortable on skates, the 21-year-old Saskatchewanian insisted that he is far more interested in individual sports than team activities like, say, hockey.
"You get in there and if you [sic] up, it's on you—everything is on you," Sander said. " ... If I'm going to bust my ass—day in and day out—I don't want to rely on anybody else.
"I want my hard work to show; I don't want to hide behind anyone else—I want what I do to show."
Perhaps naturally, then, Sander became involved with mixed martial arts a few years ago.
"I like the purity of MMA," Sander noted. " ... It's you versus the other guy—a battle of wills."
After Sander began training at Gorilla Factory Grappling in Wilkie, he attended a seminar at Complete Martial Arts and Fitness in Regina—Saskatchewan's capital city—and then decided to relocate to the Queen City to make a serious run in the world of mixed martial arts about two years ago.
"There are tonnes of good guys here—you've got guys like Miles [Anstead], you've got guys like Paul [Grebinski]—there are a lot of good guys training here," Sander offered. "So I thought that this is where I need to be if I want to go far ... They kicked my ass, so I knew that this is where I had to be."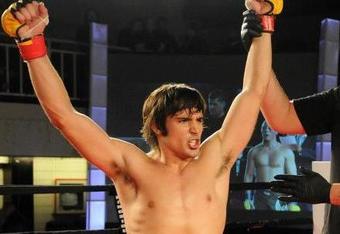 "Justin specifically moved to Regina to come and train with me to make himself an MMA fighter, and he's on the right path to doing that," added Scales, a Brazilian jiu-jitsu black belt under the famed Nova Uniao banner who is also an undefeated amateur mixed martial artist. "He's determined to be a mixed martial artist, and that's exactly what he's doing."
Although Sander won his first match—an impressive first-round TKO victory on the Saturday Night Fights 4 card in December—the young mixed martial artist is hoping that the best is yet to come.
"In this sport, I want to go as far as I can—to the top," said Sander, who is to return to action at Saturday Night Fights 5 in Regina on Saturday. "I want to fight professionally [and] I want to fight for a big promotion. I don't know where, but somewhere big."
"He moved to Regina to be a mixed martial artist, and that's exactly what he's going to become," Scales added. "He's going to get everything that he can possibly get from this sport. If that means becoming a professional MMA fighter where he can live off of it, he will do that."
Ed Kapp is a contributor for Bleacher Report. All quotations were obtained firsthand.