Arsenal News: Abou Diaby Injured Again
April 29, 2012

Chris Brunskill/Getty Images
After a dribbling run on the left flank in the final minute of added time in Arsenal's 1-1 draw with Stoke City at the Britannia Stadium, Abou Diaby pulled up as though injured. And indeed he appeared to be limping afterwards.
The following tweets supported this observation.

On Sunday, Mirror Football reported this:
"Diaby suffered a thigh strain when he came on at Stoke and the Arsenal midfielder could be forced out of action for several weeks."
This confirms the injury, although how severe it is or how long the injury could sideline Diaby is purely speculative.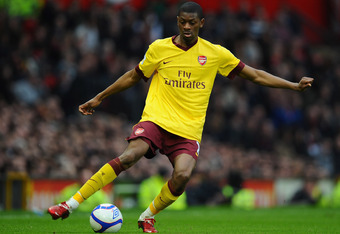 Clive Mason/Getty Images
Mirror Football does add this:
"Diaby has told friends in France that he is worried by how serious his latest injury setback is and he is being assessed by Arsenal's medical team."
The concern, according to Mirror Football, is that Diaby might miss Euro 2012. My reaction is that Euro 2012 is the least of Diaby's problems.
As I see it, Diaby is at the point where even Arsene Wenger's patience and perseverance in the face of the gifted midfielder's injury history might be coming to an end. After all, retaining him on the Arsenal roster isn't without financial obligation.
The promise still latent in the midfielder cannot be realized if he is unable to overcome his latest setback. This latest return has been steeped in the promise of his gift, in the dimension he could add to the Arsenal midfield.
But the attempts—as the present regress shows—have been beset by frustrations like his injury at Liverpool on March 3, after he came on for the injured Mikel Arteta in the 53rd minute. He had to give way to Alex Oxlade-Chamberlain in the 80th minute after pulling a hamstring.
That was his second attempt at a return from his long-term injury this season after he made a brief appearance in the Champions League in Arsenal's 2-1 victory over Borussia Dortmund at the Emirates.
It was a return that was quickly attended by a setback, a setback that prompted Diaby to seek the help of specialists around the world.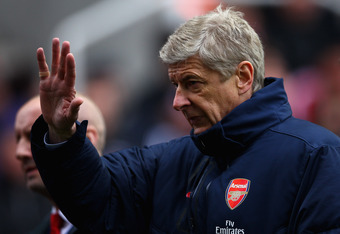 Clive Brunskill/Getty Images
Abou Diaby explains why his injury—the genesis of which dates back to his first season at Arsenal, when he sustained a severe ankle injury from a tackle by Sunderland's defender, Dan Smith—keeps returning:
I have had three operations on my ankle, all for different problems but the result of that was that my body is unbalanced, especially in my legs. 
I have overused one over the other and to put everything back in place is not easy.

I get injured. It's a fact but when people tell you you're fragile, it hurts. Today my ankle is twice as big because of the surgery. 

My problem is a biomechanical problem. I need to work daily on how to
 rebalance my body.
He has insisted that this injury isn't the end of his career. Indeed, sympathetic observers like myself wish that this is so. 
It'd be a shame to see the career of such a gifted player washed down the drain in this manner. And so one hopes that this latest setback is mere blip, not the final stroke that ends Diaby's career.
As to the Euros, Diaby should concentrate on salvaging his long-term career than on playing in a one-month tournament, a rush that could prove costly and damaging in the long term.
Besides, missing the Euros would be worth it in the light of a long-term return, especially since the World Cup is just two years away, a competition in which he'd be eligible to play if he can shake this latest setback.