Hopkins vs. Dawson: Time for the Executioner to Hang Up the Gloves
April 29, 2012

Al Bello/Getty Images
The time has come for Bernard Hopkins to retire.
I never like to tell a champion and a legend when to step away—and I'm sure he wouldn't listen, anyway—but there's simply no reason for Hopkins to continue fighting.
After losing The Ring and WBC light heavyweight titles to his new nemesis Chad Dawson, there's nothing left for B-Hop to accomplish. He's already one of the top three or four middleweights to ever lace up the gloves. He's defended a world middleweight title a record 20 times. He's beaten some of the best fighters in history, like Felix Trinidad, Oscar De La Hoya, Antonio Tarver and Roy Jones Jr. And at 46 years old, he became the oldest man to ever win a major world title.
Now, it's time for boxing's elder statesman to call it quits.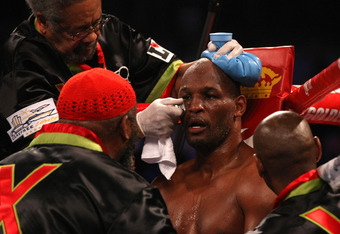 Al Bello/Getty Images
Hopkins was unimpressive in his rematch against Dawson, losing 117-111, 117-111, 114-114. He only landed 106 of his 400 punches and 82 of 276 power punches. He never staggered Dawson, and although he appeared to have the superior conditioning, he was on his heels the entire fight.
It was his third winless fight in four bouts and his 13th straight fight without a knockout. In fact, the man known as The Executioner hasn't actually executed a knockout since he ruined De La Hoya back in September, 2004.
Judging by his post-fight comments, Hopkins isn't ready to hang up the gloves. And although he's correct in saying that there's a lot of fighters he can still beat, he simply has nothing to gain at this point.
He looked decent on Saturday, but he can't maintain his skills forever. Eventually—and probably sooner rather than later—it's just going to be sad to watch him stumble around the ring.
Please, Bernard, just walk away now. Because the longer you keep fighting, the memories of your greatness become more and more distant.