Baltimore Orioles Unveil Frank Robinson Statue as Part of Orioles Legend Series
April 29, 2012

Mitchell Layton/Getty Images
The Baltimore Orioles kicked off their Orioles Legends Celebration Series yesterday by paying tribute to one of the all-time great outfielders, Frank Robinson.
Robinson was traded to the Baltimore Orioles before the 1966 season after spending a decade dominating the National League in Cincinnati.
Cincinnati felt that Robinson was getting older and thought it was better to move him rather than commit to him long term. At first, Robinson was not happy about the trade and didn't want to leave Cincinnati, where he won a Rookie of the Year award and one MVP, but he soon put those feelings of disdain behind him and went on to have one of the greatest seasons in American League history.
In 1966, Robinson won the Triple Crown, MVP and led the Orioles to their first World Series championship.
"When Frank got to this ball club the next year, he kind of glued all the pieces together. [Frank] did a tremendous job. It was wonderful," said Hank Aaron at yesterday's ceremony. 
Robinson played in Baltimore for five more seasons following 1966 and helped the Orioles win another championship in 1970. Despite playing more of his career in Cincinnati, Robinson entered the Hall of Fame as an Oriole.
"This is a very special place in my heart, Baltimore," said Robinson.
It is because of Robinson's contributions as an Oriole, who he also managed from 1988 through 1991, that the Orioles chose to honor him in their Orioles Legends Celebration Series.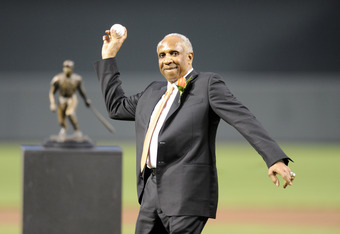 Mitchell Layton/Getty Images
The Orioles Legends Celebration Series is a series of six games this season in which Baltimore will honor the six men who entered the Hall of Fame as Orioles by unveiling bronze statues of each famous Oriole.
The first of the Orioles legends to be honored was Robinson, and he compared yesterday's ceremony to when he entered the Hall of Fame.
"Since this is going to be a lifetime thing, as far as the statue is concerned, it ranks right up there with the Hall of Fame," Robinson said. "It's a tremendous honor. I was very surprised how well it came out. I was really taken aback."
The next Orioles legend to be honored is Hall of Fame third baseman Brooks Robinson on May 12.