MLB Trade Scenarios: 5 Red Sox-Phillies Deals to Fix Both Teams' Huge Issues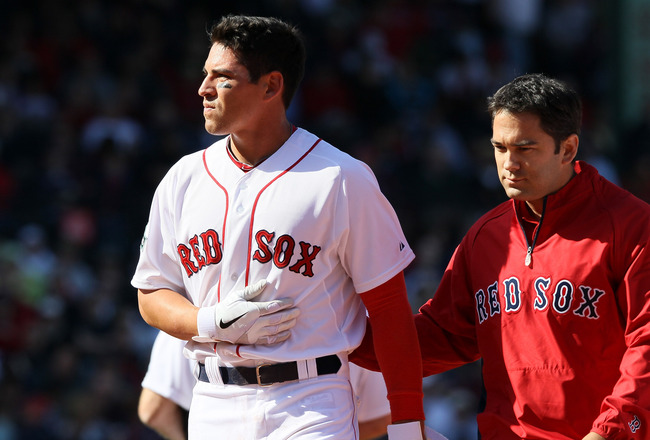 Elsa/Getty Images
Neither the Boston Red Sox nor the Philadelphia Phillies have gotten off to great starts to the 2012 season, both very close to the .500 mark.
Injuries have really played a huge role on each team with Jacoby Ellsbury and Carl Crawford both out for an extended period of time for the Red Sox; the same for the Philies with Ryan Howard and Chase Utley.
Pitching has been the biggest question so far this year for the Red Sox since they have two new starters in Felix Doubront and Daniel Bard and also a lot of instability in the bullpen.
The Philadelphia offense has really struggled through April as well. The Phillies rank near the bottom of every offensive category, including runs, on-base percentage and slugging percentage.
Here are five possible trades between the two teams that would fix each team's huge issues.
Felix Doubront and Darnell McDonald for Vance Worley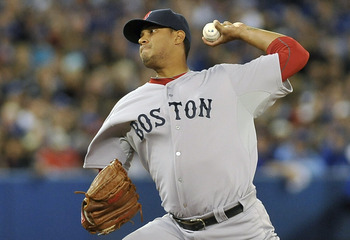 Brad White/Getty Images
Felix Doubront won a spot in the Boston starting rotation during spring training and has had limited success so far, going 1-0 in four starts with a 4.09 ERA, 22 strikeouts and 10 walks. He is definitely still developing and would be better off in the Philadelphia rotation rather than Boston's.
Darnell McDonald would be a throw-in to try and even up the trade a little more. He can play any outfield position and has slightly below average contact and power. He could later be used as a fourth or fifth outfielder, or be sent down to Triple-A until he's needed.
Vance Worley is still a young pitcher as well, but his recent success has really increased his trade value. He's 2-1 with a 2.16 ERA this season in four starts. He has a great strikeout-to-walk ratio at 27:9 and is definitely someone that Boston should look into pursuing, especially if Doubront and/or Daniel Bard don't pan out.
Scott Atchison for Jose Contreras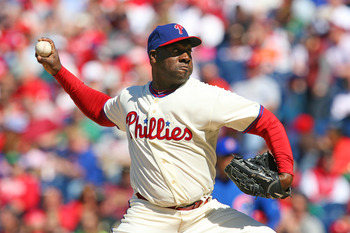 Hunter Martin/Getty Images
Both the Red Sox and Phillies lack depth in their bullpen, and this deal could revamp each team's staff of relievers.
Scott Atchison is one of the most worked pitchers on the Red Sox, appearing in eight games and 11.2 innings this season. He's usually a very average reliever but has been above average this year with a 2.31 ERA, 11 strikeouts and only two walks. He could provide value to Philadelphia's bullpen with the ability to pitch in a variety of situations.
Jose Contreras is an old starter-turned-reliever who is used in the late innings by the Phillies. He's allowed three runs on four hits in 3.2 innings of work this season but is durable enough to withstand a few innings each night. Since Boston's relievers haven't been going as deep, they could benefit from Contreras' durability.
Lars Anderson for Jake Diekman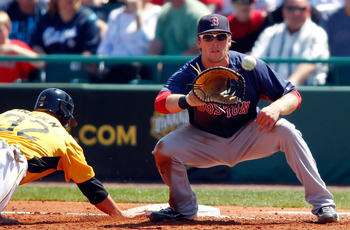 J. Meric/Getty Images
Lars Anderson was a good prospect over the last few years for the Red Sox; until they traded for and extended Adrian Gonzalez. Now, Anderson doesn't really have a long-term fit with the Red Sox as he goes from Triple-A to the majors sporadically and plays the outfield. He doesn't have a very high ceiling but could still be useful as a bench player for the Phillies with Ryan Howard injured.
Jake Diekman is a good reliever in Triple-A who could be major-league ready within the season. In eight appearances and 9.2 innings this season, Diekman has three saves with 14 strikeouts, one walk and an 0.93 ERA. If these numbers could translate to the majors, it would be a big upgrade to the Boston bullpen.
Marlon Byrd for Chad Qualls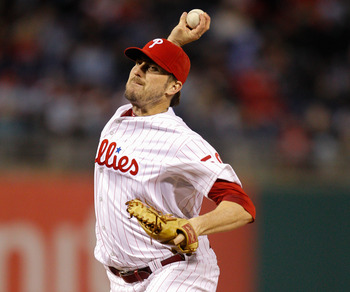 Brian Garfinkel/Getty Images
The questions in the Red Sox bullpen remain atop their priority list, and this trade would definitely benefit both teams.
Marlon Byrd, although recently acquired from the Chicago Cubs, is not a long-term fit with the Red Sox. He's a replacement due to an injuries by Carl Crawford and Jacoby Ellsbury. When they come back, he will most likely be out of a job. From there, Boston should deal him to the Phillies where he can play left field over John Mayberry, Jr.
Chad Qualls is a proven reliever who has had pretty good success this season in 7.2 innings over eight appearances. He currently is a late-game reliever for the Phillies, setting games up for former Red Sox closer Jonathan Papelbon, and would serve the same role for Boston. The Red Sox don't really have a setup man since Mark Melancon was awful and thus demoted.
Nick Punto for Ty Wigginton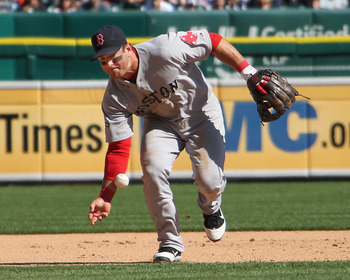 Dave Reginek/Getty Images
This trade would basically be a wash for both teams but serve as beneficial in the end.
Eventually, you would have to think Jose Iglesias gets called up from Triple-A and Nick Punto is left without a spot on the bench. Aviles and Iglesias would platoon at shortstop, and it would make sense for Punto to be traded. He doesn't have a lot of trade value but could serve as a veteran bench player on a playoff contender, as he did last season with the St. Louis Cardinals.
The same theory applies to Ty Wigginton. Once Ryan Howard is back, he probably is just another player coming off of the bench for the Phillies and since they also have Jim Thome, how many at-bats is Wigginton really going to get? I'm not implying that he would get a lot with the Red Sox, but at least Boston would get a possible outfielder in return as well.
Keep Reading

Boston Red Sox: Like this team?