NHL Playoffs 2012: Why It's Unfair to Compare Chris Kreider, Braden Holtby
April 29, 2012

Bruce Bennett/Getty Images
Washington Capitals goaltender Braden Holtby and New York Rangers forward Chris Kreider, two rookies whose Stanley Cup playoff breakouts were unfathomable when this month began, exchanged a formal introduction in Saturday's third period.
At the exact seven-minute mark, Kreider accepted a diagonal feed from Derek Stepan in neutral ice, strolled onto Washington property unbothered and slugged home a slapper from near the top of the circle.
That constituted Kreider's second goal in six career appearances with the Rangers, all in the postseason, and busted a 1-1 knot in Game 1 of the Eastern Conference semifinals.
Only one shift and 90 seconds later, Kreider won a battle along the boards and earned the primary assist as veteran Brad Richards smuggled an insurance tally behind Holtby. The resultant 3-1 Rangers' lead constituted the first multi-goal deficit Holtby has allowed in eight career playoff games and was ultimately the final score.
Translation: Kreider, only three weeks removed from a national championship with Boston College, had a hand in each of the two goals that punctured Holtby, six weeks removed from his only noteworthy call-up from Hershey this season.
If the tone-setting tilt is any indication for these rookies and their respective teams, Kreider is certainly on pace to have the better time this spring. But, at least as it stands right now, the two players' situations are too dissimilar to rate their playoff performances against one another.
Kreider is where he is because he had nothing left to prove at the college level in the wake of his junior year. He topped the BC Eagles' scoring chart and fueled the program to its second Frozen Four championship in three years, bagging his third Beanpot and third Hockey East pennant along the way.
With his size, strength and stature on the Rangers' prospects leaderboard, Kreider was bound to play his next game after the NCAA championship in New York attire.
The logical expectation was that he would wait until next season for that. But it just so happened that head coach John Tortorella found a spot for him as he signed his entry-level contract and joined in on the fly as the NHL playoffs commenced.
When Carl Hagelin was suspended for three games due to an illegal hit in Game 2 of the conference quarterfinals, Kreider seized his moment and has since stamped a permanent, active position with three points in six outings.
Kreider is in the 2012 NHL playoffs by choice. Holtby? Not so much.
In Washington, Holtby is playing an inherently more demanding situation and assumed his roster spot by default under desperate circumstances.
If anyone in the Capitals organization were asked at any point last month, they would say they would have preferred to have the seasoned Tomas Vokoun and Michal Neuvirth ready for postseason action.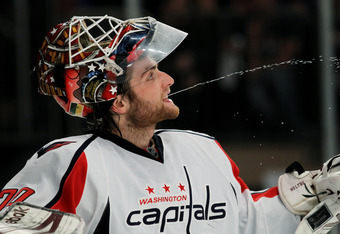 Bruce Bennett/Getty Images
In turn, Holtby would be furthering his development with the AHL's Hershey Bears, who incidentally were dislodged from the Calder Cup playoffs on Saturday with a loss to the Wilkes-Barre/Scranton Penguins.
But since neither Vokoun nor Neuvirth, who have combined for 20 career NHL playoff games, were healthy, the Caps resorted to Holtby, who had 21 career NHL games altogether leading up to his playoff debut.
In a conference quarterfinal that would be a seven-part arm-wrestling bout with Tim Thomas, the defending champion Boston Bruins rarely tested Holtby the way most would have expected. But the unripe stopper still had a task to undertake whenever the puck was in his vicinity and he ultimately blinked one time fewer than Thomas en route to a Game 7 overtime triumph.
The top-seeded Rangers appear to have taken every requisite lesson from the Bruins-Capitals highlights as well as their own near-elimination experience against the eighth-seeded Ottawa Senators. And in Game 1 of the second round, they made a lot out of a little by putting three out of a mere 14 shots on net behind Holtby.
Unless they can turn the tide within the next three to six games, the Caps will revert to old patterns and endure yet another first or second-round exit. And it will happen so soon after they made a helpful regime change behind the bench and gave the impression of peaking at the right time.
Although Neuvirth is no longer on the injured list and Vokoun is day-to-day, there is every reason to think head coach Dale Hunter will continue to lean on Holtby. The inevitable implication is that he is banking on the instant household name recovering from Saturday and bolstering Washington's long-awaited push into the Eastern Conference finals.
The Rangers, being the top dog in the conference, certainly have their own dignity to salvage. But they also have Marian Gaborik being looked upon to step up his performance and the likes of Richards, Stepan, Ryan Callahan, the entire blue line and Vezina-caliber goaltender Henrik Lundqvist looking to keep it up.
In turn, Kreider has less to lose from an individual standpoint. What he has done so far and whatever he does for the balance of the spring is whipped cream on top of his banner year at BC and on top of the Rangers' radiant roster.
Both parties have made their sound, pleasantly surprising first impressions in the conference quarterfinals and earned an opportunity to cross paths in the second round. But from here on out, any judgment Holtby and Kreider incur should not be a matchup within the matchup.