Manchester Derby 2012: 7 Things Which Will Decide the Champions of England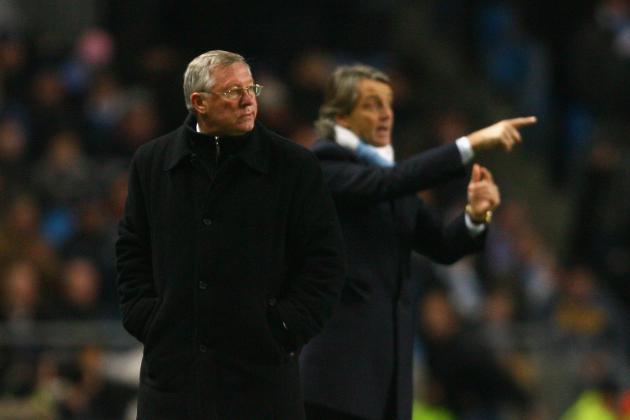 Alex Livesey/Getty Images

April 30th is a day which pundits and managers have had earmarked and kept ready. Even the wily man from Govan had acknowledged, that in one way or the other, points would be dropped and it would always boil down to this.
How it has.
Manchester United were, at one stage, five points behind. They had to grind out match after match to help themselves get an eight point lead, but which has now come down to three points. Both teams have finally reached the stage where the equation becomes frighteningly simple. A win at the Etihad Stadium for the Red Devils would almost certainly guarantee them a record breaking 20th Premier League title. A loss would put Manchester City in pole position which would only ensure that their owner would bank-roll another spending spree, keeping Europe in mind.
Vincent Kompany may have said the Manchester Derby is only second to El Clasico, but it is far greater than that. TV viewing is reported to be at an all-time high of 650-700 million viewers all around the world.
The power in Manchester hangs delicately in balance. The Premier League is well known to be a marathon and not a sprint, but this is the most important phase of it all. Read on to find out what will decide who will be champions.
Begin Slideshow

»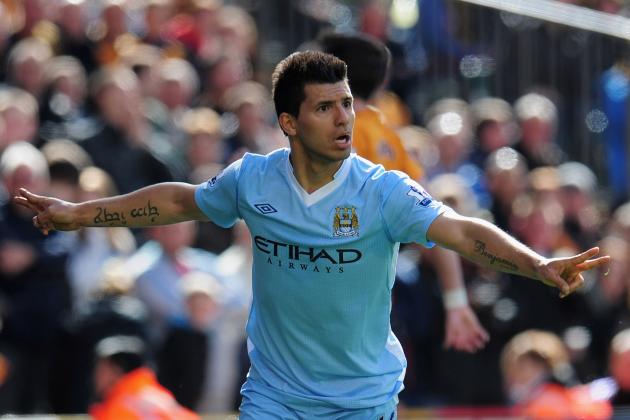 Shaun Botterill/Getty Images

Manchester United have won one, drawn one and lost one of their last three matches. The opponents were Aston Villa, Everton and Wigan Athletic. Neither them of them, it appears, are pushovers. Wigan Athletic just thumped Newcastle United 4-0 and Everton put four past Fulham on Saturday.
Manchester United have never been one to hide behind excuses, but they do know that the match will be far from easy. City on the other hand, defeated Wolverhampton who are now relegated, put six past Norwich City and beat West Bromwich Albion 4-0.
Of course, Manchester City possess the momentum, but as all derbies are known, form goes out of the window when it comes to derbies. Despite that, Manchester City are expected to be favorites in this encounter thanks to their Argentine strike-force of Carlos Tevez and Sergio Aguero and midfield steel comprising of Yaya Toure, Gareth Barry and David Silva.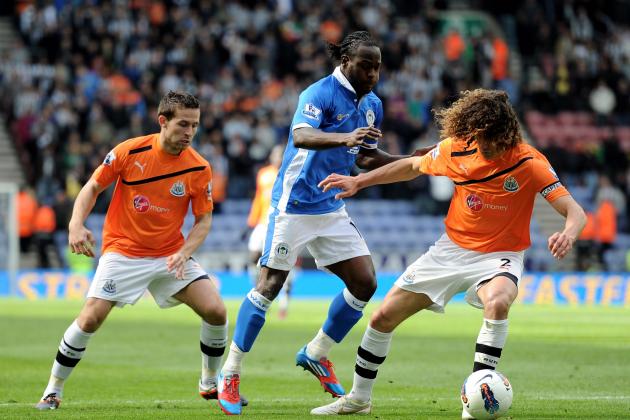 Michael Regan/Getty Images

This week in the Barclays Premier League has seen goals flying in from all corners. Wigan Athletic put four past Champions League hopefuls Newcastle United, Everton have done the same against Fulham, and the game against Swansea City and Wolverhampton Wanderers produced eight goals. But this encounter would be one where the team which makes fewer mistakes would end up winning.
The course in which the title would head would either be decided by a few goals, or perhaps one goal. Manchester City have the best home record in the league, and Manchester United have the best away record in the league. Manchester City have been playing like Champions-elect ever since recalling Carlos Tevez and Manchester United have added stability in midfield thanks to Paul Scholes.
It could not get any better than this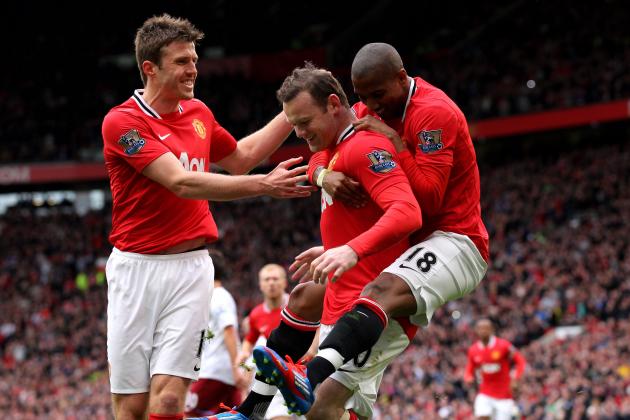 Alex Livesey/Getty Images

Manchester City will seek to overcrowd the midfield with Yaya Toure, Gareth Barry, Samir Nasri and David Silva, and let the Argentine duo Carlos Tevez and Sergio Aguero wreak havoc. Manchester United on the other hand, would put forward a 4-4-1-1, with Wayne Rooney playing Danny Welbeck with Chicharito coming in after an hour or so if there's no breakthrough in sight.
Antonio Valencia and Nani would hug the right and left touchlines, being pitted against Micah Richards who has made a comeback from injury, and Gael Clichy. United's advantage lies in playing the ball out wide to its wingers who have been a major source of space and chance creation. City will counter this by instructing its holding midfielders to double up on them whenever anyone gets the ball out wide.
Tactically its an interesting duel, leaving little margin of error. Manchester United's defense will be looking to plug any kind of holes in defense, perhaps selecting the same back four as they did against Everton, or may choose to replace Rafael with Chris Smalling. Whatever be their course of action, a promising duel awaits.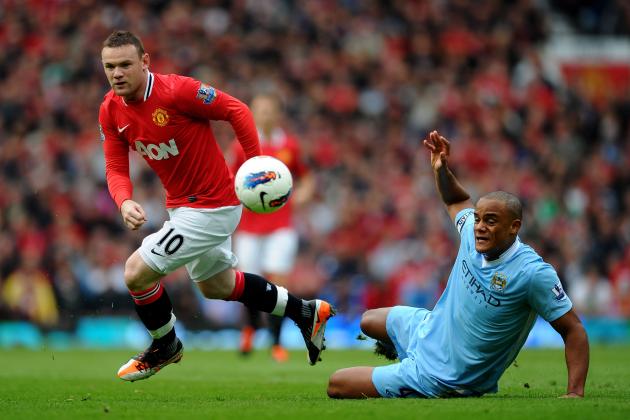 Laurence Griffiths/Getty Images

Wayne Rooney vs Vincent Kompany, David Silva vs Patrice Evra, Rafael/Smalling vs Nasri, Rio Ferdinand vs Carlos Tevez, Jonny Evans vs Sergio Aguero, Michael Carrick vs Yaya Toure.
The individual duels are endless.
There will, of course, also be the mind games which Roberto Mancini and Sir Alex Ferguson have been playing against each other. There is absolutely no shortage of drama, especially since Roberto Mancini has also decided to recall Mario Balotelli for the clash and also throw him into the fray. Man-for-man, City may seem to have the advantage, but football is a funny game where anything can happen.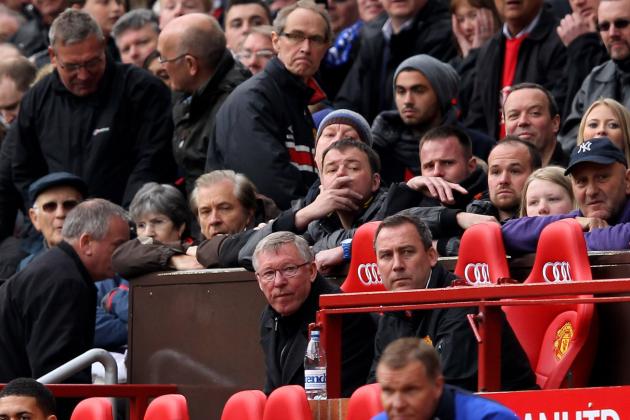 Alex Livesey/Getty Images

It's always been said that the more the fans get behind the side, the better it performs. The Etihad is by no means as intimidating as Old Trafford or Anfield, but the atmosphere will be cracking and electric.
The fans will play a vital role in this regard. I had mentioned in one of my earlier articles that the fans against Blackburn Rovers made it feel like a home game. They had put their heart, soul and voice behind the team which helped ensure that Manchester United escaped Ewood Park with three priceless points. Now too, the fans will play an important part in deciding the destiny of the Premier League trophy this season.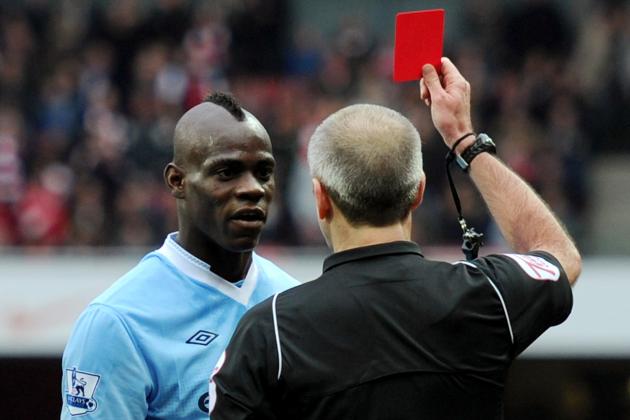 Michael Regan/Getty Images

It could be Wayne Rooney's sheer hard work and ability to lead from the front or his short fuse which can light up the match and hand the other team the initiative.
Or it could be Mario Balotelli, who can either turn up, score a hat-trick with the match ball in hand, or be heading for an early shower. It could be anything that than decide this match.
One player's sparkling run, another's slip, a shot on goal out of nowhere in particular, or an opportunistic shot, anything can decide the derby. No wonder Michel Platini is coming to the Etihad to watch this one.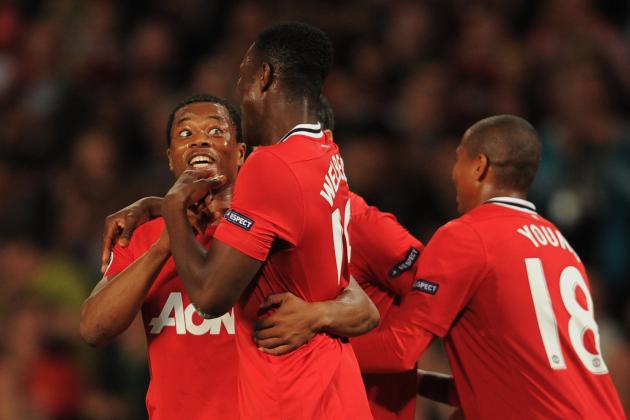 Michael Regan/Getty Images

Players may be picked or dropped, legends will be made and the stories will go on long in the folklore of Manchester. Billed as a money vs passion clash, its not always passion which trumps money, but neither is it the other way around.
Manchester City's victory would perhaps vindicate their expenses, whereas a victory for Manchester United would show the world what it means to have someone succeed from the academy (in the form of Danny Welbeck and Tom Cleverley).
All eyes in the footballing world will now be on Manchester. 30th April, 2012 will go down in history, no matter who will be the winner in this clash. Let's hope football will win this one, not the Red or Blue side of Manchester.