World Football: Chelsea and the 10 Greatest Underdog Stories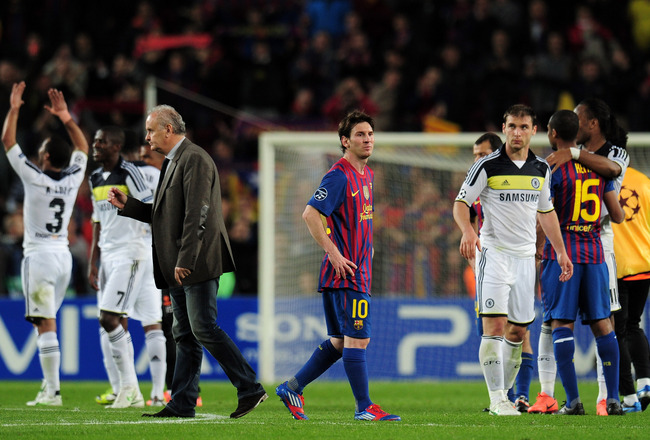 Shaun Botterill/Getty Images
It isn't often that you get to see an incredible comeback like the one Chelsea had against Barcelona in the Champions League.
Chelsea, who had the odds completely against them being down a man and a goal to one of the greatest footballing sides in history, were able to secure a 2-2 draw and advance into their second Champions League final in five years.
Football has seen some incredible underdogs achieve their goals and either win tournaments or advance far into them. This has been prevalent at World Cups, but has also happened other tournaments.
Here is a recap and ranking of the greatest underdog stories in football history.
No. 10: Russia, Euro 2008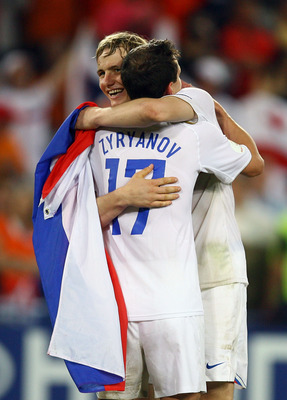 Alex Livesey/Getty Images
Russia had very few expectations going into Euro 2008. They were (and still are) an up-and-coming footballing nation who were without their best player, Andrei Arshavin, for the first two matches due to suspension.
Many people did consider the Russians to be lucky just to qualify for the tournament due to their tough qualifying group that contained both England and Croatia.
The Russians did not get off to a strong start by losing 4-1 to Spain. But Russia rebounded well in their next match against Greece, winning 1-0 thanks to a goal from Konstantin Zyryanov.
Russia then defeated Sweden 2-0 in the group finale to become a shocking entrant into the quarterfinals.
That quarterfinal matchup that the Russians played in was against the Netherlands, who dominated their group which contained the likes of France and Italy.
Russia got a goal near the hour mark from Roman Pavlyuchenko, but Ruud van Nistelrooy equalized late to send the match into extra time. But that did not stop the Russians, who got goals from Dmitri Torbinski and Arshavin to reach the semifinals.
Russia's luck ended in the semifinals, where they lost 3-0 to the eventual champions, Spain.
No. 9: United States, 2009 Confederations Cup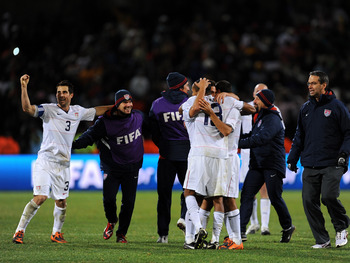 Jasper Juinen/Getty Images
After earning a berth in the 2009 Confederations Cup due to their 2007 Gold Cup title, the USA found themselves in a difficult group with Italy, Brazil and Egypt.
Following losses to Italy and Brazil by a combined 6-1 score in their first two matches, the Americans essentially found themselves eliminated from the tournament. The only way they could advance is if they defeated Egypt by at least three goals and Italy lost to Brazil by at least three goals.
Fate would turn in the Americans' favor. Thanks to goals from Charlie Davies, Michael Bradley and Clint Dempsey, the USA won 3-0 and Italy lost 3-0 to Brazil, which put the Americans into the semifinals.
The Americans' opponent would be Spain, who were the reigning European champions and were considered by many to be the best side in the world.
But the Yanks were unfazed and won 2-0 thanks to goals from Altidore and Dempsey, which put the Americans into the final.
The US took a 2-0 lead on Brazil in the final, but would end up losing 3-2.
No. 8: Chelsea, 2011-12 Champions League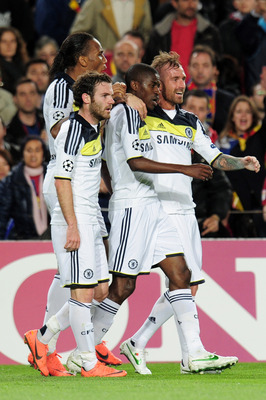 Shaun Botterill/Getty Images
In the middle of this past March, Chelsea had their Champions League dream appear to go missing. They had just saw their manager Andre Villas-Boas get sacked and they were down 3-1 on aggregate to a strong Napoli side.
But Chelsea were able to fight their way back and advanced into the quarterfinals thanks to an extra-time goal from Branislav Ivanović.
Chelsea then eased their way past Benfica to set up a seemingly impossible matchup against Barcelona.
Chelsea somehow won the first leg 1-0 but appeared that they were going to get knocked out of the tournament in the second leg.
Those fears appeared to be realized after Barcelona scored twice and John Terry got sent off. But a late first half goal from Ramires put Chelsea ahead on away goals.
Barcelona relentlessly attacked throughout the second half, but were unable to beat Chelsea's defense. A clearance late in the match then found Fernando Torres, who broke away and scored the decisive goal that put Chelsea into their second Champions League final in five years.
No. 7: Senegal, 2002 World Cup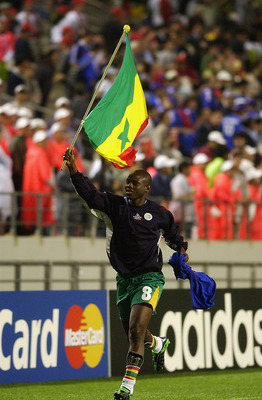 Shaun Botterill/Getty Images
Not much was expected of Senegal in the 2002 World Cup. Though they did reach the final of the African Cup of Nations earlier that year, Senegal found themselves in a group with defending European and World champion France, Denmark and Uruguay.
Senegal had never before participated in a World Cup match when they played in the opening match of the tournament against France. Though France were without Zinedine Zidane, they still were the best side in the world and were expected to win with ease.
This premise proved to be completely wrong, for Senegal got a goal from Papa Bouba Diop, which led to a stunning 1-0 win. France would end up not advancing from the group stage.
Senegal then earned draws with both Denmark and Uruguay to advance into the round of 16, which was in itself was a miracle.
That round of 16 matchup was against a favored Swedish side. Sweden got an early goal from Henrik Larsson, but that was countered by a Henri Camara goal. With the match at the end of the first period of extra time, Senegal got a golden goal from Camara to reach the quarterfinals.
Senegal went on to lose in extra time to Turkey on a llhan Mansız goal.
No. 6: South Korea, 2002 World Cup
Gary M. Prior/Getty Images
South Korea went into the 2002 World Cup as a host nation with low expectations. The South Koreans were put into a group that contained Portugal and had never before won a match at the World Cup.
But under Guus Hiddink, things started to change. Hiddink taught South Koreans a European style of football that would revolutionize the host nation's game plan.
South Korea started off the tournament with a 2-0 win against Poland. After drawing with the United States, the Koreans won their group thanks to a match-winner from Park ji-Sung.
The knockout stage was filled with controversy. South Korea would defeat Italy 2-1 in extra time of the round of 16 before defeating Spain 5-3 on penalties in the quarterfinal.
South Korea would end up losing to Germany 1-0 in the semifinals, ending one of the most controversial runs in the history of the World Cup in the process.
No. 5: APOEL Nicosia, 2011-12 Champions League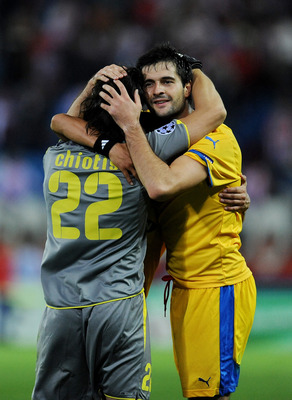 Jasper Juinen/Getty Images
It's hard for a side that is in the second round of Champions League qualifying to reach the group stage, but APOEL were able to do that this season, which in itself was a major accomplishment.
APOEL found themselves in a difficult group with Porto, Shakhtar Donetsk and Zenit St. Petersburg. But APOEL were unfazed and ended up winning their group. In the process, APOEL became the first Cypriot side to reach the knockout stage.
Their knockout stage match was against Lyon. After Lyon won the first leg, it appeared that the French side was going to go through. But APOEL were able to secure a 1-0 win in the return leg, which led to spot kicks. APOEL went on to win on penalties 4-3 to reach the quarterfinals.
APOEL stood strong, but were dismantled by Real Madrid in the quarterfinals, ending one of the most unlikely runs in Champions League history.
No. 4: West Germany, 1954 World Cup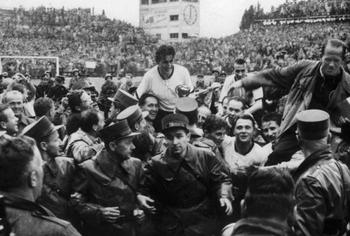 The 1954 World Cup was one that Hungary was supposed to win. Undoubtedly the best national team in the world going into the tournament, this Hungarian side featured Ferenc Puskás and remained unbeaten during their previous 35 matches going into the tournament.
Hungary cruised their way through the group stages, defeating the West Germans 8-3 in one of their matches. This was West Germany's first World Cup since the second World War and although they were talented, they needed to win a playoff just to advance into the quarterfinals.
The West Germans won that tournament and defeated Yugoslavia and Austria to face Hungary in the final. Hungary had defeated 1950 World Cup runners-up Brazil and the champion of that World Cup, Uruguay, to reach the final.
Hungary took an early 2-0 lead, but the Germans were able to equalize. In the 84th minute, Helmut Rahn scored the winning goal for West Germany, giving them their first ever World Cup title in what would become known as "Das Wunder von Bern" ("The Miracle of Bern").
No. 3: Denmark, Euro 1992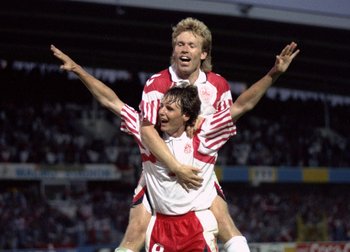 Shaun Botterill/Getty Images
It is hard for Denmark to win any national tournament due to their size, but Denmark's ability to win Euro 1992, a tournament that they didn't even qualify for, is something that is still stunning.
Due to sanctions on Yugoslavia for the wars that were going on inside of the country, Denmark were allowed to take its place in the tournament.
Denmark got only one point in its first two matches, but a win against France in their final group stage match allowed them to reach the semifinals.
That semifinal matchup came against the Netherlands, the winners of the tournament just four years before and a side that contained some of the best footballers of the late 1980s and early 90s.
The match ended in a 2-2 draw, which led to penalties. A miss from Marco van Basten allowed the Danes to win 5-4 and reach the final.
Once there, Denmark faced a reunified Germany. John Jensen and Kim Vilfort scored both Danish goals and a clean sheet from Peter Schmeichel gave the Danes an improbable 2-0 win to claim Euro 1992.
No. 2: Greece, Euro 2004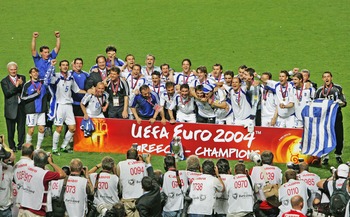 Laurence Griffiths/Getty Images
It is not often that a side that has 150-1 odds wins a tournament, but Greece were able to do so in Euro 2004.
Greece, who qualified for the tournament as first in a group that contained both Spain and Ukraine, adopted a western European style going into the tournament from their manager, Otto Rehhagel. This style stressed a strong defensive mindset, something that the Greeks would maintain throughout the entire tournament.
In the first match of the tournament, Greece faced host Portugal, winning 2-1. A 1-1 draw in their second match was enough for the Greeks to advance.
Their quarterfinal match brought the Greeks into a matchup with the French. A second half goal from Angelos Charisteas proved to be enough for Greece to advance into the semifinal.
Greece then faced the Czech Republic, which were among the most talented sides in the tournament. But the Greeks won again, this time on a silver goal from Traianos Dellas.
This put the Greeks in the final, where they faced the Portuguese once again. Greece again won 1-0, with Charisteas providing the match-winning goal and gave Greece their first international championship in football.
No. 1: Uruguay, 1950 World Cup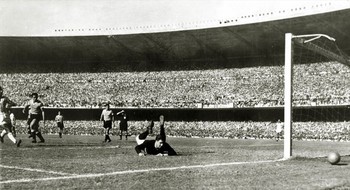 It was the final match of the 1950 World Cup. Brazil, who held a lead in the final table, just needed to draw with Uruguay to ensure that they would win their first World Cup.
Brazil had completely dominated the tournament up to this time, to the thrill of their fans. This was the first World Cup to take place in 12 years and Brazil were far and away the best side in the tournament.
The media and many of the people in Brazil had already anticipated a Brazilian victory to win this game.
Then-FIFA President Jules Rimet had already prepared a speech in Portuguese to congratulate the winner. The Brazilian Football Confederation had made 22 gold medals with the names of the players imprinted on them. In fact, a Brazilian victory song entitled "Brasil os vencedores" ("Brazil The Victors"), was composed several days prior to the final and was to be played in anticipation of a Brazilian win.
Uruguay was their opponent in this match. They knew the implications and saw that Brazil presumed that they would win. Adopting an attacking strategy that was different from the ones that Sweden and Spain exhibited, Uruguay were able to slow down the Brazilians.
Friaça was able to score the first goal of the match for Brazil, but Uruguay remained resilient. Juan Alberto Schiaffino scored the equalizer in the 66th minute and Alcides Edgardo Ghiggia scored the winner with only 11 minutes remaining.
Uruguay's 2-1 win was their second World Cup title, stunning the nearly 200,000 people inside of the Maracana into silence. This match has become known as the Maracanazo.
Keep Reading

Chelsea: Like this team?