10 Burning Questions for Manchester City vs. Manchester United Derby Match
April 28, 2012

Laurence Griffiths/Getty Images
As far as derby clashes go, it doesn't get much bigger than this.
As far as season-changing matches go, it doesn't get much bigger than this.
When Manchester United travel to the Etihad to take on Manchester City come Monday, much more than three points will be on offer—rather, the entire English Premier League will be up for grabs.
United currently hold a three-point lead over City, and if they could pick up all three points here, then they'll nearly be impossible to run down for the title. However, if City win, their superior goal difference would take them to the top of the table.
With speculation and questions rife, here are the 10 burning questions that will ultimately decide the result of this one and ultimately, the champion of the English Premier League.
1. How big is the home-field advantage?
After watching their dominance at the Etihad this season, there is little doubt as to the advantage that Manchester City have playing at home. They've won 21 of their last 22 Premier League matches there and haven't been defeated at home all season.
United, on the other hand, lost their last away match to Wigan Athletic and only just got up in their road match before that, leaving it until the final 10 minutes of play to find a match winner against Blackburn Rovers.
Yet, for all City's home field dominance and United's recent road flutters, don't expect there to be a gulf in class between these two sides at all.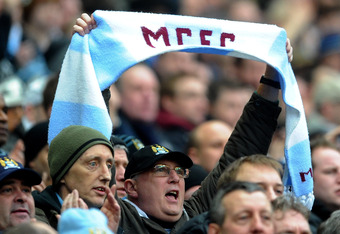 Laurence Griffiths/Getty Images
The Red Devils may be scoring less goals away from home (2.12 per game), but they're also conceding far less as well, averaging just 0.76 goals against per game away from home.
Manchester City will be throwing everything at the United back line—just like they've done all season long at home, where they average exactly three goals per game. This is made even tougher for the visitors, who will know that City have conceded just 10 goals at home all season long.
Advantage: Manchester City
2. What impact will Wayne Rooney have on the match?
Vincent Kompany is without doubt one of the premiere defenders in the Premier League, but he'll have a tough task on Sunday when he seeks to shut down one of the top strikers in the world, Wayne Rooney.
Rooney trails Robin van Persie by just two goals in the Golden Boot Award with 26 next to his name and will need to be at his finest to get past the City defender.
He will no doubt be United's main man for this clash, with Danny Welbeck improving rapidly but still temperamental at times. Kompany will no doubt be solid—as per usual—but it would take a brave man to suggest that he shuts Wayne Rooney out of this match all together.
The United striker will definitely have a significant impact on this match.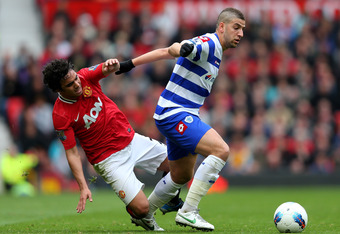 Alex Livesey/Getty Images
Advantage: Manchester United
3. Will Rafael get the nod over Phil Jones?
After watching him struggle over recent weeks, Rafael simply has to be dropped and Phil Jones has to play. Rafael's attacking play is one of the strongest elements of his game; however, as a defender, he exposes United far too often at the back and in recent weeks, has cost them valuable points.
Jones will not offer the same attacking play that Rafael will, but he will certainly offer more certainty and assurance at the back. And with players like Carlos Tevez and Sergio Aguero lining up for the home side, any extra certainty you can get at the back is a positive thing.
If Rafael starts, then it's definitely advantage City, but I simply can't see that happening. Phil Jones starting is definitely an advantage for the Red Devils.
Advantage: Manchester United
4. Is Mario Balotelli likely to play for City?
Mario Balotelli's on and off field dramas have been more frequent than Wayne Rooney's hair problems this season, with the City striker available for selection in this one after his four-game suspension.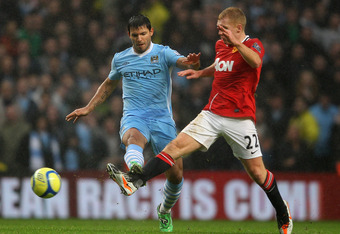 Alex Livesey/Getty Images
However, I simply cannot see Balotelli finding his way on to the field at all—let alone starting the match for the Citizens. Firstly, he simply is too much of a liability for the hosts. They need discipline and assurance as they attack—two things that Balotelli simply doesn't possess as well as others.
Others like Tevez and Aguero, who will surely start the match for the Citizens. They have been in superb form of late, and have notched up 35 goals between them this season.
Balotelli will not start, and every City fan should breathe a sigh of relief when he doesn't.
Advantage: Manchester City
5. Who will win the battle of the midfield?
With the crossing strengths of both sides, the key battle for me will be between David Silva and Paul Scholes and who can win the midfield battle.
David Silva was tipped by many earlier on in the season to be van Persie's challenge to the Player of the Year Award and although his production has dropped since then, he is without doubt one of the best midfield players in the world and a great chance to stopping United's Paul Scholes.
The ageless midfielder has once again led United towards the league title and if they do hang on for the premiership, they can thank the veteran for getting them there.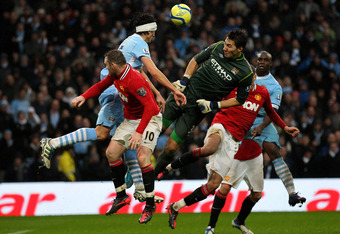 Alex Livesey/Getty Images
However, I really like Silva in this one. His on-ball skills and creativity will cause havoc for United's defense, and as his high assist count testifies to, will be a huge factor in City's attacking chances throughout the match.
Advantage: Manchester City
6. Can United's defense stand up to Sergio Aguero?
Aguero is the man United must stop if they are to win the title.
He's netted 22 goals for the Citizens, with over half of them coming at the Etihad, where the derby is set to take place.
Recently, he has scored five goals in three games, and against a United backline that has showed it can leak goals at times, he could well have a field day.
Rio Ferdinand and Johnny Evans will need to bring their top game to shut down Aguero and his right-hand man in Tevez—arguably the toughest pair to stop in the English Premier League.
The Red Devils defense will no doubt stand up to the pair, with the real question being as to how much and how effective that will be. I think United's defense plays their best game in a long time, I just think the same thing will happen for Aguero and Tevez.
Advantage: Manchester City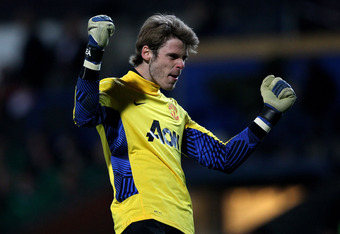 Alex Livesey/Getty Images
7. Will David De Gea be the hero for United?
If Manchester United are to hold off City at home, they'll need their defense absolutely on fire, and that begins with the man at the back, David De Gea.
The Spaniard has been in superb form of late, and it's no coincidence that United's run to the top of the table occurred around the same time that the keeper's form started to surface.
Still prone to the odd cross or long ball at times, De Gea's quick reflexes and natural skills, which he nurtured throughout La Liga, have saved United more than once this season and could well do so again. Whilst there wasn't much he could have done to stop Everton's late rampage at Old Trafford, no keeper likes to concede one goal, let alone four, and definitely not at home.
Before the Everton match, De Gea had let in just one goal in seven matches; he'll be looking to bring that form to the Etihad as he tries to keep out the dominant Manchester City attack.
If he brings his best game, having De Gea is a huge boost for United.
Advantage: Manchester United
8. Are we likely to see a 6-1 scoreline again?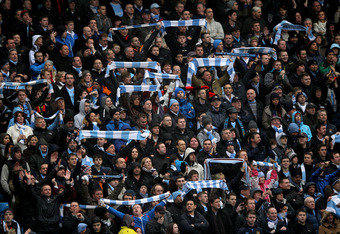 Alex Livesey/Getty Images
Few City fans will forget the time that they waltzed in to Old Trafford and gave the hosts a 6-1 drubbing; few United fans will have forgotten it either.
In United's defense, City did score three goals in stoppage time and the Red Devils were down to 10 men, but at the end of the day, the scoreboard read what it did.
However, in this one, even with all the attacking talent across the pitch, I'm not sure that goals will be on the menu for either side with the frequency that we have come to expect—especially considering how City play against the top sides.
We know that they can put goals on a side late; their 5-1 over Tottenham is a great testament to that, but we also know that they can be involved in tight battles for goals.
Arsenal 1-0 (twice), Chelsea 2-1 (twice) and Everton 2-0 and 1-0 all show that given the right amount of defensive pressure, Manchester City could struggle to find goals. The same goes for United.
So, no, I don't expect 6-1 again. In fact, I think this match won't feature more than three goals in total.
Advantage: Manchester United
9. Who will win the coaching battle?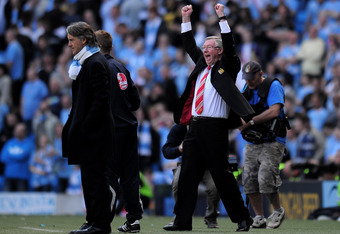 Shaun Botterill/Getty Images
Sir Alex Ferguson has been in the situation before, and United will know the expectations that he will have of their performance come game time.
His experience and knowledge will be factor in this match; it's almost impossible to say that it won't be.
If he starts Jones over Rafael and gives Hernandez good time in the second half, his impact on the match will well and truly be evident.
It's nothing on Mancini—it's just Ferguson; he's just very, very good.
Advantage: Manchester United
10. Who's going to win the title race?
And that would be the million dollar question: who is going to win this clash and most likely take the 2012 English Premier League title with them?
It truly is a season-defining match, for if United can hold off Manchester City for even a draw, you'd have to think that title No. 20 is in the bag for the Red Devils.
City face a tough away match to Newcastle next week, who have won six in a row and are looking for Champions League qualification before finishing their season at home to relegation-battlers in Queens Park Rangers.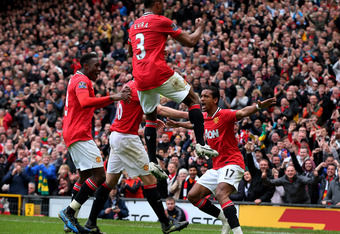 Alex Livesey/Getty Images
United, on the other hand, play Swansea and then Sunderland—two sides bereft of recent form and with nothing to play for in the remainder of the season. Thus, getting a result at the Etihad is critical for City's chances at the title.
Having said that, I just think United have too much to play for to let it slip away in defeat. They'll know their defensive lapses in recent matches against Wigan and Everton may have cost them the league trophy, and Sir Alex Ferguson will no doubt made the significance of this clash known.
Away from home, the Red Devils are a better defensive unit, and that will come out in full force against the Citizens. I don't think I've ever seen United "park the bus," but this is as close to it as you're going to see as they try and pack the midfield and dominate possession.
Both sides have too much attacking class to not find the back of the net. But the class and experience of United will be enough to see the visitors walk away with a point and, most likely, their 20th English Premier League title.
Manchester City 1, Manchester United 1