Philadelphia Sports Scene: Flyers Series Helps to Cure My Sports Depression
April 29, 2012

Bruce Bennett/Getty Images
I'm a Philadelphia sports fan through and through. If you were to take a look at the history of articles I've written on this site, you'll see stuff on almost all of the teams.
Well, that is until about six months ago. While several factors played into my leave of absence in the writing game, the biggest reason turned out to be my fading passion for watching sports. I fell into a funk, a Philadelphia sports Phunk as it were.
The last article I wrote was on September 16, and it was about the Eagles Week 2 matchup against the Atlanta Falcons. They went on to lose that matchup and the next four games after that, to completely ruin the "dream teams" season. Oh, and as an added kick to the cojones, Eli freaking Manning and the New York football Giants won another Super Bowl…Ugh!!!  Not the type of stuff you really want to write about as a fan.
Additionally, while the Eagles were defying the laws of physics by both sucking and blowing at the same time, the Phillies, who were World Series favorites, somehow managed to get upset by the St. Louis Cardinals. The Cardinals would of course go on to win the World Series, to continue an annoying little trend of Philadelphia sports teams losing in the postseason to the eventual champions.
Now I should clarify that while I love all things Philadelphia, I actually live about an hour northwest of Philadelphia, and Penn State football is just as popular as any of the Philly pro sports teams. So you can imagine the shock and disappointment when the Sandusky scandal broke in November and the entire Penn State football program, which was 8-1 at the time, was thrown into disarray.  This would lead to an unthinkable event, the firing of Joe Paterno, and sadly it ended with him passing away in January.
It was quite the triumvirate of a turd sandwich to swallow as a sports fan. Combined with the fact that the NBA was in a lockout for most of this time and the NHL season was too early to really get into, you can see how I might lack the initiative to write about sports.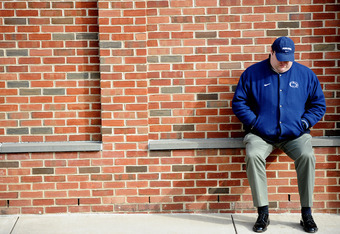 Patrick Smith/Getty Images
My passion for writing about all things sports would continue to wane well into the new year. Sure, NBA action started back up and the 76ers' fantastic first half of the season had me excited, but in the back of my mind, I still couldn't shake the fact that this was essentially the same Sixers team from the past couple of years that wasn't talented enough to make any noise come playoff time.
Not even the start of a new baseball season for the Fighting Phils was enough to awaken me from my sports enjoyment slumber. To use a half-assed Shining reference, No Chase Utley and no Ryan Howard leave Phils lineup a dull bat. That's not to say I believe this Phillies team can't be successful, but winning a sixth straight NL East title won't be a cakewalk.
Alas, just when I thought I might never find that spark, that intrigue, to get the creative juices flowing again, the Philadelphia Flyers and Pittsburgh Penguins met up last week in what was unquestionably one of the most entertaining hockey series I'd ever seen. There were goals galore, humongous big comebacks, fisticuffs everywhere, and in the end, the Flyers ousted the Stanley Cup favorite Penguins from the postseason. It reminded me of why I love sports, and it drew me back here to Bleacher Report to write about them.
All in all, while I realize this article might not have been the most informative or entertaining thing that I've written, it was something I needed to do before I could get back into the swing of things. So to those reading my words for the first time or those who've found their way back to them after my absence, I'd just like to thank you for reading.