Oakland Athletics: Why the A's Need to Pick Up Brandon Inge
April 28, 2012

Leon Halip/Getty Images
The Oakland Athletics have a glaring hole at third base—one that could be filled effectively by Brandon Inge.
The former Detroit Tiger was cut Thursday, ending a 12-year career in the Motor City.
Inge is only a .234 career hitter.
In nine games this season, he's 2-for-20, and his .100 batting average is well below the Mendoza Line.
Still, there's a couple of reasons the A's should take a chance on Inge.
The Current Incumbents Aren't Great
As of right now, the two players receiving the most repetitions at third base are Eric Sogard and Josh Donaldson.
Donaldson is a converted catcher. He hasn't manned third base since college, and it's obvious.
He's made three errors and owns a .917 fielding percentage.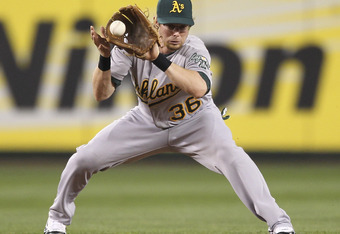 Otto Greule Jr/Getty Images
His hitting is worse.
Donaldson is 3-for-21 (.097). He has just one RBI.
The better option is Sogard, who played second base and some shortstop in Triple-A.
But Sogard is hitting .167/.239/.333.
Luckily, of his seven hits, he's hit a double and two home runs. He's also scored six runs.
Defensively, Sogard has two errors. He's had six less chances to field a ball than Donaldson and nearly the same amount of errors. His fielding percentage is .933.
Then there's Luke Hughes.
Three errors in two games at third base combined with an 0-for-6 batting average doesn't make him a feasible option at this point.
Brandon Inge is an upgrade defensively.
He only played in eight games with the Tigers in 2012 before getting cut, but he only made one error. (The error was at second base.)
He's spent most of his big league experience at third base, and his career fielding percentage is .961 at the hot corner.
The A's have players who are filling in at third base. They aren't actually third basemen.
But Inge is the opposite.
He's a third baseman who has filled in elsewhere as needed constantly throughout his career.
Brandon Inge Could Benefit From a Change of Scenery
Yes, his hitting is atrocious.
But Oakland could be the rebound he needs.
Inge has been under the pressure of losing his job in Detroit for the last several years. He's been bounced around from position to position. He's constantly had the prospect of being cut lurking over his shoulder and zero consistency.
Now, he's just been cut from the team he called home for his entire career.
Questions loom whether this is it for his baseball career. But if he's not ready, he has to use this as a spark.
No one wants to leave the game hitting .100, cut in April. Most want to leave the game behind on their own terms.
It's the perfect fit.
One last chance for Inge, and Oakland needs a third baseman. I'm not saying Inge will come in and magically hit .350 and carry the team to the playoffs.
Not even close.
The A's have only five players hitting above .200. If Inge can man third effectively and hit .230, it'd be a win-win for both sides.
It's not going to hurt Oakland's budget any either.
Inge currently makes $5.5 million. Due to being released, Detroit must pay the majority of his contract whether he sits at home or suits up for someone else.
All the A's have to pay is the pro-rated minimum salary for a veteran of his stature.
Upgrade at defense? Absolutely.
Cheap? Definitely.
Can he hit as well as anyone else on the team? I'm sure he can.
If he can't, it's not hurting the A's any.