NBA Playoffs 2012: Can Jason Kidd Turn Back Time...Again?
April 28, 2012

Ronald Martinez/Getty Images
The reigning champion Dallas Mavericks vs. the ascendant Oklahoma City Thunder; what's different from their 2011 playoff battle, which the Mavs won four-to-one?
The fact of the matter is that Jason Kidd thoroughly dominated Russell Westbrook.
Kidd's assist-to-turnover ratio of 4.3 (43 assists/10 turnovers) dwarfed Westbrook's 1.0 (24 of each).
Kidd's 36 percent shooting from three-point range (9 of 26) matched Westbrook's total shooting percent, 36 percent, on 36 buckets on 100 attempts. 
Even in the Mavs' only win in Game 2, the Thunder were a -12 in Westbrook's only 28 minutes of playing time, and they were rescued by backup Eric Maynor's unexpectedly great play.
What's different is that one has to wonder if Kidd can do it again.
He remains critical to the Mavs' success, as they were 27-21, a 56.3 winning percentage, when he played versus 9-9, a 50.0 winning percentage, when he was out. In those 27 wins, he averaged 6.3 assists, 4.6 rebounds and 38.5 percent three-point shooting, while he only managed 4.6 assists, 3.6 rebounds and 32.8 percent three-point shooting in the 21 losses.
It was by far his most inconsistent year; perhaps the post-lockout schedule took a more severe toll on him. For instance, he suffered a bad game March 9th in a loss at Sacramento after a game in Phoenix the night before. Moreover, he did not have Jose Barea backing him up this season.
Still, Kidd produced some wonderful games: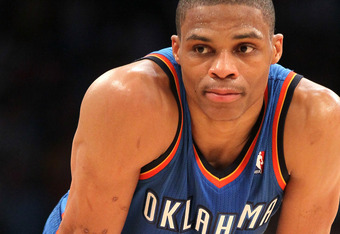 Stephen Dunn/Getty Images
On March 17th, he went 33:44 versus San Antonio in a 106-99 win in which he scored 14 points, grabbed five rebounds and produced 10 assists with only one turnover.
On April 18th, he went 34:53 versus Houston in a 117-110 win in which he scored 12 points and had eight assists to only one turnover. This was a dramatic, fourth-quarter, come-from-behind victory that eliminated the Rockets as a playoff contender.
This season, the Thunder took three of the four games versus the Mavs, but Kidd was out in the February 1st loss, and Westbrook abused Vince Carter and Rodrigue Beaubois. In the January 2nd Dallas win versus the Thunder, Kidd sparked them with nine assists in 34 minutes.
I'm picking the Thunder to dethrone Dallas. I believe:
a. Russell Westbrook has improved with experience.
b. Jason Kidd does not have Barea as backup.
c. Jason Kidd is 39 years old.
d. The acquisition of Derek Fisher was the Thunder's "secret weapon" to derail Kidd.
Kidd's worst game this season came in a January 16th loss to the Lakers in which he shot one-for-nine and committed three turnovers with only two assists, while Fisher shot five-for-nine with three steals. Fisher again outplayed Kidd in a February 22nd Laker win and has a history of doing so, going back to March 31, 2011.
Even in last year's Dallas sweep of the Lakers on their way to the NBA title, Fisher harassed Kidd into shooting only nine-for-32, a terrible 28.1 percent, and limited him to a 2.2 assist-to-turnover ratio (33 assists to 15 turnovers).
This wily veteran rival will frustrate Kidd and sap some of his energy, and that will be a determining factor later in the series. Look for it to go seven games—Dirk Nowitzki can carry Dallas to a couple wins on his own—but Oklahoma City's home-court advantage will prove decisive.