Stoke City vs. Arsenal: Aaron Ramsey Rejuvenated at the Britannia
April 28, 2012

Stu Forster/Getty Images
When it's a double leg break (fractures of the tibia and fibia) that glues you to a hospital bed for months and prohibits you from playing the game you love for nearly a year, it's fair to say you might be haunted from the experience. It's only human to do so.
But on Saturday at Stoke, we saw Arsenal midfielder Aaron Ramsey engaging in challenges, combining neatly with teammates and pushing forward from his holding midfield position with positive intent.
This one, you could tell, meant something to the Welshman.
Last season, he'd played at the Britannia in just his sixth game back with Arsenal after going on a slew of loan spells with Nottingham Forest and former club Cardiff City. The idea had been that he would get games, and thereby confidence, before coming back to Arsenal.
And though the May 8 match proved an inglorious 3-1 defeat, for Ramsey it must have been catharsis. Just seven days earlier, he'd scored the winner in a 1-0 victory over eventual league champions Manchester United. 
Facing your demons and coming out in one piece has the tendency to instill confidence. And Ramsey looked like he was getting back to his dynamic best at that point.
But as any Arsenal supporter will be glad to tell you this season, he's definitely not all the way back just yet.
There are still moments where the old demons appear to flash back and overwhelm him.
On Saturday, it was a crunching 18th-minute challenge with Irish international Glenn Whelan that left Ramsey looking shell-shocked for a moment. But he got up and dusted himself off—more power to him for just that.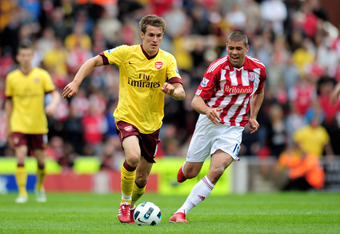 Shaun Botterill/Getty Images
The challenge did unhinge him somewhat, though. Ramsey went four minutes as if clouded in an amethyst daze; he didn't touch the ball during that spell, which, when you think about it, is somewhat understandable.
But in a testament to his courage and pluck—including all the things he's dealt with this season (lack of form, fan dissatisfaction)—he kept working, kept trying. He kept picking himself back up.
He had at least two clear-cut chances on goal—a left-footed effort that was fired wide of Asmir Begovic's post and a right-footed grasscutter from 20 yards out that again shot left of goal.
The latter would prove Ramsey's last contribution on the day, one that, while not phenomenal, was still much better than his performance (or lack thereof) last weekend against Chelsea.
Ramsey had looked completely out of place in midfield against the Blues. He'd assumed the holding creative role Mikel Arteta has played so brilliantly this season and proceeded to make us miss the Spaniard from the word "Go."
At the Emirates, Ramsey's passing was uninspired and he seemed to get caught on the ball every few minutes. It spoke to Wenger's confidence, then, that he stuck with the Welshman for the trip to Stoke rather than, say, try out Alex Oxlade-Chamberlain in central midfield.
Given that the Frenchman went with Yossi Benayoun on the wing instead of the 18-year-old former Southampton man—age and experience preferred to youthful boisterousness—it followed that Ramsey, an Arsenal veteran, got the call in midfield over the Ox.
And to his credit (although he disappeared in stages), he did not disappoint. Two games now remain in the season.
Let's hope he can build on this game that, like Arsenal's team performance, showed promise but lacked consistency.