English Premier League Odds Preview: Manchester United at Manchester City
April 28, 2012

Alex Livesey/Getty Images
English Premier League Betting Odds Preview
What: Manchester United at Manchester City
When: Monday, April 30, 2012
Where: Etihad Stadium, Manchester, England
Time: 20:00 p.m. BST/3:00 p.m. ET/12:00 p.m. PT
Television:  ESPN  UK:  SkySports1 HD
Computer:  ESPN3  (English and Español)
Satellite Radio: SiriusXM Channel 92 (Internet 860)
LVH SuperBook Odds: Manchester United +½ -135, Manchester City -½ +115
Total: Over 2½ -140, Under 2½ +120
LVH SuperBook Odds (3-way Result): Manchester United +240, Manchester City +115, Draw +240
LVH SuperBook Odds To Win EPL: Manchester United 1/2, Manchester City 7/4
Odds To Win EPL On April 11th: Manchester United 1/6, Manchester City 9/2
MU Remaining Fixtures: vs. Swansea City (May 6), @ Sunderland (May 13)
MC Remaining Fixtures: @ Newcastle United (May 6), vs. QPR (May 13)

There's surely no doubt that this is the biggest match in the English Premier League all season.
With the top spot in the table at stake and huge EPL title implications, Monday's Manchester derby between league leader Manchester United (26-5-4, 83 points) and host Manchester City (25-5-5, 80 points) will be one to watch.
In the first meeting at Old Trafford, the Sky Blues routed Manchester United, 6-1, something few teams can ever say they've done on the Red Devils home turf.
The last time these two met was in the FA Cup on Jan. 8. Manchester United won, 3-2, the same final score as a Community Shield match in August.
Manchester City is still unbeaten at the Etihad Stadium (16-1-0) and has outscored opponents there 51-10. Manchester United is 12-3-2 (36-13, 2.12 GF-0.76 GA) on the road this season, but you can throw all those statistics out of the window as anything can happen Monday and anything will.
Citizens manager Roberto Mancini has said he will determine by Sunday if he will call up problem child Mario Balotelli (13 goals) for the big game, but I think the Manchester City manager would be wise to play with the talented roster he already has and avoid any unnecessary drama.
If there's anyone in world soccer who can draw red cards and the wrath of fans quicker than Balotelli, I haven't seen him. And with Carlos Tévez back in the fold and Sergio Agüero (22 goals) and Edin Džeko (13 goals) having superb seasons, Mancini has enough firepower to work with to score a couple goals in this match without the young Italian.
Besides Agüero, second-place Manchester City has also had great seasons from David Silva (6 goals, 13 assists), Samir Nasri (5 goals, 9 assists), Gareth Barry, Yaya Touré (5 assists) and goalkeeper Joe Hart (15 clean sheets).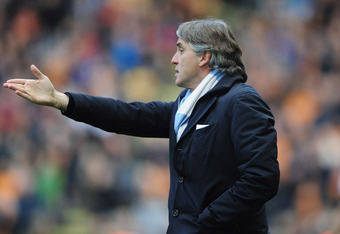 Jamie McDonald/Getty Images
For much of the first half of the season, it looked like Manchester City was running away with the Premiership title but then, all of a sudden, Manchester United jumped up, caught the Sky Blues and then looked like they had it won.
And the mainstream media, as well as the bookmakers, had the Red Devils (1/6, April 11), all but crowned champions before the last two weeks have seen the race tighten up again and bring some excitement back for the homestretch.
Manager Alex Ferguson and Manchester United will be motivated in this match not only by their fierce rivals now nipping at their heels in the EPL table, but also by the embarrassment of that 6-1 loss at Old Trafford earlier in the season.
Wayne Rooney (26 goals), Javier Hernández (10 goals), Danny Welbeck (9 goals) and Nani (8 goals, 10 assists) lead the Red Devils in scoring, while Ferguson has the choice between guys like veteran Ryan Giggs (8 assists), Ashley Young, Nani, Park Ji-Sung, Anderson, Anthony Valencia (13 assists) and Paul Scholes—who came out of a mini-retirement to return to Old Trafford—in his oh-so-deep midfield to name more than a few.
Goalkeeper David De Gea (11 clean sheets) has found his groove but will really be up against it on the road in a game that Manchester City really has to have.
Should the Citizens lose, they will fall six points back in the standings meaning Manchester United would have to lose its last two matches and Manchester City would need to win its final two to force a tie at 86 points and have the title come down to goal differential which it (MC) leads 60-54 heading into this game.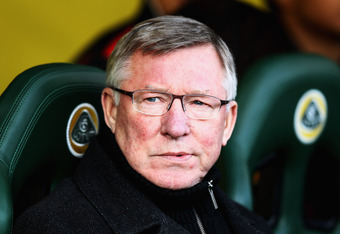 Bryn Lennon/Getty Images
You can expect a lot of scoring attempts in this pivotal match, and with so much at stake, I think some mistakes will be made defensively.
Last year, there was a draw in this game and I think the same thing is a real possibility in a showdown neither team can really afford to lose.
At the end of the day, I believe Manchester United will still be alone on top of the table making Manchester City's next match on Sunday, May 6 at Newcastle United's Sports Direct Arena the next most important game on the EPL schedule as I can't really see the Red Devils losing to Swansea City or at Sunderland in their last two matches.
Better strap in for this one, brother.

PREDICTION: Manchester City 2 Manchester United 2
BETS: Manchester United +½ -135; Draw +240; Over 2½ -140

Follow me on Twitter: @KevinStott11