2012 Stanley Cup Playoffs: Phoenix Coyotes Need to Find Ways to Put Teams Away
April 28, 2012

Christian Petersen/Getty Images
The specter of the past hung over Jobing.com Arena Friday night like a smelly octopus in the old Olympia.
Too often in his Stanley Cup playoff season, the Phoenix Coyotes have been disappointed, hurt, troubled and otherwise dejected.
And it happened again in Game 1 against Nashville in the Western Conference semifinal round.
In Games 1 and 2 of the opening, quarterfinal round against Chicago, the Coyotes clung to a one-goal lead into the final seconds in four games, and the Hawks scored each time to force overtime.
In Game 1 of the opening round, the Hawks' Brent Seabrook scored with 14 seconds left in the third period before Martin Hanzal pulled that out with an OT tally. In Game 2, Patrick Sharp scored with 5.5 seconds remaining, and then Brian Bickell put that one in the Hawks win column.
Michael Frolik in Game 4 and Nick Leddy in Game 5 also scored late for the Blackhawks to force overtime.
This time, in Game 1 against the Nashville Predators, the Coyotes held a similar one-goal lead deep into the final period. And this time, they allowed the tying goal to follow a pattern with maddening regularity.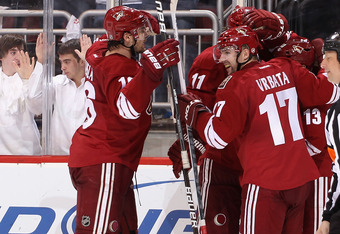 Christian Petersen/Getty Images
After Nashville's Martin Erat flipped in a backhander to knot matters with just under five minutes remaining in regulation, the Coyotes responded in overtime to take the series opener.
That's when Ray Whitney somehow managed to get his stick on the puck and, with one hand, flip the disc past Pekka Rinne at 14:04 of overtime and give Phoenix a 4-3 win over the Predators to send the 17,187 at Jobing.com Arena home happy on a Friday night.
While the win pushed Phoenix into a 1-0 series advantage, there were not many players overwhelmed with joy. For the fifth time in seven playoff games this spring, Phoenix has failed to hold a lead late in the game, and as Whitney said afterward, "Eventually, that will catch up with us."
Some pundits felt the Coyotes in the third period skated not to win, but to not lose. That theory was quickly questioned.
"I don't know how you measure that kind of thing," said Nashville coach Barry Trotz. "I know we were playing to win."
Phoenix coach Dave Tippett was the first to recognize the Coyotes bus had too many passengers. Facial expressions, in talking to reporters after the contest, showed strain, despair and discontent.
Above all, Tippett went on the soapbox to preach this team needs to simply get better at critical times.
"Our players have to make critical plays at critical times, and that hasn't happened," he said. "We have players in our dressing room who have been through these battles and know how to react in those battles."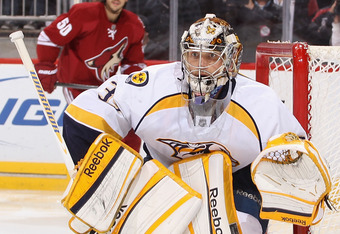 Christian Petersen/Getty Images
Now seven games into the postseason, the Coyotes find them with a somewhat false sense of security. While content with winning the first game of the semifinals after taking out Chicago in like fashion, they must learn to close out teams late and prevent the seemingly unnecessary task of forcing the issue in overtime.
"Right now, it's about how we respond," said Whitney. "We can't sit back and take it. That's not working. We're letting teams move on us, and it's something we've talked about. We need to get better."
Others believe the combination of postseason play and a desperate nature of the opposition battling from behind make for a lethal mix.
"Every team is physical and tries to dominate," said goalie Mike Smith, who stopped 39 of 42 Predators shots. "Teams push hard late in games and makes it tough to defend. Plus, teams left in the playoffs have so many skilled players and play with a desperation when they are behind."
So far, the Coyotes have engaged in six overtime games in the seven contests to date. They've won four, and the record is 10 OT wins in one playoff year by the 1993 Montreal Canadiens. As point of reference, the Habs won the cup in 1993, the last year they paraded hockey's holy grail down St. Catherine Street.
That precarious mark of overtime games could be a powder keg ready to explode. At this point, the Coyotes need to tighten their game and find ways to apply pressure in the closing minutes.
If the result of Game 1 against the Preds is any indication, they have learned nothing from the recently completed Chicago series.
EDITOR'S NOTE: Quotes in this story were obtained by the author after the Nashville at Phoenix April 27, 2012 game.