Predicting the Second Round of the 2012 NHL Playoffs: NY Rangers vs Washington
April 28, 2012

Nick Laham/Getty Images
This is going to be a quick hit read of predicting the 2nd round of the NHL playoffs.
I'll break down the offensive, defensive, and goaltending advantages and then predict which team will prevail and in how many games.
EASTERN CONFERENCE:
New York Rangers (1st, 51-24-7) vs Washington Capitals (7th, 42-32-8)
This series will be defined by star power and what it does or doesn't get done for both teams.
This series has some of the more "A Level Stars" in the league, ex. Alex Ovechkin, Henrik Lundqvist, Nicklas Backstrom, Marian Gaborik, Alexander Semin, Brad Richards, and Mike Green and it will be interesting to see if any of them can break through for their respective team or if the trend of 3rd liners winning the day continues.
Offense: Advantage (Minor) Washington Capitals
NYR - 14 goals in 7 playoff games, Five 40+ point scorers in the regular season, 15.6 Powerplay %, Leading Scorer; Marian Gaborik 76pts 
WSH - 16 goals scored in 7 playoff games, Six 40+ point scorers in the reg. season, 15.8 Powerplay %, Leading Scorer; Alex Ovechkin 65pts
Washington just has a little more depth and a little more finish on the power play and in the playoffs that makes a world of difference. The game-breaking talents of Brad Richards and Marian Gaborik versus Alex Ovechkin and Alex Semin will be one of the many stories that make this series exciting.
Defense: Advantage None - Tied
NYR - 13 Goals allowed in 7 Playoff games, Two players with 100+ blocked shots in the reg. season,
84.6 Penalty Kill %, Allowed 218 Shots against / 31.1 Shots against per game in 5 Playoff games
WSH - 15 Goals allowed in 7 Playoff games, Four players with 100+ blocked shots in the reg. season, 91.3 Penalty Kill %, Allowed 248 Shots against / 35.4 Shots against per game in 5 Playoff games
Washington has a better Penalty Kill and more players blocking lots of shots, whereas New York has allowed fewer goals and has a much more favourable shots against per game stat. Both teams play a game that limits offensive opportunities for the other team and both team's stars have bought in. It will be a series of hard fought battles and lucky bounces.
Goaltending: Advantage (Minor) Rangers
NYR - Henrik Lundqvist (Reg. Ssn. 62GP 39-18-5, .930%, 1.97GAA / Playoffs: 4-3-0, .945%, 1.70GAA) 
WSH - Braden Holtby (Reg. Ssn. 7GP 4-2-1, .922%, 2.49GAA / Playoff: 4-3-0, .940%, 2.00GAA) 
This will be one of the more interesting goalie match ups of the playoffs as unproven rookie Braden Holtby has stood on his head and played (as Bob McKenzie likes to say) "Ken Dryden-esque" for the Caps so far.
At the other end of the ice, King Henrik has been earning his moniker this season and has really been carrying the Rangers this entire season, and that has continued into these playoffs. You'd think I'd say, based on Lundqvist's experience, this is a shoo-in win for the Rangers, but Lundy has a spotty at best track record in the playoffs (42GP, 19W 23L .915%, 2.45GAA).
The Rangers earn the win in this category based off of The King's slightly better playoff numbers this year than counterpart Holtby.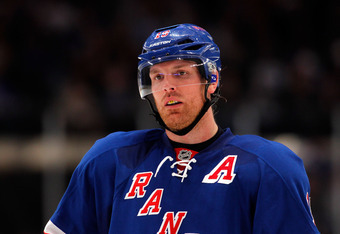 Mike Stobe/Getty Images
Three Players to watch:
Brad Richards - Was largely invisible in the 1st round and that needs to change if the Rangers are going to move on. Yes, he has 5 points, but his overall play needs to improve, especially in the face-off circle.
Braden Holtby - He's been compared to Ken Dryden for obvious reasons–starting the playoffs as a rookie due to injury and solidifying the position and carrying his team to a series win–but the comparisons will all be for nothing if Holtby can't keep up his solid play against the Rangers. 
Alex Ovechkin - In a series this close, Ovechkin is going to have to dominate. The Rangers don't have a Chara-type player to completely mitigate Ovi–not a knock on McDonagh or Girardi, just neither are Chara–so he should have the tiniest bit of extra space to pull out his bag of tricks and leave his make on this series. Whether he actually does anything with it? That is what we will all have to wait and see.
Verdict:  Washington in 7 Games
These teams are incredibly close as indicated by the tie in offense, defense and goaltending stats. So to go to the tiebreaker, we look to the top player on each team. This series is too close to call but Alex Ovechkin has more game-breaking ability in my mind. I fully expect a lot of flak on this one, but I'm gonna go with my gut in a series this close.
Washington takes it in a long and hard-fought battle.