New York Islanders: 6 Players the Islanders Could Draft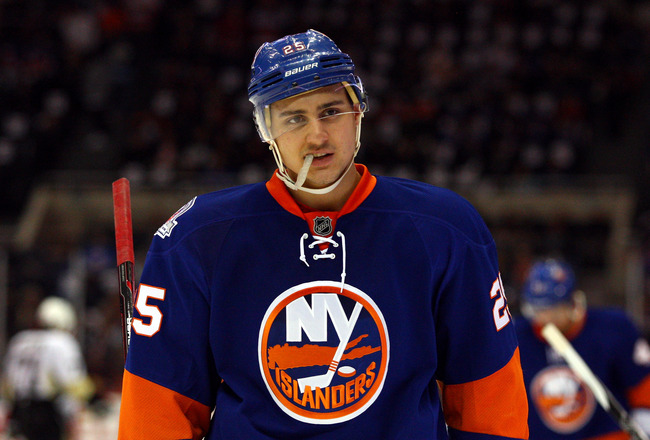 Chris Chambers/Getty Images
With the disappointment of the 2011-12 season over, the next thing is to look towards the draft. The Islanders were in the lottery once again and have been awarded the fourth pick in the 2012 NHL Amateur draft. The Isles have taken John Tavares, Nino Niederreiter and Ryan Strome with their first picks the last three years and hope to build on that with their first-round pick this year. Time to put our Garth Snow hat and evaluate six players the Islanders could draft in June.
1) Nail Yakupov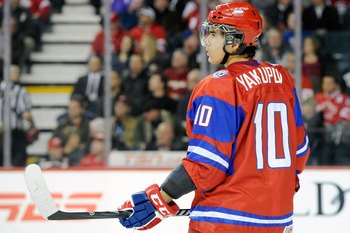 Richard Wolowicz/Getty Images
Nail Yakupov will almost certainly be the first name called on draft day. But hey, we can dream, right?
In 107 games the past two seasons, Yakupov has put up 80 goals and 90 assists. That is an average of 1.59 points per game, folks. Yakupov wasn't too shabby in the World Ice Hockey Championships either, posting nine assists in seven games.
The only downside to Yakupov is some injury concerns. Yakupov suffered a knee injury during the World Junior Championship that forced him to miss the last three games of the season. It is doubtful that his knee injury will have an affect on his No. 1 overall prospect status.
Yakupov is the most talented player to come out of Russia since Alexander Ovechkin was the No. 1 overall pick by the Washington Capitals in 2004 and when it is all said and done, we could be comparing these two players head-to-head for the next decade.
2) Mikhael Grigorenko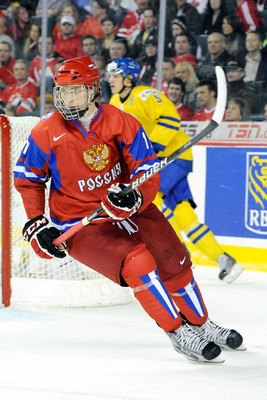 Richard Wolowicz/Getty Images
Mikhail Grigorenko will be another player almost surely gone by the time the Islanders are called to the podium on draft day. Grigorenko is arguably the second-best player on the board and will be the second Russian player, meaning if Yakupov is going to get the Ovechkin comparisons, Grigorenko is going to get a number of Evgeni Malkin comparisons.
Grigorenko finished with 40 goals and 45 assists playing for the Quebec Remparts of the Quebec Major Junior Hockey League. The Malkin comparisons don't end at the second-overall pick, either. Both Grigorenko and Malkin come from Russia, are 6' 3" and are left-handed centers. If all works out for Grigorenko, he will have a very similar career to Malkin's as well.
3) Alex Galchenyuk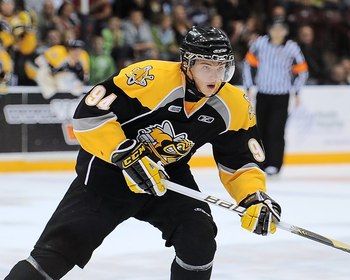 Photo Courtesy of thepipelineshow.blogspot.com
Another player the Isles could call on draft day is Alex Galchenyuk. Born in Milwaukee, Wisconsin, Galchenyuk was fantastic for the Sarnia Sting of the OHL last season. In 70 games with the Sting, Galchenyuk scored 83 points in 70 games, which included 31 goals.
Galchenyuk was also the winner of the Jack Ferguson award. First pick in the OHL Priority pick. Some former players with this honor include Steven Stamkos, Jason Spezza and the Islanders own, John Tavares. Not in bad company to be named with those guys.
4) Filip Forsberg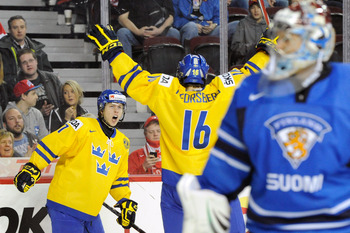 Richard Wolowicz/Getty Images
The last forward the Islanders could take with the fourth pick is Filip Forsberg. First things first, there is no relation to Colorado Avalanche great, Peter Forsberg. Now that that's out of the way, we can focus on the immense talent that Filip Forsberg is.
While Forsberg didn't put up elite numbers in Sweden, it is his tools that jump off the charts. In 95 games with Leksands IF in Sweden, he totaled 30 goals and 29 assists. At 6' 2", he has a similar scouting profile to another Islander, Nino Niederreiter.
5) Ryan Murray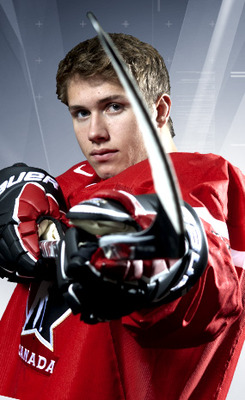 The Islanders' most glaring need was defense. Despite great goaltending throughout the year by Evgeni Nabokov, just three teams allowed more goals than the Islanders. A rock-solid defenseman is sure to change that. Ryan Murray is probably the best defensemen available in the draft and the Islanders will be sure to target him if he is available. Murray has averaged approximately seven goals and 28 assists in three years in the Western Hockey League.
Adding Murray to a core of Travis Hamonic and Andrew MacDonald will go a long way in making the Islanders a much better defensive team.
6) Matt Dumba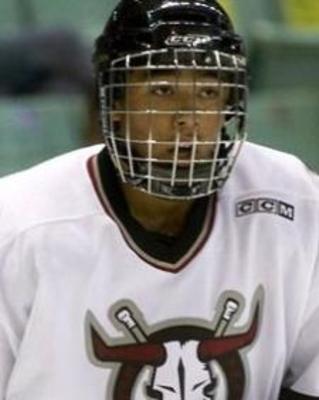 Last but not least, we have Matt Dumba. Like Murray, Dumba is not oversized, but he has shown flashes of elite-scoring potential in the WHL. While Murray is a more defensive-minded defenseman and is probably the better pick, don't be shocked if Dumba is the name the Islanders call on draft day.
Dumba scored 20 goals and 37 points in 57 games last year with the Red Deer Rebels. Not only is Dumba a very good player, he is a very smart player as well.
"He has a hard and accurate shot that he gets through to the net consistently," said Red Deer VP of Hockey Operations, Randy Peterson. "One of the biggest things about Matt's game is that he makes very few mistakes, and the few mistakes he does make, he's able to recover from by using his good hockey sense." (h/t My NFL Draft)
Keep Reading

New York Islanders: Like this team?