WWE Extreme Rules 2012: What to Be Excited About, What Not to Be Excited About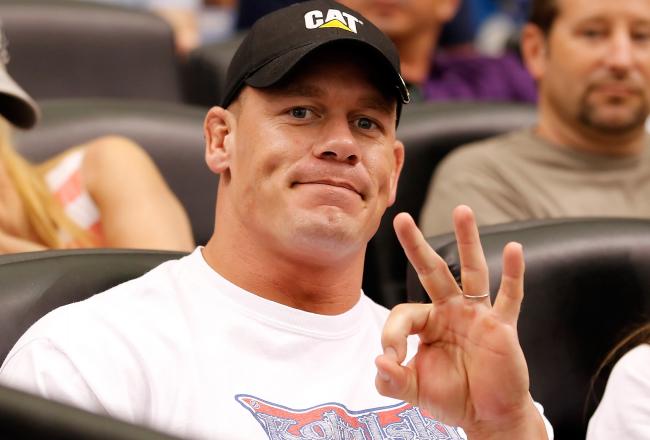 Sure, John Cena seems happy here, but that all may change after his match vs. Brock Lesnar on Sunday
J. Meric/Getty Images
WWE Extreme Rules is this Sunday at 8 p.m. Eastern time, and as is usual for the first pay-per-view after WrestleMania, the card is chock full of WrestleMania rematches.
Personally, I hate this. Feuds should not be advanced at the biggest show of the year. They should end there. But Vince McMahon rarely calls to ask for my opinion, so here we are.
That said, there's a lot to look forward to at Extreme Rules. The following matches don't fall under that category.
U.S. Champion Santino Marella vs. The Miz (U.S. Championship Match)
Making fun of Santino is kind of low-hanging fruit—between the Cobra, his gi-shirt, the Cobra, the Cobra, the trumpet dance, and the Cobra, there's a lot to potentially mock—so I'll avoid taking a shot at him.
The Miz, of course, has been pretty much spinning his wheels since he dropped the WWE championship to John Cena last year. I mean, it could just be me, but I'm having a little trouble getting excited about Comedy Guy vs. Guy Who Hasn't Done Anything Particularly Noteworthy In Like A Year.
I'm also having trouble thinking of anything particularly exciting to write about it, so let's just move on.
Divas Champion Nikki Bella vs. Beth Phoenix (Divas Championship Match)

I mean, it's a quickly pieced-together Divas match that probably won't last much longer than five minutes (and that might be optimistic) and doesn't have any real story behind it. What's there to be excited about?
Well, Twin Magic. I'm legitimately excited about the possibility of Twin Magic being used. I'd also like to see the Minnesota Twins start using it. Do you think umpires would notice if Justin Morneau came up to hit in Alexi Casilla's spot in the ninth inning of a tie game? They probably would, but I feel like Minnesota should give it a try anyway.
But enough negativity. The other five matches on the card seem to be well worth watching. Well, to me anyway.
Intercontinental Champion The Big Show vs. Cody Rhodes (Intercontinental Championship Match)
Full disclosure: Cody Rhodes is my favorite wrestler, so I'm always going to look forward to his matches. I like his cocky smile and promos. I like his showmanship (example: The Ali Shuffle he broke out after handcuffing Big Show to the ropes and punching him in the face repeatedly while wearing over-sized boxing gloves in the build-up to their WrestleMania match).
I like how everything he does in the ring seems to have good logic and a sense of purpose behind it (subjective, but still). I like the way he slaps the ring steps before he runs up them. I LOVE his theme music...Suffice to say, I like a lot of stuff about him, and I could add things and go into more detail about other things and then all of a sudden this would be an 8,000-word article about Cody Rhodes. Which I would probably love, but I can't imagine anyone else would. So let's just stop here.
Anyway, Cody is trying to regain the Intercontinental championship he lost to Show at Wrestlemania, and here's hoping he does it. Seriously, Cody needs to save some face after not only losing the title, but then getting distracted multiple times by Show playing videos of him during his matches. More importantly, if Cody wins, that means that "Smoke and Mirrors" will play twice instead of once, and I am not lying when I say that will make my day.
What Sesame Street Monster do you think would be most likely to attack Randy Orton for no apparent reason?
Randy Orton vs. Kane (Falls Count Anywhere Match)
Well, it's nice that this feud seems to have a real purpose after these two beat up each others' fathers over the past few weeks. As opposed to their WrestleMania match, where Kane's initial justification for attacking Orton and starting their current feud was basically "BLAAARGH, I'M A MONSTER, RANDY, NOT A MAN" (paraphrasing). I guess that's kind of the nice thing about Kane's current gimmick; you can pretty much have him feud with any opponent by attacking them randomly because, hey, he's a monster!
For what it's worth, the fact that Kane is a monster doesn't really explain why he feels the need to attack people. For example, it is really difficult to imagine, say, Cookie Monster viciously attacking the Viper for no reason. But then again, maybe that's something he would do. I haven't watched Sesame Street in a while, so I don't really know what he's into these days.
Anyway, the match. It's worth looking forward to because Falls Count Anywhere implies a lot of crowd brawling and weapons, and while that's not always a recipe for a great match, it's always fun and a nice departure from normal matches.
World Heavyweight Champion Sheamus vs. Daniel Bryan (2 out of 3 Falls Match for World Heavyweight Championship)
All I can say is that after their WrestleMania match (which lasted 18 seconds), this match needs to go literally six hours.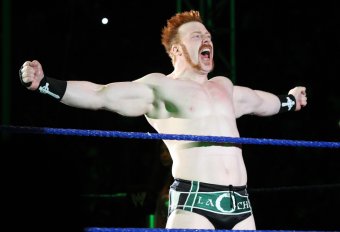 In a 2/3 Falls Match, it will almost certainly take Sheamus at least a little bit more than eighteen seconds to beat Daniel Bryan and start celebrating
Gallo Images/Getty Images
Okay, scratch that, I can't imagine a six-hour match turns out well for anyone involved, or any of the fans. Still, you can expect this match to last significantly longer than 18 seconds, and because of the guys involved, to be pretty freaking good as well. So that's why it should be a great match to watch. Basically, two guys who are good at wrestling will presumably have a long time to have a great wrestling match. We shall see.
One thing that I would like to touch on briefly: Daniel Bryan seems to be getting more popular by the hour, and it's great that he's getting fans so interested and excited about what he's doing. And I'm definitely one of those fans who's getting excited about what he's doing.
Sometimes when I'm by myself, I start loudly chanting "Yes! Yes! Yes!" while thrusting my arms in the air. Which leads me to my point; I think wrestling fans will chant literally anything if they get the chance to, no matter how obnoxious it is. The whole "Yes!" thing, if I may be presumptuous, seemed to be part of Bryan's attempt to act really obnoxious, therefore turning fans against him.
Instead, it's made him more popular than ever; witness the crowds chanting "Yes!" during matches, interviews, and so on. Personally, I think if Bryan did the whole "Yes!" celebration but was chanting "Squirrel!" instead of "Yes!", entire arenas would be chanting "Squirrel!" during matches as well.
Unfortunately, this hypothesis will likely never be tested, which is a shame, because while it's common knowledge that wrestling fans like things to chant, I honestly believe they will chant literally any catchphrase a wrestler feeds them, so to speak.
Who will leave Extreme Rules as WWE Champion?
WWE Champion CM Punk vs. Chris Jericho (Chicago Street Fight for WWE Championship)
For what it's worth, I kind of liked the whole "CM Punk baiting Jericho by acting drunk" angle from Raw on Monday. Yeah, it was predictable, but I could buy that Jericho, in his zeal to prove Punk a fraud, would honestly believe that Punk was drinking, and it was nice to see Punk be on the offensive in this feud, because he has spent a lot of time on his back lately while Jericho pours liquor on him.
Anyway, there's no reason to expect this match to be anything but memorable. Punk and Jericho really are two of the best in the world at what they do. The environment in Punk's home state of Illinois should be amazing, though it's tough to see Punk getting a bigger reaction than he did at Money in the Bank (also in Illinois) last year.
Punk has a legitimate reason (in a storyline sense) to want to beat the crap out of Jericho. Not that I'm saying the whole storyline was executed perfectly, but it was certainly executed well enough to get me really really psyched for this match.
John Cena vs. Brock Lesnar (Extreme Rules Match)
Okay, so I know that I'm supposed to suspend my disbelief while watching pro wrestling, but my one concern with this match is this; how is John Cena supposed to beat Brock Lesnar in any kind of fair physical fight? Brock's bigger and stronger, but more importantly, most of the audience is aware of Brock's run in UFC, where he had a run as the UFC heavyweight champion.
What possible advantage does Cena have? Maybe speed and quickness, but any advantage he has there would seem to pale in comparison to all of Lesnar's advantages. This is why if I were booking Brock Lesnar, I'd have him pin all his opponents in 15 seconds, and then swallow them whole immediately following the match, something I'm 100 percent sure Lesnar is capable of doing.
In what I'm sure is a coincidence, I do not currently work for any professional wrestling companies.
So the obvious reason to be psyched for this match is the return of Lesnar. Something I'm looking forward to seeing is how Cena reacts to losing another big match (assuming he loses here, which I think he will—you can't have Lesnar lose in his return match, right?).
Cena, obviously, has had a lot more success than failure in terms of wins and losses over the course of his WWE run, so him going into a slump is new to him, or at least would theoretically feel new to him.
So how does he react to it? Does he lose his cool, and thus his ability to Rise Above Hate? Does he continue to insist that everything is fine with him and he's not in a slump? Does he take six months off to tour the most famous zoos in the United States? Who knows, really? But again, this is a new place for Cena, and I really am excited to see how he ends up handling sustained failure.
So yes, some of the matches at Extreme Rules are just WrestleMania rematches; four of them, as a matter of fact. But the card seems solid overall, with the potential to be something more than that. And hey, if feuds can't be settled at WrestleMania, maybe they'll get settled here, a month after WrestleMania. Better late than never, right?
This article is
What is the duplicate article?
Why is this article offensive?
Where is this article plagiarized from?
Why is this article poorly edited?