If College Football Were a Movie.......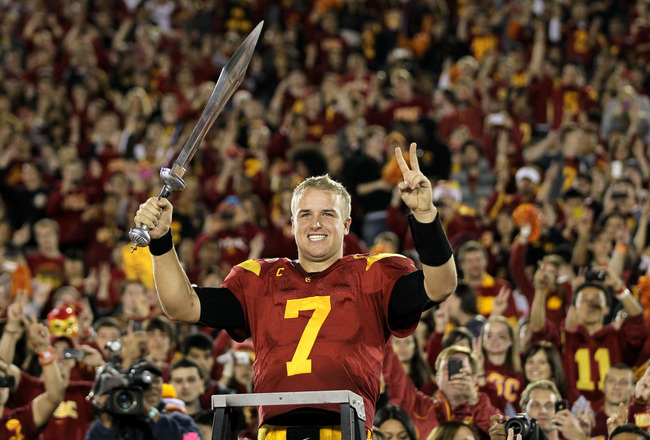 Stephen Dunn/Getty Images
Lets be completely honest, who doesn't love a good sports movie? For sports fans, having a great sports movie come out is almost as good as sitting down and watching a game.
In today's day, college football has become so entertaining that you could almost make a movie out of some of the stories that have unfolded over the past decade or two.
When you look at the college football landscape both the player, the coaches and the personalities, the potential for a movie is endless. If someone was brave enough to take on the task of making a movie about college football, here is a look at 50 people who should be in it and what actor would fill their shoes.
Any Part That Needs a Voice-Over: Morgan Freeman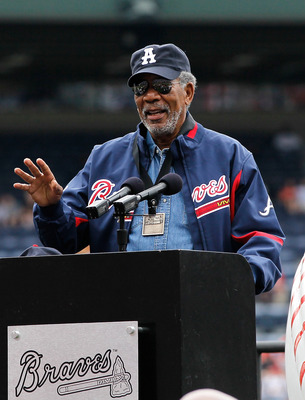 Kevin C. Cox/Getty Images
Lets be honest, over the past 10 years, Morgan Freeman has become the king of voice-overs in various movies. If college football was too make a movie about itself, any part that would need a voice-over done should be done by Freeman
Jenn Sterger: Jenny McCarthy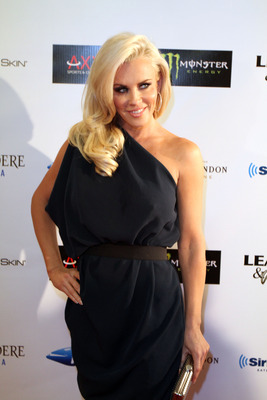 Tasos Katopodis/Getty Images
Back when Jenn Sterger was gracing the Florida State stands, fans across the nation were going nuts over her looks and outfits that she would wear to games. If she was included in the movie, Jenny McCarthy could easily fill her role and do justice to the part that it would play.
Touchdown Jesus: Touchdown Jesus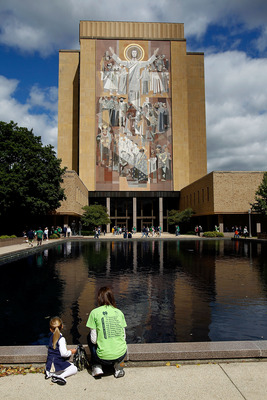 Jonathan Daniel/Getty Images
One of the most iconic figures and sights in college football is the view of Touchdown Jesus. When making a film, this sight would have to be included and it would be a role that the current Touchdown Jesus would have perfected.
NCAA Investigators: Patton Oswalt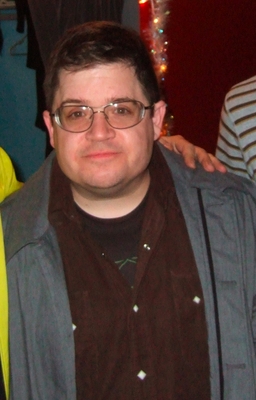 In today's day and age there are almost constant NCAA investigations going on. While most of the investigators are hard working individuals if you are going to include them in a movie, you have to have the role filled by someone like Patton Oswalt who can play a nerdy, hard working employee.
Bill Hancock Executive Director BCS/Willem Dafoe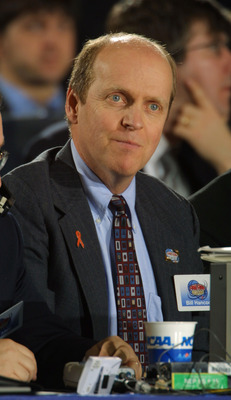 Brian Bahr/Getty Images
Bill Hancock is the Executive Director of the BCS and to this point may be one of the biggest villains in sports today. When turning this into a movie, Willem Dafoe has done a great job playing villains in the past and has a good enough resemblance to Hancock to make it work.
Jim Delany Big 10 Commissioner: Kevin Spacey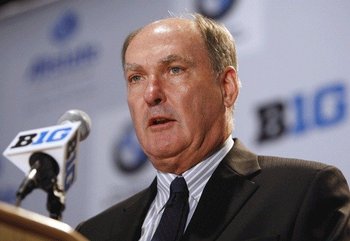 Jim Delany would have to be part of this movie because as the commissioner of the Big 10, he is playing a bigger and bigger role in college football. He has been a huge part of the negotiations surrounding a potential playoff in college football and Kevin Spacey would be a great fit for this part.
Mike Slive SEC Commissioner: Sam Waterston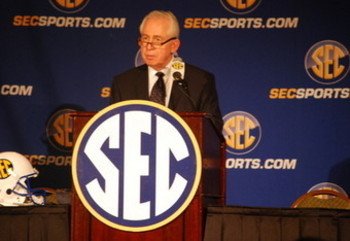 The most powerful conference in college football is the SEC and that makes Mike Slive, its commissioner, one of the most powerful figures in the sport. To fill his role you need someone who is use to playing a powerful role which would make Sam Waterston, Law and Order actor, a perfect fit.
Larry Scott Pac-12 Commissioner: Peter Jacobson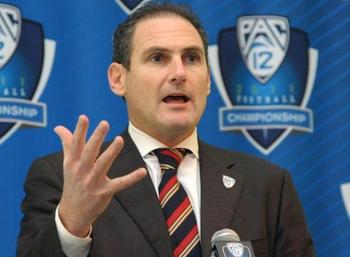 The last of the outspoken commissioners is Larry Scott of the Pac-12. Scott has done a great job of helping his conference be fairly represented. Based on looks alone, Peter Jacobson from the TV show House would be a perfect fill-in for Scott in the movie.
Nick Saban: Al Pacino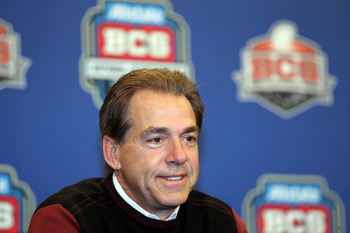 Andy Lyons/Getty Images
A coach that would certainly be involved in the movie is Nick Saban. Saban has carved out a spot as the best coach in the game right now so you would have to find one of the best actors to fill his shoes.
Al Pacino would do a great job for Saban and based on the experience he had in Any Given Sunday, Pacino would do just fine.
Les Miles: Jim Carrey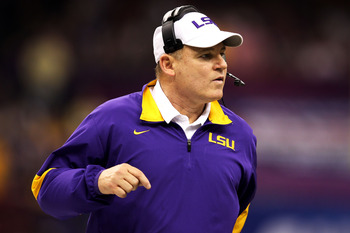 Andy Lyons/Getty Images
Another coach that will be represented in the movie is Les Miles. Miles is a bit quirky, with some odd parts that make up who he is. With that said, Jim Carrey is the perfect fit for this role as Carrey was played quirky roles throughout his life.
Chip Kelly: Tom Hanks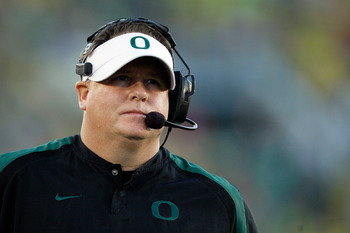 Jeff Gross/Getty Images
Tom Hanks has done a great job of adjusting and rolling with changes to the movie industry and the various roles he has had to fill.
In college football, Chip Kelly has found himself doing the same thing as he transitions the Oregon offense from one look to another without losing production.
Bob Stoops: Sean Penn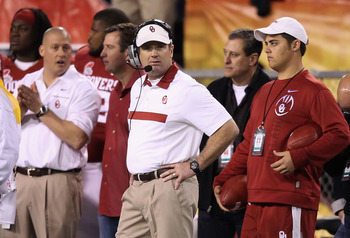 Christian Petersen/Getty Images
Bob Stoops is a coach that you always expect big things from and he comes up a bit short for the most part. Much like Stoops, Sean Penn is a big name in Hollywood that brings people into the theatre but a lot of his movies just come up short of being great.
Mike Gundy: Adam Sandler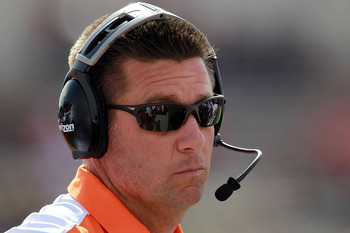 Ronald Martinez/Getty Images
Mike Gundy has done a great job of turning the Oklahoma State program around so far but is most well known for his speech in which he yelled, "I am a man, I'm 40." When putting this into a movie, nobody would do a better job of nailing that post game rant than Adam Sandler.
Urban Meyer: Harrison Ford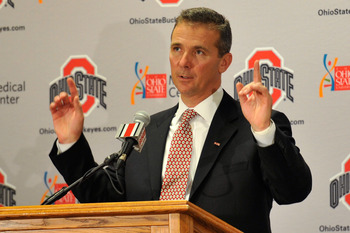 Jamie Sabau/Getty Images
No matter what role Harrison Ford has filled, he has found success with it. Much like Ford, Urban Meyer has gone to different programs and at each stop he has been a hit. This year, Meyer will make a stop in Columbus and it will certainly be another hit for him and the Buckeyes.
Brady Hoke: Kevin James
Kevin C. Cox/Getty Images
Brady Hoke has done a great job after one year of bringing back Michigan. Hoke is a very simple and likable guy whose role in a movie could be played by Kevin James. James and Hoke have very similar looks and James would do a great job of adding some humor to the film.
Mike London: Denzel Washington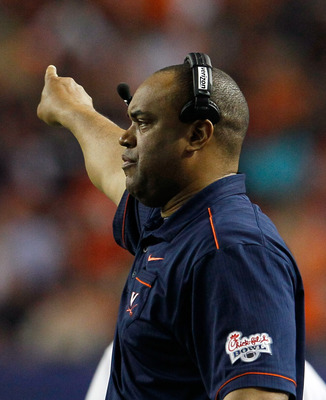 Kevin C. Cox/Getty Images
If Mike London is somewhere reading this article, he can send a thank you letter directly to me as his role in this movie is being filled by Denzel Washington.
Washington has played a coach in the film Remember the Titans and would do a great job of stepping into this role as a coach with an up and coming team.
Lane Kiffin: Kevin Costner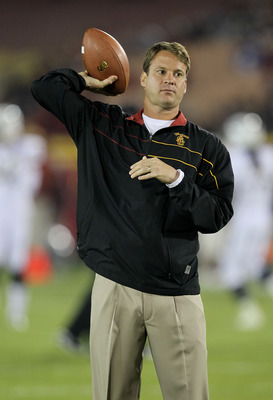 Stephen Dunn/Getty Images
You have to know that if there is a movie being made about college football than the head coach of a team based near Hollywood has to be in it.
While Kiffin's character is a must, Kevin Costner would do a good job stepping in and playing the USC head coach.
Bill Snyder: Michael Douglas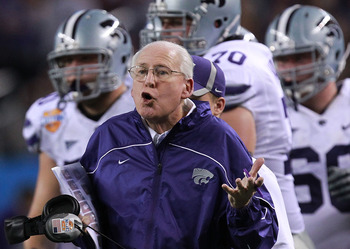 Ronald Martinez/Getty Images
Bill Snyder has done a great job of having early success in the 90's with Kansas State and then rejuvenated his career last season. Similarly, Michael Douglas had success with films like Wall Street and has seen that storyline brought back.
Dabo Swinney: Edward Norton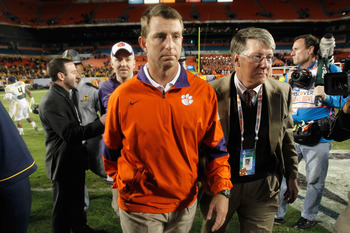 Streeter Lecka/Getty Images
Dabo Swinney has done a good job at Clemson and after winning the 2011 ACC championship, the Tigers should be back with a chance at a second straight title.
When looking at filling a role for him in a movie, Edward Norton has a look that matches Swinney very well and would play out well in the movie.
Mack Brown: George Clooney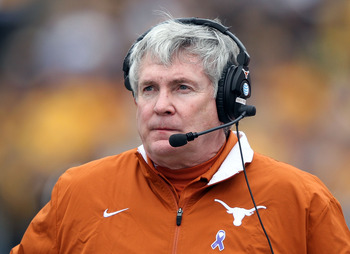 Jamie Squire/Getty Images
The head coach of Texas has done a great job but has fallen on hard times. Mack Brown is a great coach and Texas is a powerful school. With the amount of pull and power that the Longhorns have, look for them to push for a huge stretch in playing Brown's role as they get George Clooney to do the honors.
Mark Richt: Bruce Willis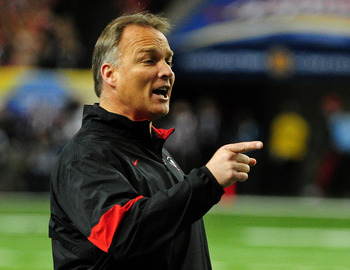 Scott Cunningham/Getty Images
Mark Richt is a guy who continues to take his lumps but puts on a smile and continues to work as hard as he can. With the effort that he puts in, Richt is as much of a tough guy as the next and who better to play him then one of the toughest characters in film, Bruce Willis.
Kirk Ferentz: John Travolta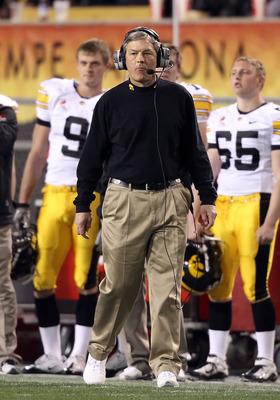 Christian Petersen/Getty Images
The downside for Kirk Ferentz is that while coaching in Iowa, he sometimes can get lost in the shuffle especially with the way the Hawkeyes have struggled.
When putting together the cast, if Ferentz was to be included, one way to get him noticed is to have John Travolta step in bring some life back to the Iowa program.
Gene Chizik: Russell Crowe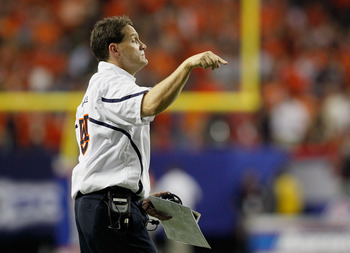 Kevin C. Cox/Getty Images
During the 2010 title run, Gene Chizik did a great job of being the leader of Auburn and finding a way to keep the distractions that surrounded the team from keeping them from theirs goals.
When watching the movie, Russell Crowe would do a great job filling in for Chizik and has the look of a former football player.
Steve Spurrier: Liam Neeson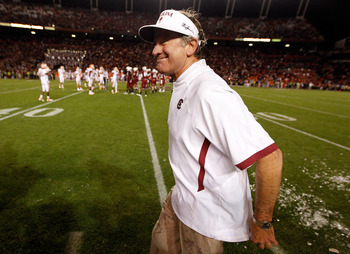 Streeter Lecka/Getty Images
Steve Spurrier is a great coach and is preparing to coach the Gamecocks to a potential SEC title run. Based on looks and mannerisms, Spurrier would be happy to have his role in the film played by Liam Neeson.
Brian Kelly: Gene Hackman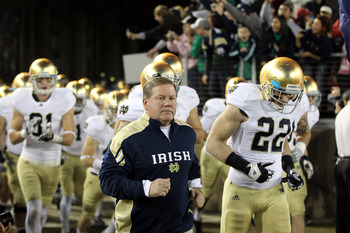 Ezra Shaw/Getty Images
Brian Kelly has been well known for his sideline blowups and temper. When some of the scenes are covered in the movie about the NCAA, Kelly's role would be filled by Gene Hackman who would have no problem matching his intensity.
Jesse Palmer: Jesse Palmer
Doug Pensinger/Getty Images
Jesse Palmer has found himself finding more success off the field than he ever had on the field. After his playing days were over, Palmer stared in the show The Bachelor and based on the work that he has done on film already, nobody would do a better job as Palmer than himself.
Todd Mcshay: Michael J Fox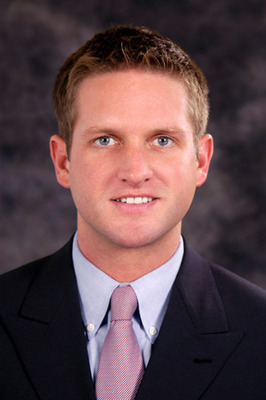 Todd Mcshay has done a great job of carving out a niche in the sport of football by giving his analysis on both the college and professional game. Mcshay has a very young look about him and based on that, Michael J Fox would do a great job of stepping up for this part.
Lee Corso: Jerry Stiller
Kevork Djansezian/Getty Images
Lee Corso has done a fantastic job on College Gameday but has turned into the quirky old man on the show. With that understanding, Jerry Stiller would nail this role as he has done it before in shows like King of Queens. .

Kirk Herbstreit: Tom Cruise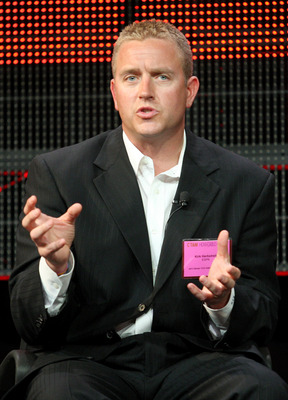 Frederick M. Brown/Getty Images
When looking at the College Gameday crew, Kirk Herbstreit is always the clean cut guy who is popular almost everywhere he goes. Similarly, Tom Cruise has the same kind of following and would not dissappoint when filling in for Herbstreit.

Lou Holtz: Dr. Lou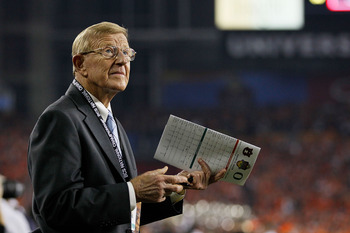 Kevin C. Cox/Getty Images
Lets be completely honest here. Lou Holtz is a unique individual and has become a huge part of Saturday's in the fall on ESPN. Like him or hate him, Holtz would definitely be in this movie and the only one that could do justice to his role is himself as Dr. Lou.

Erin Andrews: Jessica Simpson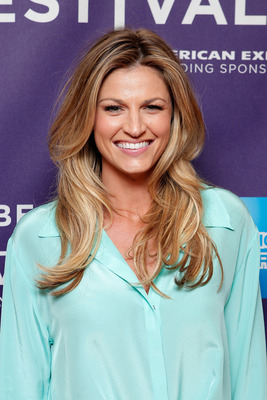 Jemal Countess/Getty Images
Along with the other members of the College Gameday crew, Erin Andrews is the queen of Saturday mornings and helps make college football what it is today. When replacing her in a film, Jessica Simpson would be a nice fit and certainly would not be hard on the eyes either.

Chris Fowler: Ben Stiller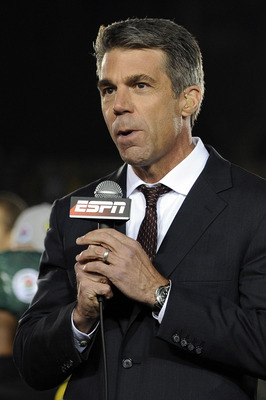 Harry How/Getty Images
Chris Fowler also is a huge part of college football as the host of College Gameday. With his quick wit and charm, Fowler is a great fit for his job but Ben Stiller would do an outstanding job should this script go to production.

Brent Musburger: Clint Eastwood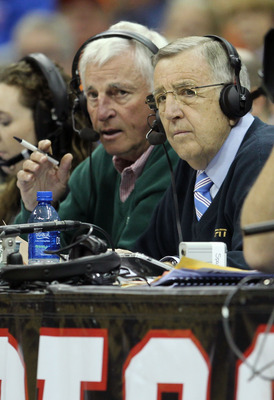 Jamie Squire/Getty Images
Up in the booth, Brent Musburger is a classic part of college football. His voice has brought many of the big games to life. If someone was to play his part in a movie, Clint Eastwood would do an outstanding job of commanding attention.

Desmond Howard: Chris Rock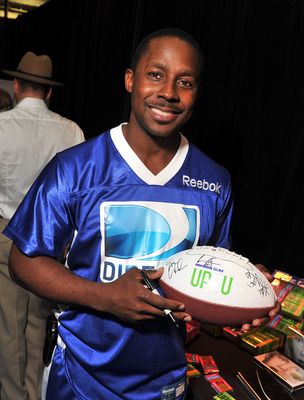 Stephen Lovekin/Getty Images
Desmond Howard's role on College Gameday seems to be that of an analyst the breaks down the offense and provides some jokes while doing so. If you want to liven it up and ensure the jokes hit home than Chris Rock would need to be brought in to liven this movie up.

Todd Blackledge: Mel Gibson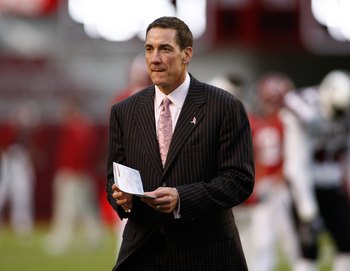 Mike Zarrilli/Getty Images
Todd Blackledge is another guy that is up in the booth that does a fantastic job for ESPN. For pure entertainment, Mel Gibson should be put up in the booth in his place. What could go wrong with giving Gibson a national audience and a microphone?
Chris Spielman: Sylvester Stallon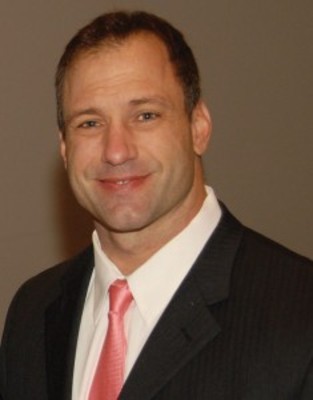 Chris Spielman does a very nice job up in the booth and brings the credibility of a former college and NFL player. Staring in his place would by Sylvester Stallon who was acted in sports movies before and also has the build of Spielman.
Matt Barkley: Brad Pitt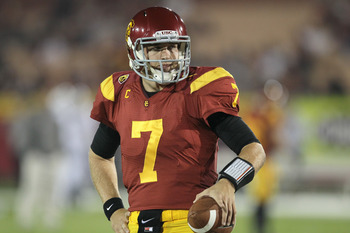 Stephen Dunn/Getty Images
Back for his senior season at USC is Matt Barkley. Barkley is under center in Southern California and is the poster-child for what quarterbacks dream of.
Being outside of Hollywood means a true A-lister would have to play him so bring on Brad Pitt.
Marqise Lee: Orlando Jones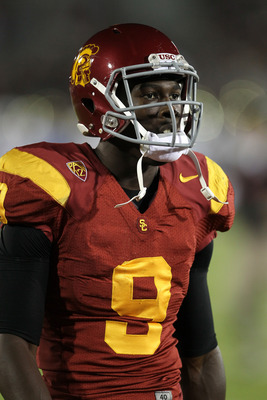 Stephen Dunn/Getty Images
One of the reasons that Matt Barkley is so successful is because of receivers like Marqise Lee. Lee is a quiet receiver who puts up loud numbers. Orlando Jones has had experience playing a receiver and would do an excellent job being one of Brad Pitt's main targets.

Robert Woods: Will Smith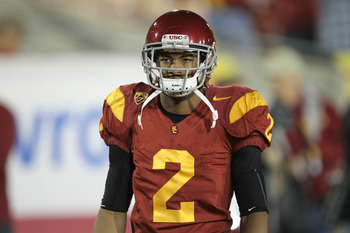 Stephen Dunn/Getty Images
Lined up opposite of Marqise Lee is Robert Woods. Woods is another freakish athlete that gives corners nightmares. In this movie, Will Smith could step up to the level needed to match Woods intensity and make his character come to life.
Collin Klein: James Van Der Beek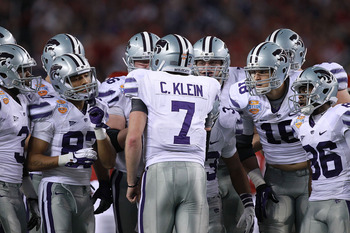 Ronald Martinez/Getty Images
After last seasons performance, Collin Klein could become a household name this season for Kansas State. With his ability to run and pass, Klein is a very difficult player to defend.
To play Klein, we need to look no farther than to James Van Der Beek who has played the role before and would be spot on.

Knile Davis/Jim Brown
Chris Graythen/Getty Images
Knile Davis makes his return to the field this season after suffering a knee injury early in summer practice. With his hard hitting style, Davis gets the ultimate complement as Jim Brown dusts off the pads and fills this comeback role.
Kenjon Barner: LL Cool J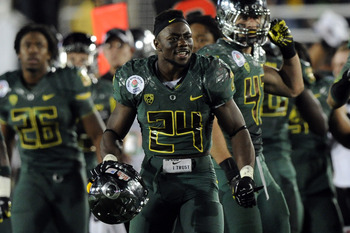 Harry How/Getty Images
Kenjon Barner is another player who will be a household name by the end of this year. Barner is stepping in for LaMichael James and is ready to shine.
When looking for someone who can match Barner's skill set and his charm, LL Cool J comes to mind and even has the experience of playing a running back in the movie Any Given Sunday.
Montee Ball: Wesley Snipes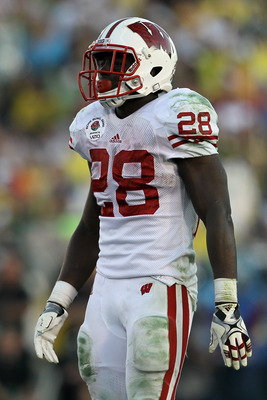 Stephen Dunn/Getty Images
With no Russell Wilson this year, Montee Ball is taking on a huge task with Wisconsin. While he has the ability to be a great back he will be doing it on his own this year.

Wesley Snipes has experience playing roles that has required him to be a one man army and that is exactly who we would need in this movie.

Tyler Wilson: Mark Wahlberg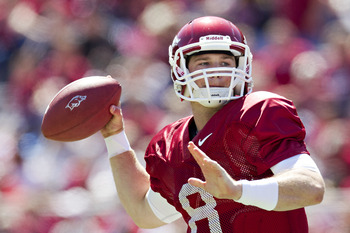 Wesley Hitt/Getty Images
Tyler Wilson is an outstanding quarterback that is eyeing up a huge season for Arkansas. With his size and strength, Wilson will need someone who match that to make things believable so who better than Mark Wahlberg, who also has experience playing a football player in the movie Invincible.

Jarvis Jones: Lawrence Taylor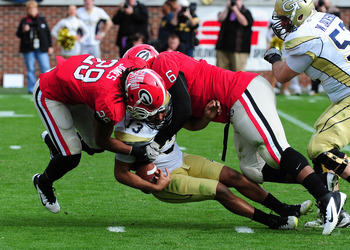 Scott Cunningham/Getty Images
Last year Jarvis Jones was a mad man as he got after quarterbacks all over the SEC. To match his intensity and passion, we need to look no further than to former linebacker Lawrence Taylor who also starred in Any Given Sunday.

Sammy Watkins/Terrell Owens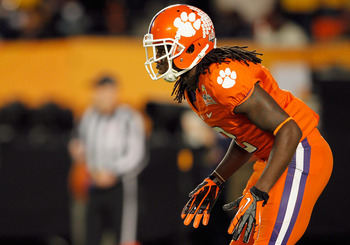 Mike Ehrmann/Getty Images
Sammy Watkins is back from his breakout freshman season and should be the best receiver in the ACC this season. When looking for a actor that can match his speed and skills, Terrell Owens is a guy that comes to mind as having both the time and ability to do so.

Tyrann Mathieu: Tyrann Mathieu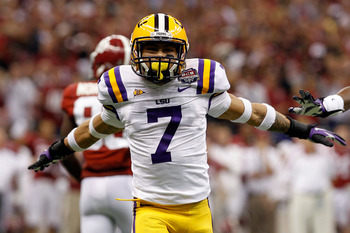 Chris Graythen/Getty Images
Tyrann Mathieu is one of the most unique characters in college football. Nicknamed the Honey Badger, Mathieu was a pest for any team that LSU went up against. When trying to pick a actor for his role, Mathieu took it himself because the Honey Badger takes what he wants.
Denard Robinson: Jamie Foxx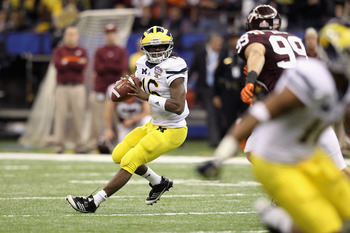 Matthew Stockman/Getty Images
In a long line of actors making a reunion from the movie Any Given Sunday, Jamie Foxx steps up and fills the role of Denard Robinson. In the movie, Foxx played a quarterback with great mobility who was trying to find his touch in the passing game and that describes Robinson perfectly.

De'Anthony Thomas/Lil Wayne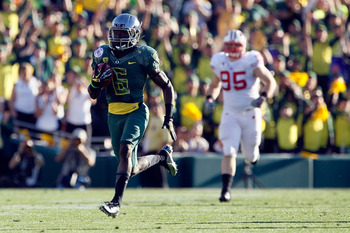 Jeff Gross/Getty Images
As a true freshman, De'Anthony Thomas was not a secret by the middle of the season. With his explosive runs, Thomas was someone that every defense had to be prepared for.
Based on looks alone, it would be hard not to replace Thomas in this movie by someone like Lil Wayne who matches his look and body perfectly.
Tajh Boyd: Bill Bellamy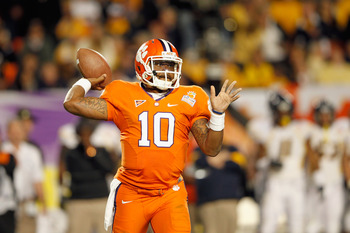 Mike Ehrmann/Getty Images
Last up from the movie Any Given Sunday is Bill Bellamy. Bellamy played a receiver in Any Given Sunday but heads under center to play Tajh Boyd. With similar builds, Bellamy should have no issue filling this role.

Keep Reading