Jay Cutler: Chicago Bears QB Is Smiling with WR Alshon Jeffery Coming to Town
April 30, 2012

Jonathan Daniel/Getty Images
It's Christmas in April for Chicago Bears quarterback Jay Cutler, because new GM Phil Emery added bookend receivers for him to play with next year. First, they traded for his former teammate, Brandon Marshall, and now they add stud wideout Alshon Jeffery.
If we could see him now, I'm sure he is smiling, and not just because he's engaged to reality babe Kristin Cavallari.
Instead of throwing to smurfs like he was during the Jerry Angelo regime, Cutler finally has a couple of guys who can go up and get the ball, and you know what that means: Pro Bowl. 
He was on the way last year before the injury, and that was throwing to receivers who were third-string at best on most teams. Earl Bennett is a good possession receiver and has a history with Cutler form Vanderbilt, but he's not a special player. 
Marshall is, and Jeffery has a chance to be. At 6'3" and about 217 lbs, the questions have to do with his weight fluctuation and lack of production last year after a great sophomore season. 
South Carolina's quarterback issues led to his lack of production, but I think the prior season gives a look into what kind of potential he has, and with Cutler, there are no quarterback questions in Chicago. 
He has great hands and can go up and get the ball. Between him and Marshall, opponents will have nightmares trying to defend them. 
The Monsters of the Midway have finally entered the 21st century. If coach Lovie Smith, who gets off the bus running, doesn't understand it, it appears Emery does.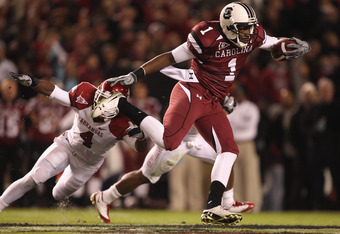 Streeter Lecka/Getty Images
Bears' games will finally be fun to watch on Sundays. For the purists, running between the tackles is the way to go, but that's not the NFL anymore. 
Teams that want to win have to have a premier passing game, and that means premier receivers. 
Now Cutler can just throw the ball up and say, "Go and get it"—and guess what—he actually has players who can do it. 
There are questions about both Jeffery and Marshall, but there are always questions about talented receivers. They are divas. It goes with the territory. 
The Bears passed on Randy Moss years ago for those same concerns. How did he turn out? 
How about Terrell Owens? Another pain in the butt, but in his day, he was a terrific receiver. 
We're not drafting choir boys here. These guys are football players. While Marshall has had past dust-ups with the law, there is none of that on Jeffery's resume. 
If you want to win, you have to take a chance. I'm okay with doing it with difference-makers. In the past, the Bears did it with guys like Curtis Enis, Cedric Benson, Tank Johnson and the like. Those are not the ones to take a chance on. 
While I love the Jeffery pick, I'm not sure about the rest of Emery's picks. 
When I heard they picked Shea McClellin, I said, "Who?" I heard a lot of names out there for defensive lineman for the Bears, but his name was not among them. 
An offensive lineman would have been nice, because in addition to receivers, Cutler needs someone to protect him and give him time to find them. 
The safety selection with the third-round pick, Brandon Hardin, has Lovie Smith all over it. They have drafted safeties for eight straight years, and in the third round three consecutive times. 
Smith hasn't coached one up yet, and there is nothing to believe that will change now. 
What is even more questionable is that Hardin missed the entire 2011 season with a shoulder injury. He started only 15 games at the college level and had injuries before last year. 
Former GM Jerry Angelo was famous for picking those kind of guys, but even he never spent a pick on a player who missed the entire season before he came out. 
The Bears finished up with a tight end who is considered undersized and a couple of corners with the last two picks. 
They say you can't judge a draft until at least two-to-three years into the future. 
Since I'm writing today, I'll say I'm very happy with Jeffery, and I'll reserve my judgement on the others. 
As happy as I am, I don't think it compares to Cutler. 
He has a couple of new babies to play with, and I'm not talking about the one Cavallari has on the way.