MLB Speculation: When Will the Chicago Cubs Turn 2012 into a Youth Movement?
April 27, 2012

Every opening day is much anticipated for Cubs fans. "Believe" flutters in the winds of Wrigleyville as conversations blossom that either start or end with "this year is the year." However, this year's opening day had an eerie feeling of hope building up on the corner of Clark and Addison.
The ivy was beginning to bloom, and the sun gleamed down on April 5. It was opening day—but not just any opening day. It was time for the Cubs to take their first step toward a World Series win under new direction of the franchise poster boy, Theo Epstein.  
That day, 41,176 onlookers clung to their seats and D'Agostino's pizza to watch Epstein assume his curse-breaking role at Wrigley. But not even the new president of baseball operations could save the Cubs from the inevitable. 
Here we are, in late-April, and the Cubs assume a lonely last place in the NL Central. This season, with so much promise and hope, has been every bit of ordinary. 
With this said, do not expect Epstein and his partner in crime, first-year GM Jed Hoyer, to sit around and twiddle their thumbs as the Cubs fall further and further into the laughing stock of the league. No, the front office duo is proactive, and Cubbies fans were given a glimpse of this in an off-season that saw the additions of Paul Maholm, Chris Volstad, Travis Wood, Ian Stewart, Anthony Rizzo and David DeJesus. It is only a matter of time before the Cubs kick it into rebuilding mode and bring up their many talented minor-leaguers. 
Cubs fans can already see Phase 1 of the youth movement with Saturday's trade of struggling outfielder Marlon Byrd. Byrd, 35, was dished to the Red Sox with the Cubs agreeing to pay off the remaining $6 million on his contract. Why? Epstein and the Cubs want to get younger, now!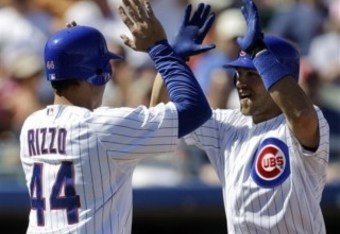 All signs point to Byrd being one of many Cubs outfielders to be on their way out. Right now the Cubs outfield features three players all above the age of 30. Headed by 36-year-old Alfonso Soriano, 35-year-old Reed Johnson and newcomer David DeJesus, 32, the club has just shy of $29 million tied up among those veterans.
You better believe Epstein is looking to change that—especially with much young talent waiting in the wings.
Theo Epstein has made it clear he is looking to build sustained success. To do this, the Cubs' president of baseball operation feels that getting young talent with the most game experience possible is a must. For now, the Cubs' future has been optioned to triple-A Iowa—but not for long.
As the Cubs' record continues to dip southward of 6-13, it is only a matter of time till we see the youth begin to be brought up. Players such as Anthony Rizzo, Brett Jackson and Josh Vitters are hoping for a late-June call-up. I believe they'll get it.
 When Epstein was the GM of the Red Sox, he hand-selected Rizzo in the sixth round of the 2007 draft—it is no coincidence that Rizzo now calls Chicago home.
Rizzo batted .331 with 26 home runs and 101 RBIs in upwards of 90 Triple-A games last season and is highly regarded as one of the best first baseman prospects in the league. Look for Rizzo to lead a rush of call-ups this season.
Other than the Rizzo, Jackson, the team's first-round pick in 2009, is held in the minors because of financial ties. But this does not mean a mid-season Jackson call-up is out of the question—as seen in the Byrd deal, the Cubs are looking to free up payroll and get younger quicker.  
Lastly, with Ian Stewart's time with the Cubs most likely limited to his one-year contract, Vitters, the third overall pick in the 2007 MLB draft, is waiting to man the hot corner. Last season, Vitters had a .277 batting average with 14 HRs and 81 RBIs at Double A-Tennessee.
The Cubs are not getting to the World Series this year—that's out of the question. Cubs fans are likely to see an onslaught of youth be called up late this season, but young talent is where the future lies for the Cubs.