UConn Basketball: Postseason, Coach Calhoun and Transfer Concerns
April 27, 2012

Michael Heiman/Getty Images
The UConn men's basketball program remains ineligible for 2013 postseason play, including the Big East tournament. NCAA officials met this week to discuss some academic policies, but did not discuss how the academic progress rate (APR) scores would be calculated. Those discussions will likely occur in July.
The NCAA did announce that certain "low-resource" schools would be given more time to meet their academic guidelines. But this change does not help the Huskies program, which would need a change in the rules to allow for the two most current years' scores to be used in order to be eligible for the 2013 postseason. 
As it currently stands, programs need to have either a two-year average score of 930 or a four-year average score of 900 from the NCAA's APR. The APR max score is 1000. The scores currently do not take into consideration the most current season.
The Huskies basketball program had an 826 APR in 2009-10, and it's been reported that they will have a 978 for 2010-11 and a 975 for 2011-12. These scores would would make the Huskies eligible for postseason play in 2014, but not the 2013 postseason. 
Had the UConn basketball program not picked up its APR scores, it would have resulted in restricted membership status for the entire institution, including not being considered a part of Division I. 
NCAA APR scores are calculated by taking each athlete (receiving athletic-associated financial aid) and giving them one point for staying in school and one point for being academically eligible. A team's total points are then divided by the total possible points and then multiplied by one thousand to get the final score.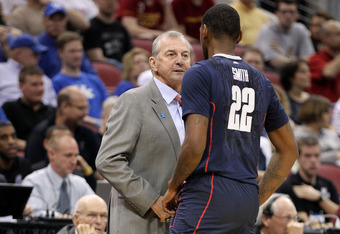 Andy Lyons/Getty Images
The 2010-11 multi-year scores and APR reports will likely be released by the NCAA next month, allowing for a better picture of how different programs performed. The reports, including the multi-year scores up to the 2009-2010 season, can be obtained from the NCAA by clicking here.
It will be interesting to compare the 2010-11 multi-year scores to get a better sense of where other schools place. Especially as those scores determine postseason eligibility and scholarship penalties. Top ranked teams in the final 2012 ESPN/USA today rankings all had 2009-10 multi-year NCAA APR scores above 900:
No. 1 Kentucky (974 APR), No. 2 Kansas (1000 APR), No. 3 Ohio State (952 APR), NO. 4 Louisville (965 APR), No. 5 Syracuse (928 APR), No. 6 North Carolina (985 APR), No. 7 Michigan State (995 APR), No. 8 Baylor (972 APR), No. 9 Florida (964 APR), No. 10 Marquette (980 APR), No. 11 Missouri (974 APR), No. 13 Wisconsin (970 APR), No. 13 Indiana (929 APR), No. 14 Duke (990 APR), No. 15 Florida State (926 APR)
Added to UConn's list of issues is whether or not Coach Jim Calhoun will return next season. Calhoun did not attend the state capitol's annual "Husky Day" on Thursday.
The Huskies have made 31 NCAA tournament appearances. In those appearances, UConn won three championships, all under Calhoun. The NCAA suspended Calhoun for three games this past season for compliance-related issues. The Huskies finished ninth in the Big East and lost in the second round of the NCAA tournament. There would be mixed emotions if Calhoun went out on a low note after having achieved so much. 
There is also the issue of some players leaving the program this year. In regard to that, the Associate Press quoted UConn's second-leading scorer Shabazz Napier as saying:
Everyone understands that their back is to the wall, and when your back is to the wall, the best thing you can do is fight with the person beside you. Some people just turned and ran, but that's on them. I'm just happy with the group of guys I have.
How things will work out for the Huskies program, at least for next season, will likely unfold more in the coming months.