Pittsburgh Steelers: Perfect Trade Scenario for Day 2 of the NFL Draft
April 27, 2012

Jared Wickerham/Getty Images
With the selection of David DeCastro with the 24th pick of the first round, the Steelers have taken a massive stride towards improving their offensive line. While no one believed that DeCastro would even be available when the Steelers drafted, Pittsburgh receives an A+ for their first-round grade.
Though they now have to wait until the 24th pick of the second round before they make their next selection, I have a trade proposal that I am hoping Pittsburgh is at least considering.
Now, I have to be at least somewhat realistic when thinking about the Steelers roster. In doing so, I understand that between finances and the players that are going to be free agents next year, that Pittsburgh is going to have to make some sacrifices.
So, why not start now?
Mike Wallace has stated that he is not going to show up in Pittsburgh, minus a long term contract, until he HAS to be there.
Someone needs to inform Mr. Wallace that this isn't the way the Steelers operate. They didn't do it for Jerome Bettis. They didn't do it for Hines Ward. They certainly aren't going to do it for Mike Wallace.
That being said, one of those tough decisions next year is deciding between keeping Wallace or Antonio Brown. Though Wallace has the type of speed most people only dream of having, Brown seems to be a more complete player.
Brown is better at running routes, and making plays after the ball is in his hands.
Though I would love to keep both players, the odds of that happening are slim to none. That being said—and knowing that at this time next year, Mike Wallace will be wearing a different uniform—maybe Pittsburgh should decide to choose the team they send him to now, so they won't have to deal with him next year.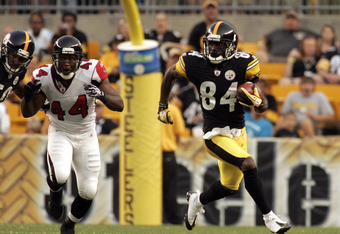 Justin K. Aller/Getty Images
For those people that are saying that no other team is interested in Wallace because they would have signed him to an offer sheet, now they would have to give up less. Wallace is still a hot commodity, and there are teams picking at the top of the second round that would gladly take Wallace off the Steelers' hands.
And one in particular comes to mind. The St. Louis Rams.
The one player on St. Louis that has meant the most to the team over the last decade is Steven Jackson. As a running back on a bad team, he was pretty much the Rams' entire offense for the first five years of his career.
Now that the team has Sam Bradford, and is coached by Jeff Fischer, St. Louis may be making strides toward becoming a challenger in the NFC. What Jackson said, and it rings true, is that the Rams need a deep threat, to open up running and passing lanes.
And there is not a better player at that in the NFL than Mike Wallace.
What would be a fair trade between these two teams?
The Rams currently have three picks at the top of the second round (33, 39 and 45). Now, I know that they are not going to be willing to give up all three of those picks. But, if they plan on taking a receiver with any of those picks, which they are, then they need to consider this trade with the Steelers.
The Pittsburgh Steelers would send Mike Wallace, along with their second and third-round picks (56 and 86, respectively) to the Rams.
The Rams would send one of their second-round picks (33) to the Steelers, along with their third-round pick (65) and fourth-round pick (96).
The Rams would lose one pick in the second round, leaving them still with three second-round picks (39, 45 and 56) and a third-round pick (86).
Looking at the Trade Chart values for these picks, the Rams would be giving up 957 points. By the Steelers' draft picks alone, they would be giving up 500 points.
That would mean the trade value of Mike Wallace would have to be 457 points, or the 44th pick in the draft, the 12th pick in the second round.
With this trade, the Rams would acquire one of the NFL's best deep threats, something that they certainly need, and they would still have three picks in the second round to fill other needs.
What would Pittsburgh do with those picks? After the success they had on Thursday night, any direction they would decide to go would be good with me.