Steven Gerrard, the Soul of Liverpool FC: A History
April 27, 2012

Michael Regan/Getty Images
Zinedine Zidane claimed him to be one of the world's best footballers of this age. 
He's No. 2 in the Top 100 Players Who Shook the Kop, just behind Kenny Dalglish who now manages the club. 
Liverpool skipper Steven Gerrard, standing at 6'0", has made over 500 appearances (404 league, 181 in cup competitions) for the historic club, scoring 89 goals, a multitude of which, have indeed shook the Kop into raptures of delight. 
The Liverpool-born midfielder first signed with the Reds in 1997, making his debut in 1998, where he made 13 appearances. His first first-team action was against the Blackburn Rovers as a substitute for Vegard Heggem. Liverpool went on to win the game 2-0, but ended up in seventh place with 54 points from 38 games played. 
In the 1999-00 season, Gerrard made 29 league appearances, scoring once, his first-ever senior goal, against Sheffield United in a dramatic 4-1 win. He also received his first red card during a heated derby match against inter-city rivals, Everton, for a late challenge against Kevin Campbell. Everton went on to win 1-0 against the Reds, after three players were sent off, Gerrard included. 
Gerrard was part of the squad in the 2000-01 season that won the treble: League Cup, FA Cup, and the UEFA Cup, making 33 appearances in the league (50 overall, including European and Cup competitions), and scored seven for the Reds in league competition and three in cup competitions.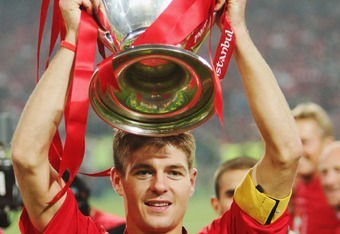 Mike Hewitt/Getty Images
In 2003, then-manager Gérard Houllier promoted Gerrard as team captain, citing, "certain leadership qualities which [Houllier] spotted very early in [Gerrard's] career".
In 2005, after making 30 appearances and seven goals for Liverpool, Steven Gerrard contemplated a move down to London-based club, Chelsea, after Liverpool's trophy-less 2003-04 season, inciting a near-riot in Liverpool. He, however, decided against the move and signed a new £100,000 a-week contract with the Reds. 
He scored a laser beam of a shot against Olympiakos, sending Liverpool to the knockout stages of the Champions League. Liverpool went on to win the 2005 Champions League Final against AC Milan at Istanbul, in a thrilling penalty shootout after having been playing with their back foot the majority of the match. 
AC Milan found themselves in a comfortable 3-0 cushion against the dejected and shell-shocked Reds before the first half was even over. New manager Rafa Benítez instilled confidence into the players and gave Gerrard a more free role in midfield, switching Steve Finnan for Dietmar Hamann. 
Gerrard struck first for the Reds, not yet 15 minutes into the second half. John Arne Riise's cross was blocked by Cafu, landing right back on Riise's foot, which he crossed into the box. Gerrard made contact with his head, directing the ball into the far left side of Duda's net. Clive Tyldesley is heard saying, "Steven Gerrard puts a grain of doubt in the back of Milan and gives hope to many-a-thousand Liverpool fans inside the stadium." And that Gerrard did.
Vladimir Smicer made it 3-2 in the 56th minute and Xabi Alonso finally leveled the match with a rebound goal after missing his initial penalty kick. Gerrard's goal unsettled the Italian team and in turn, lifted the cloud of doubt from his teammates and regenerated life back in, giving the Reds a fighting chance.
Steven Gerrard was named Man of the Match and was rewarded the UEFA Club Footballer of the Year award.
For the 2005-06 season, he played 32 games for the club, scoring seven times in league competition. In total, however, he made 53 appearances and scored 23 times. He was the recipient of the PFA Player of the Year award and scored twice in a thrilling 2006 FA Cup Final against West Ham United, which was won by Liverpool through penalties.
According to David Prentice, of the Liverpool Echo, Gerrard is "the only player to score goals in the finals of the League Cup, European Cup, UEFA Cup and FA Cup." 2006-07 saw Liverpool enter the Champions League Final against AC Milan for the second time. This time, however, he would see AC Milan lifting the trophy after Filippo Inzaghi's scored twice to seal Liverpool's fate that night. The match ended 2-1, spelling a crushing blow for the Reds. Liverpool finished 3rd in the Barclays Premier League, ensuring another spot in the Champions League.
2007 saw the club exchanging hands from David Moores to two Americans, Tom Hicks and George Gillett. The American duo came in with the hopes of building a new stadium, revamping the squad, all in the hopes of increasing profit margins. Unfortunately, it wasn't so.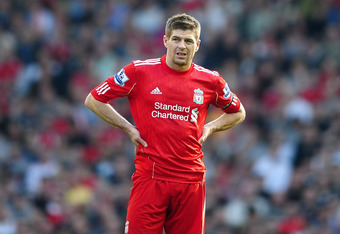 Laurence Griffiths/Getty Images
Hicks and Gillette soon made enemies with the fans, driving the club into a debt that would plague Liverpool and limit the spending power for transfers. Although Liverpool was able to acquire Fernando Torres from Atletico Madrid, they have not spent more than £20m on a player until Luis Suarez and Andy Carroll under the Fenway Sports Group era in 2010. 
While a tumultuous off-pitch season reigned over Liverpool, the squad performed admirably under Rafa Benítez, finishing the Premier League in fourth place with 21 wins and four losses, drawing 13. The 2007-08 season saw Steven Gerrard making 34 appearances and 11 goals and 11 assists to his tally, along with making his 300th Premier League appearance against Blackburn Rovers.
Gerrard was nominated for the PFA Player of the Year award but was edged out by Manchester United's Cristiano Ronaldo. Gerrard was named in the PFA Team of the Year, however. 
The 2008-09 season was perhaps Steven Gerrard's most successful goalscoring year, coming in third place with 16 goals in the Premier League, bested by Nicolas Anelka with 19 and Cristiano Ronaldo with 18. He was tied in assists at 10 with Dmitar Berbatov, Cesc Fabregas and Frank Lampard.
Liverpool ended up in second place that season with 86 points from 38 games. They lost two fewer than league-winners Manchester United, but drew 11 games to Man United's six. Liverpool had scored more (77 to MU's 68) and allowed just three more goals—at 27 GA. This season saw Gerrard scoring his first hat-trick ever against Aston Villa. He had gone under the knife at the beginning of the season, but returned to score his 100th goal against PSV in the Champions League.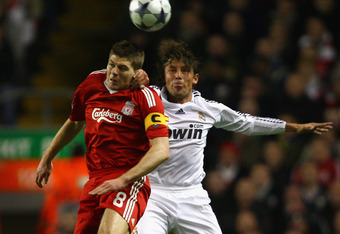 Clive Mason/Getty Images
Gerrard and company routed Real Madrid 4-0 and Manchester United 4-1 in consecutive games and was eventually named the FWA's Player of the Year in 2009.
2009-10 season saw Liverpool sink to seventh place from placing second in their previous season. At the end of the season, Benítez left after a mutual termination between the manager and the board and Roy Hodgson took the managerial seat.
Gerrard's departure seemed imminent, but Gerrard himself calmed down rumors by praising Joe Cole and Roy Hodgson, and is quoted: "it will be fantastic to play alongside [Cole] in a red shirt for Liverpool." 
Expected to be a dominant force in the EPL, Liverpool consistently underperformed in the league, leading to their seventh place. Steven Gerrard, that season, scored a total of just 12 goals from all competitions. He scored nine in league play and three in cup competitions.
The summer of 2010 saw Gerrard wearing the captain's armband for the English national squad for the 2010 World Cup in Germany. He scored against the United States and made a total of four international appearances that World Cup, increasing his total to 84 caps. Gerrard has since been capped an additional six times, bringing his total international caps to 90 with 19 goals to his name. 
The 2010-11 season saw Gerrard benched for a majority of the season from a groin injury.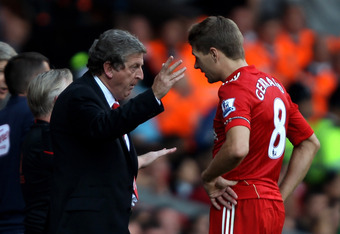 Clive Brunskill/Getty Images
Gerrard scored his first goal of the season in a qualifier for the Europa League against FK Rabotnicki and scored his first league goal of the season against Manchester United at Old Trafford in a thrilling 3-2 loss. He scored from the penalty spot and from a free kick, but was unable to find a third. 
Hodgson was pressured to leave by the fans, which he eventually did after a humiliating result against Blackburn Rovers, losing 3-1. Gerrard missed a penalty that game, missing a chance to grab a consolation goal to make it 3-2. Hodgson, after managing the club a meek 31 games, left the club on January 2011, giving Kenny Dalglish the position as interim manager.
Gerrard scored just four league goals that season during a total of 21 league appearances. 
This season (2011-12) has been yet another disappointing season for Gerrard and Liverpool. Although Dalglish was handed a contract and Liverpool won a League Cup, their form has not been consistent and seem to have found solace in hitting the woodwork a record 30 times.
Gerrard has scored five league goals and one assist for the Reds from 17 (11 starts) appearances so far. Gerrard has scored three goals in cup competitions (one for FA Cup and two for Carling Cup). He made his 400th appearance in the Merseyside Derby, netting a hat-trick against the inner-city rivals in March 2012.
Liverpool's last game of the season is an away fixture at Swansea on May 13th. All five fixtures (including the FA Cup Final)–Norwich City (A), Fulham (H), Chelsea (A, [FA Cup Final]), Chelsea (H) and Swansea (A)–are all must wins for Gerrard & Co. to make sure they place above Everton this season and add another trophy to their cabinet amongst a season riddled with poor form.
The soul of the club, Steven Gerrard, continues to embody the perseverance of the club, demonstrating more than once, that Liverpool can–and will–come back.
YNWA.
Follow Michael on Twitter: @kohhhh