St Louis Rams: Friday's 2012 NFL Draft News and Notes at Noon
April 27, 2012

Welcome to Friday's St. Louis Rams "News and Notes at Noon," your one-stop destination for major Rams headlines and other information of interest to Rams Nation. 
The St. Louis Rams on the Draft and Michael Brockers
Stlouisrams.com senior writer Nick Wagoner offers this submission on the selection of LSU defensive tackle Michael Brockers, who the Rams took at No. 14.  
Interestingly, the Rams took another defensive lineman, Robert Quinn of North Carolina, at 14 in the 2011 NFL draft.
You can also find one-on-one interviews with St. Louis general manager Les Snead and head coach Jeff Fisher there. 
For the Rams' press conference with Snead and Fisher that was held at the conclusion of the first round of the draft, please click this. 
St. Louis Media React to Day One of the Draft and the Brockers Pick
After trading down from No. 6 to 14 with the Dallas Cowboys, the Rams chose defensive tackle Michael Brockers, perhaps the best run-stuffing interior lineman in the draft. 
Reaction has certainly been mixed throughout Rams Nation, as a large contingent of fans were dead-set on grabbing a wide receiver, particularly Oklahoma State's Justin Blackmon.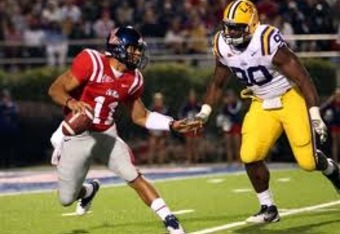 Blackmon, of course, went to Jacksonville at No. 5.  
As for St. Louis' mainstream media and the reaction to the aforementioned Brockers pick, it was also mixed, although predominately positive. 
Bernie Miklasz of the St. Louis Post-Dispatch penned a great piece analyzing the move, as you can read here.
Miklasz shares sound reasoning, statistical evidence and much more to express his views of the pick, including the long-term run deficiencies that the Rams have had, among other things.
Bryan Burwell of stltoday.com shares his thoughts on the selection (via both audio and video) here.  
A couple of many points that Burwell brings forth is the idea of adding several starters in this draft with the added picks, as well as Brockers' ability to push the pocket, which should aid the ends in obtaining more sacks while reducing the ability of quarterbacks to step up.  
On the other hand, Randy Karraker of 101sports.com essentially lambasted the pick in this piece. Karraker pointed to the obvious need to upgrade the offense and add premiere pass targets for Sam Bradford. 
He also asserted that the Rams brass might be clueless in their overall approach when considering that today's NFL is largely a passing league that needs to be able to attack on offense while rushing the opposing QB and defending the pass on defense.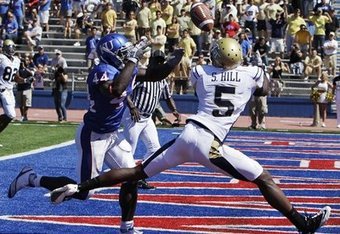 As for my take, I acknowledge the need for a wide receiver.  The position absolutely must be addressed. 
However, there are some terrific options still in play.  St. Louis can still bring in a wide receiver (or two) with a high ceiling in Rounds 2, 3 and 4.  
Receivers like Reuben Randle, Stephen Hill, Chris Givens, Brian Quick, Mohamed Sanu and Alshon Jeffery, among others, are still there for the taking.  
I believe that the Rams like Randle and Givens a lot, and I would not be surprised if they like Sanu and Quick, too. As for Hill and Jeffery, that is anyone's guess, although the size and speed of Hill is of obvious intrigue. 
Regarding Brockers, he should be a plug-and-play starter from the jump next to free-agent addition Kendall Langford. 
The Rams' run D has been abysmal in recent seasons, and he will help to shore that up while keeping blockers off of middle linebacker James Laurinaitis.  
He will also help the pass rush (either directly or indirectly) due to his ability to push the pocket. This is significant and should not be underestimated.  
How many times have we watched Chris Long beat his man off the edge over the last two seasons, only to watch the opposing QB step up into a nice, big, comfortable pocket to elude the sack and complete a critical pass? I lost count at about 1,752.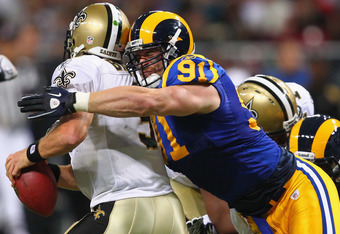 Dilip Vishwanat/Getty Images
The St. Louis defensive line should be an area of strength in 2012 after being subpar in 2011.  
A front four of Long, Brockers, Langford and last year's first-round pick Robert Quinn (No. 14) should be imposing and a problem for offenses.  
National Media and Draft Experts Weigh In on Brockers
Michael Silver (in an article for sports.yahoo.com) suggests that St. Louis got their guy by landing the massive Michael Brockers via the draft. 
Silver shares superlative insight into the Rams' war room and offers some nice analysis and explanation related to the entire process.  
The Sporting News shares its evaluation of the Brockers pick here.  It seems to feel he is a great fit, and it is generally very high on the former LSU defensive tackle.
Finally, former NFL executive Tony Softli offered detailed analysis of Brockers prior to the pick in this piece.  Softli has been very high on Brockers for some time.
All Eyes on Day Two of the 2012 NFL Draft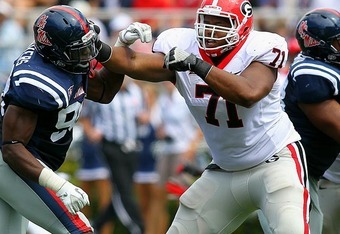 With Round 1 in the books, it is time to look to day two of the draft and the second and third rounds. The Rams have four selections on tap including the first pick of Round 2.  
With those four picks, I would like to see the Rams grab a wide receiver (preferably at the top of Round 2 at No. 33), an offensive guard (Cordy Glenn would be terrific), an outside linebacker (Mychal Kendricks, Zach Brown, Sean Spence, Ronnell Lewis and Bobby Wagner could be appealing) and a running back (like Ronnie Hillman, LaMichael James, Isaiah Pead, Chris Polk or Robert Turbin).
In this pass-heavy league, adding a corner (such as Josh Robinson, Janoris Jenkins, Trumaine Johnson or Dwight Bentley) could also be an enticing, wise option.  
As for Jenkins, that is assuming he is still on the Rams' board due to character and other off-field concerns. 
Have a great day as always, STL Rams Nation. 
Shane Gray covers the St. Louis Rams daily as a featured columnist for Bleacher Report. You are encouraged to check out the rest of his work here. Gray also owns and operates stlramscentral.com.