Seattle Mariners: Is Justin Smoak Tino Martinez 2.0?
May 18, 2012

Christian Petersen/Getty Images
What can be said of Justin Smoak that hasn't been said already? 
Smoak, perhaps more than any other player on the Mariners roster, has people in knots this season.  Once again, he's off to a lackluster start, but just when we're ready to give up on him, he hits a timely home run or drives in three runs. 
For all intents and purposes, though, Smoak should be coming into his own right now—or so we think. 
This season, just about everyone hoped he would be anchoring the middle of the order; instead, he's sinking towards the bottom end of the lineup.  Beyond a solid stretch last May, Smoak has largely been an enigma since coming to Seattle, and patience is wearing thin.
When looking back though, I'm left to wonder if his career trajectory is going to match another once promising Mariner first baseman from two decades earlier.
Just like Smoak, Tino Martinez was also a first-round draft pick, who played for Team USA and, upon arriving in the majors, appeared to have a secure spot on a rebuilding ballclub.  Unfortunately for Martinez, it took a few years for him to get his act together.  However, once he did, he helped the Mariners reach the postseason for the first time in franchise history.
Still, it took several years before Martinez matured as a hitter.  You could argue that his success in Seattle and later in New York with the Yankees came by being surrounded/supported by solid lineups.  
Could the same thing possibly be true of Smoak?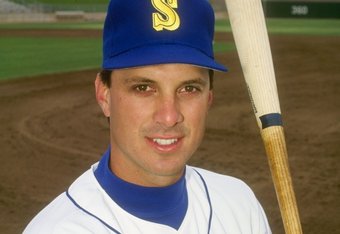 Otto Greule Jr/Getty Images
When looking at the numbers for both Tino and Justin, the similarities between the two early on are relatively close.  Understand, I'm not a statistician, but here's what I can see with a quick glance.  The two young first basemen both hit for a low average, struck out roughly twice as much as they walked, struggled to reach the .800 level for OPS and showed some, but not nearly enough power. 
But you may also notice that neither scored a ton of runs.  It's only one metric, but prior to the '95 season when he scored 92 runs, Tino's best run total was 53 in his first full season at age 24.  By comparison, Smoak in his first full season (also at age 24) only scored 38 runs.   
What can this tell us?
Perhaps both were put in lineups with promising players who also needed time to grow?
With the exception of Ken Griffey Jr., players like Jay Buhner and Edgar Martinez, who would anchor the Mariners lineup during the 1990s, were both late bloomers.  Jay Buhner's first solid season didn't come until he was 26 in 1991; meanwhile, Edgar Martinez didn't even get consistent playing time until he was in his late 20s.  
The point is, we probably don't need to hit the panic button right now with Smoak or with any of the other big-name prospects finding their way at the moment.  Our fingers might be itchy, but patience might serve everyone in the long run.    
Sadly the Mariners traded Martinez to the Yankees just as he started to figure things out.  While in New York, he came into his own, winning multiple rings. And for his career, he put together a solid season average of .271/ 27/102. 
This leads me to my final thought.  Tino Martinez was a solid player, but he needed time and a little bit of support to achieve any consistency.  When surrounded by the likes of Junior, Bone and Edgar hitting their stride, Tino finally put together a solid season.  After going to the Bronx and being surrounded by Derek Jeter, Bernie Williams, Paul O'Neill, etc,. he put together an impressive career. 
Much like Martinez, I believe Smoak can have a solid career, but he will probably never be the superstar we are hoping for.  Instead, I see Smoak needing the help of Dustin Ackley and Jesus Montero to carry him with a few other players we probably haven't seen or heard much from yet.  
In a deeper lineup, Smoak would have the protection he needs to cut down on the strikeouts and generate more hits.  It's unlikely he'll ever become a .300 hitter, but he should be able to get the job done for the Mariners. 
If you could pencil in Smoak for .270/25/100 for the next 10 years, would you take it?  I'd imagine most of us would, but for now, we have to endure the growing pains of watching him get there. 
Whether he can do it remains to be seen, but let's at least try to be patient for now. Otherwise, much like Martinez, we could be haunted by "what if" for years to come.