Michigan Basketball: 7 Reasons the Wolverines Will Be Legit Big Ten Contenders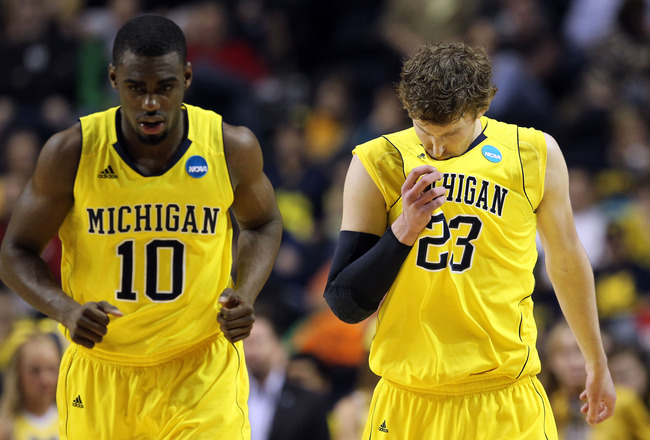 Jamie Squire/Getty Images
After an extremely successful 2011-12 season in the powerful Big Ten, the Michigan Wolverines have finally reestablished themselves on the national stage. Finishing the year with a 13-5 conference record, Michigan tied with both Michigan State and Ohio State for the league title.
This kind of success has been uncommon for the Wolverines as of late. Following the Michigan basketball scandal in the early 1990's, it has taken more than a decade for this once top-notch program to recover.
As the 2012-13 season begins to creep closer, Wolverine fans have to be excited about their team's prospects. Here are seven reasons why Michigan will be back in the Big Ten to compete for a conference title.
Program Gathering Steam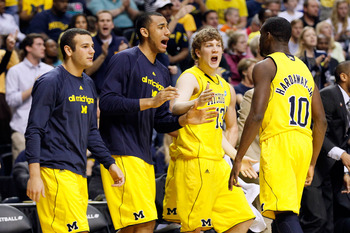 Kevin C. Cox/Getty Images
Ever since the addition of head coach John Beilein from West Virginia back in 2007, this stalling program has finally began to climb back into the national picture. After the lack of NCAA tournaments under former head coach Tommy Amaker, the solid success for Michigan since has convinced many fans that the Wolverines are back and better than ever.
Beilein has compiled a respectable 91-77 record at Michigan, continuously improving the program in the conference from ninth in his first season to tied for first most recently. In his five years, the Wolverines have reached the Big Dance three times, a big change after not having been there since the 1997-1998 season when interim head coach Brian Ellerbe led Michigan to a Big Ten Conference Tournament Championship.
This steady increase in productivity has the program gathering steam on a national basis. Based on this alone, Michigan should continue to improve its standing as a basketball power.
Tim Hardaway, Jr.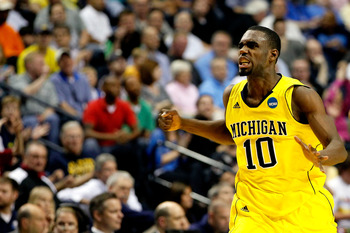 Kevin C. Cox/Getty Images
Following a phenomenal freshman season where he averaged 14 points per game, Hardaway Jr. was considered one of the best players returning in the Big Ten.
As a sophomore, he may have been outshone by freshman PG Trey Burke, but Hardaway once again never failed to impress. Averaging more points, more assists and the same amount of rebounds, he showed how consistent he could be on the hardwood.
Coming back for his junior season, Hardaway is looking to lead Michigan to an outright Big Ten title. As easily one of the top stars returning in the conference, his presence on the court will be felt around each of the 13 other universities.
Trey Burke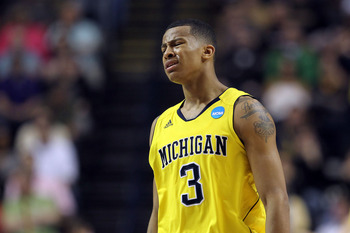 Jamie Squire/Getty Images
Coming in as a 3-star recruit from Northland, Ohio, this true freshman was an immediate impact for this Wolverine program last season. Leading the team in points and assists with 15 and five, respectively, Burke was by far one of the top breakout players in the country.
Since Michigan's tough first-round loss to No. 13 Ohio in the NCAA tournament, rumors have been flying about concerning Burke's NBA future. Many a news website ranging from USA Today to Ann Arbor's home page all but said that Burke had declared with CBSSPorts.com, even going as far as saying he was gone.
Instead, the young point guard proved everyone wrong by passing on the NBA and electing to remain another season heading up the Wolverines. Not only did this show his character, but also it greatly helps out Michigan for the 2012-13 season.
Expect Burke to be just as much or more of an impact next year for the Wolverines. His staying put should more than be a factor in whether or not Michigan repeats as a regular season conference champion.
Conference Competition Losing Star Power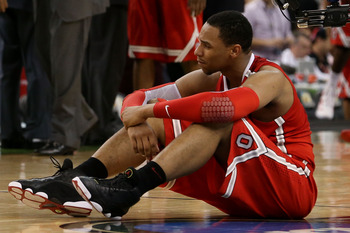 Jeff Gross/Getty Images
While the Wolverines are returning many of their star players, the rest of the Big Ten is suffering tough losses on that front. This is better than good news for Michigan and its talented cast of powerful youth.
Entering into next year, Ohio State will be missing graduated senior William Buford and declared NBA draft superstar Jared Sullinger. Michigan State is graduating big shots Draymond Green and Brandon Wood. Wisconsin and Purdue are losing superstar seniors in PG Jordan Taylor and F Robbie Hummel, respectively.
All the while, Michigan has retained both freshman Trey Burke and sophomore Tim Hardaway, Jr. While all of these programs will continue to be impressive on the hardwood, each of them have to find new stars to replace their old ones while the Wolverines can just build on what they have coming back.
This advantage, while seemingly insignificant, will be huge down the stretch for Michigan. Knowing they can rely on their stars in the later round of the Big Ten play is immeasurable for the Wolverines.
Freshman Power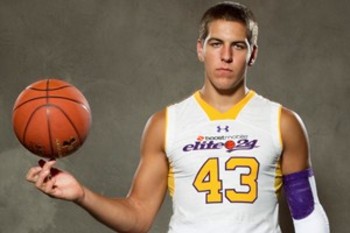 As stated before, this program has been gathering steam like there's no tomorrow. Walking hand in hand with that success is the type of recruits that are attracted to Ann Arbor; more recently, the quality of these young men has increased dramatically.
For Michigan, the 2012 class has to be one of the best in the past decade. Bringing in four big-time recruits, head coach John Beilein has to be extremely excited about the kind of impact these young men will bring to the Wolverines.
To start things off is 3-star PG Spike Albrecht out of Northfield, Mass, who was sought after following the rumors of Trey Burke possibly leaving for the NBA. A truly solid addition, his 3-star rating is an undercut of what his true potential really is.
Next up is 4-star big shot SG Nick Stauskas from Southborough, MA. Ranked as the 17th best at his position as well as the 71st overall nationally by Rivals, Beilein signing him will boost the Wolverine's shooting capacity for next year dramatically.
To round out the 4-star recruits is 6'10" center Mitch McGary out of Chesterton, N.H. A huge prospect both literally and figuratively, McGary is ranked as the eighth-best at his position and 30th overall nationally by Rivals. His addition adds a ton of size to Michigan's post play, giving it a dangerous weapon down low.
Finally, the Wolverines were able to sign their first 5-star recruit in recent memory, and speaking of...
Glenn Robinson III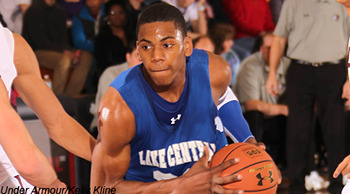 As Michigan's first 5-star recruit in a long time, Glenn Robinson III deserved his own slide, hands down. The 6'7" small forward is ranked as the second best at his position and 11th overall nationally by Rivals.
One of the only 25 5-star recruits, John Beilein signing Robinson III shows just how powerful this program is becoming. Hailing from St. John, Ind., it speaks volumes his commitment came directly from the center of Big Ten recruiting country.
Considering the kind of impact that 3-star PG Trey Burke had as a true freshman last season, Michigan fans have to be extremely exciting about picking up Robinson III. Expect big things from this top-notch incoming small forward.
Something to Prove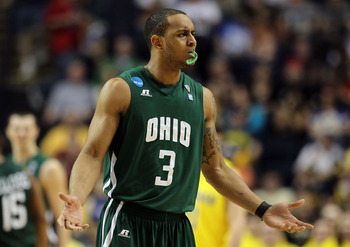 Jamie Squire/Getty Images
While these other reasons are all well and good, nothing can inspire a team like a revenge factor. While the Wolverines weren't the only top-five seed upset in the first round of the 2012 NCAA tournament, losing 65-60 to Ohio will be something that sticks with these returning players all next season.
Acting like you have to prove yourself can be more of a driving factor than most anything else. Almost this entire Michigan squad has that feeling weighing on its shoulders, and it is my belief that this will be the largest reason the Wolverines end up being the top contender for the Big Ten title.
This "revenge" factor will act as a constant reminder of what happens when they let their foot off the gas. The Wolverines won't let that kind of first-round exit happen again, I can guarantee you.
Not with 2012's concluding buzzer still ringing in their heads.
Keep Reading

Michigan Wolverines Basketball: Like this team?