Liverpool: Has Kenny Dalglish Treated Dirk Kuyt Unfairly This Season?
April 30, 2012
Alex Livesey/Getty Images
The starting lineup for Liverpool's first game of the Barclay's Premier League season—a home match against Sunderland—seemed a bit off. Leaning to the right, as it were.
Six signings from 2011 graced the side, but the most intriguing of those inclusions (if you could call it that) was that of former Black Cat Jordan Henderson at right midfielder.
There was a reason many viewers likely did a double take upon reading through the list: Dutchman Dirk Kuyt, who made the right wing his home for so many seasons, was mired to the bench.
Though he would come on as a 61st minute substitute, tellingly replacing Henderson, who had the type of performance that caused the ITV commentator presiding over this past Saturday's match against Norwich City to exclaim, "I don't see what particular talent or skill he brings to the game," it would prove too little, too late in the end.
The match ended in a 1-1 draw.
Why had manager Kenny Dalglish opted for the youthful Henderson ahead of the experienced Kuyt?
Was the £20 million that had been spent on the Englishman in June serving as an effective spur for the Scottish manager, tipping his hand in that direction? (In contrast, the Dutchman was signed from Feyenoord for £9 million back in 2006.) Kuyt scored 14 goals for Liverpool in his first season (he has 71 for his career) with the club. In Henderson's own debut campaign, he has managed only one.
The next game, an away trip to Arsenal, tellingly saw Kuyt back in the starting lineup. Liverpool won that one 2-0, albeit against a depleted and demoralized Gunners outfit—they'd just sold Cesc Fabregas and would sell Samir Nasri days later and were missing Alex Song and Gervinho to suspension—but the message was simple: Kuyt helps win games.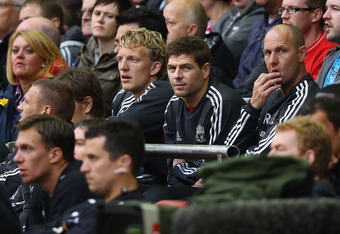 Clive Brunskill/Getty Images
Eight of his next 11 appearances for Liverpool would be starts, a run that included a penultimate debut in a 2-1 victory over Chelsea at Anfield—a match in Kuyt's energetic defending played a key role in securing the result.
He has made 38 appearances for the Reds this season, 15 of which have come as a substitute. Now 31, that return is nowhere near the output enjoyed in previous seasons. (Before this campaign, Kuyt had never scored fewer than 10 goals, notching 15 twice in 2008-09 and again in 2010-11.)
It was those seasons that established Kuyt as one of the most underrated, but dependable, players in the Premier League. So why the sudden decrease in playing time this season?
Blessed with a relentless motor, Kuyt consistently found himself the subject of praise (hmm, maybe he wasn't so underrated) from pundits and commentators alike for his inexhaustible work on the flanks for manager Rafa Benitez's sides.
He was one of the best players during Liverpool's most recent, and best, stab at the league title—the 2008-09 season, when a late charge by Manchester United undid their terrific form all season and denied them their 19th crown.
There is no denying that the Dutchman is somewhat shorn of the legs that once made him such a menace—age has a tendency to do that—but given Henderson's iffy form, why hasn't Dalglish played Kuyt more?
The Scot's decision-making may have the effect of pushing Kuyt out the door this summer. The Dutchman's agent said in March that his client was considering a move away from the club unless he saw more playing time, and Kuyt's former Feyenoord teammate, Salomon Kalou, verified that rumor recently, saying that Kuyt approached him about a reunion at the Eredivisie club.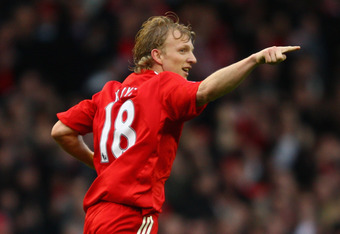 Clive Brunskill/Getty Images
That same agent said in September that Inter Milan had lodged an offer—business in business, any way you look at it. From Liverpool's perspective, they want to build a side through youthful vigor. A 31-year-old veteran doesn't quite fit that description.
But as Arsenal have found only too frequently in recent seasons, veterans must be kept if a side is to truly blossom. They inject a sense of steel and fortitude among their younger colleagues. Kuyt could certainly do that.
Kuyt has fiercely maintained that he is happy at Anfield at the moment, but should he ever find himself not playing on a regular basis, he will want to move on. Competitive nature doesn't take sitting on the bench well.
It doesn't make sense why Kalou would lie about what Kuyt said, either. To the Dutchman's credit, he has not made his discontent a hot-button issue this season. He's remained a professional through and through, just like his play on the field. His line all season has been that he wants to prove his worth. That makes sense, given his character.
What does make sense is Kuyt's sense of injustice that his roster spot was taken away by a player unproven within the side.
That may end in his departure. For a side trying to rediscover itself and reestablish itself among the league's elite, that's not an enjoyable scenario.