Alabama Football: Crimson Tide Play Pivotal Part in Tuscaloosa Tornado Recovery
April 27, 2012

Alex Wong/Getty Images
April 27, 2011 is a day that residents in the state of Alabama will never forget—the day that an E4 tornado ripped through the center of Tuscaloosa and killed 53 people in the city that is home to the University of Alabama. 
The tornado was a part of the outbreak of storms that resulted in the deadliest weather outbreak in the state in over 70 years—in all, 253 people died across the state. 
A year later, the city and the state are still recovering—but for Nick Saban and the Crimson Tide, they embraced their role in helping the rebuilding process and uplifting the spirits of their community and state by capturing their second national title in three seasons. 
In a state that inhales college football on a daily basis, a game that normally divides the state has played an integral part in bringing rivals together for a greater cause. 
Former Auburn legend Bo Jackson has began his "Bo Bikes Bama" campaign this week, with hopes of raising $1 million for the Governor's Emergency Relief fund to help with the tornado recovery efforts. 
While the 2011 national championship team traveled to the White House last week, President Obama reflected on the adversity they faced as a team, and overcame as part of the Tuscaloosa community. 
"Each of them found different ways to honor these memories," the President said.  'Coach Saban started a program called "13 for 30" that aims to rebuild 13 houses for families who lost theirs in the tornado. Strength coach Scott Cochran pitched in with players almost every Saturday helping families recover and rebuild. Courtney Upshaw raised $20,000 in relief funds for the impacted families. And Barrett Jones lugged a chainsaw around Tuscaloosa to remove tornado debris from homes and yards. So the Tide showed us what it takes to win as a team, but they also showed what it means to be a part of a larger community: to look out for one another, to help. And that makes them pretty special.'"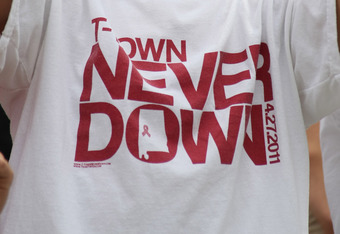 Greg McWilliams/Getty Images
A popular quote amongst Crimson Tide fans goes like this:  "At some places they play football.  At Alabama, we live it."
Ironically, the school that lives football helped the community—one that is deeply woven into the fabric of the university—by providing a symbol of hope on its way to its 14th national championship. 
However, the Tuscaloosa community—and the spirit of resolve across the state—helped the team too.
They helped provide the 2011 edition of the Crimson Tide with a purpose greater than any trophy, accomplishment or achievement won from victories on the gridiron.
The events of last April's storms have left a scar that will never fully heal, but through the combined efforts of a university and the community it helped to build, and then rebuild—together, they proved that a championship spirit exists in the state of Alabama beyond the football field.