Miami Dolphins: Veteran QBs Spoke out About Their Competition, and Tannehill
April 27, 2012

Al Bello/Getty Images
There was no surprise that the Miami Dolphins were going to select quarterback Ryan Tannehill with the eighth-overall pick in the 2012 NFL draft Thursday night. The last time the Dolphins chose a quarterback in the first round was in 1983, when they selected Hall of Fame signal caller Dan Marino.
Dolphins veteran quarterbacks David Garrard and Matt Moore knew the direction of the franchise, as they are searching for that staple to be the face of the organization.
Questions about Garrard and Moore's competition against each other, and the potential newcomer (now reality), dominated the team's press conference Tuesday.
Now it is time for the other threes of crowd in South Beach.
"Well, there always potential," said Garrard Tuesday, according to the team's press release. "Has the draft happened yet? No, ok (laughing). It's always a chance to bring somebody else in and even free agency. You can never just relax and say it's just me and him (Matt Moore). I think competition is always great. I think always the best guy should play. It should never be any politics in it. I think it should be whoever performs out here on this field should be the starting day quarterback.
"It doesn't always happen like that, but sometimes where other things outside of the field come up and some guys get their numbers called, but whatever regardless of all that," he continued. "I can't worry about that stuff. All I can control is the things that are in front of me and what's on my plate. And that's going out here and being a great teammate. Trying to getting better every day, trying to make this team, this offense, not just them defense too. That's where the whole knowledge and wisdom thing comes in. Everybody is like a puppy in there to me anyway."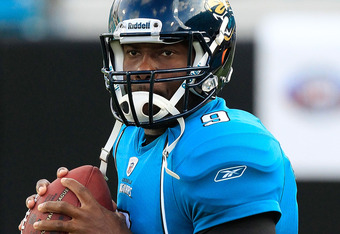 Sam Greenwood/Getty Images
Garrard, who signed a one-year deal this offseason, is faced with the same situation from last season when the Jacksonville Jaguars selected quarterback Blaine Gabbert in the first round and the organization released the veteran a week before the 2011 campaign began to hand the keys to the rookie field general.
This time, Garrard will be ready.
 "Not kind of, I did (laughing)," said Garrard when asked if he felt he was pushed to the side for Gabbert. "When everything started it was great. He (Blaine Gabbert) was looking for me for everything. He was a young guy. He wanted me to be out there day one. I wanted to be out there day one. I remembered when I came in as a rookie and everything was flying by me. I really just wanted to keep playing period anyway, but I wanted to be out there especially for his sake.
"It didn't work like that," he continued. "There were other things not within my control that happened and so I was out and he was in. It was a great learning year for him I'm sure. I'm sure he would like to learn on the sideline just watching, but when your number is called you never know so you always got to be ready."
Moore joined the Dolphins last season and performed well. Not well enough to be the team's future. Despite popular opinion, Moore feels he can still be what the Dolphins are looking for.
"Yes. I don't see why not," said Moore. "I think as a player, you always feel that way. You are constantly striving to get better. My main thing now is trying to learn as much as I can as quickly as I can. Everything is brand new. This is a production based business. If I produce and do well, then there is no doubt I feel I can be here for a while.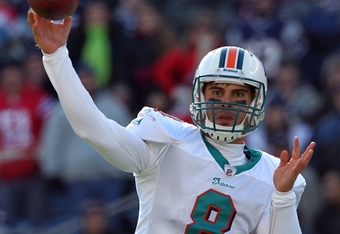 Jim Rogash/Getty Images
"I feel like everyone's competing," he continued. "That's what we have been told. That is kind of the model we followed today. I think that is all you can ask for as a player. We have a whole new staff in here and they are learning us and we are learning them. That's what we have right now. It's been good."
Other than challenging for the starting spot, Moore is still faced with the learning of a new system under new head coach Joe Philbin. However, Moore says everything has been good.
"There's no telling. Every rep is important," said Moore. "The extra mini-camp is crucial. I am thankful for that. It is going to take time like anything else. We are learning the basics. We are going to crawl before we walk here and that's what we are doing now. Hopefully, it comes sooner than later. Right now, we are laying the foundation (and) the structure of what is going to the base of this offense. Just looking to move forward everyday and keep learning. I don't know how long it will take, but hopefully we will pick it up pretty quick.
"The thing I like about the definition of the offense is that it spreads the ball out naturally," he continued. "With the personnel groups we have…the route combination really allows anyone to be the #1 at any time which is pretty cool. A lot of quick throws. Guys able to find little pockets and get open quickly. That's been fun to be a part of I guess. That's something new for me…to kind of play fast. It's been good."
Philbin is not ruling anything in terms of who will start at quarterback. Nevertheless, the rookie head coach will monitor all the quarterbacks' production.
"I wouldn't rule anything out at this point," said Philbin. "Again I have had limited experience with these guys, we have watched a lot of film on both of them, Matt, obviously as a player last year and David in 2010. I think that they have both during the course of their career demonstrated the ability to lead a football team and play well at that position, so really I don't have any preconceived notions as to this guy is a stop gap guy, this guy can't be a long term answer.
"We are going to see how they lead the offense, see how productive they can be, see how quickly they grasp things and how the players respond to them, how the staff responds to them and see where it takes us."
Barry Barnes is a featured columnist for Bleacher Report. Unless otherwise noted, all quotes were obtained first-hand.