Manchester United: Jonathan Evans and Rio Ferdinand Crucial at Manchester City
April 27, 2012

Scott Heavey/Getty Images
There are two Manchester United players who, despite being drastically different, partner with incredible ease and have found themselves—forgive the pun—at the center of Monday night's match against Manchester City.
Jonathan Evans is a humble, unassuming kid from Belfast. He worked his way up the Old Trafford food chain, graduating from United's academy. This is his first full season starting for the Red Devils, earning his stripes from years of bench warming and reserve team play.
Rio Ferdinand, who plays on Evans' left, couldn't have a less similar biography. He's from London, and his first years of professional football were marred by, according to BBC Sport, frequent drug allegations. The veteran has undergone a transformation, slowly redeeming his image through gritty leadership on the pitch and good behavior off it.
With Manchester City coming to town, a club who has scored 87 goals—an average of 2.4 goals per match—the benefit of a solid pair of centre-backs is a no-brainer.
But a cursory glance of how the Blues have been scoring lately reveals that Evans and Ferdinand's play at centre-back this Monday won't just be a benefit, it will be an absolute necessity if the Red Devils are to have any hopes of winning.
In their last three matches, Manchester City has been on a tear. The Blues have scored 12 goals, with Carlos Tevez and Sergio Aguero combining for nine of them.
Tevez is a no-nonsense, physical player who possesses great technical skills and a willingness to use his entire body to gain an advantage in the box.
Aguero is a quick striker who is as speedy as he is elusive. He's great at creating chances with his superb awareness, getting himself into positions on the pitch that allow him to flick the ball into the back of the net unmarked after Tevez flicks him a pass.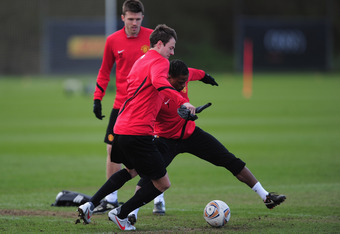 Jamie McDonald/Getty Images
Combined, they're a "thunder and lightning" pair of players—with Tevez as the brutish pounder and Aguero as the flash you'll miss if you blink.
They have consistently come up the middle in recent games, beating teams with a chemistry that's been honed over the course of the season. Tevez will come straight at a player, dribbling circles around him while Aguero will sprint forward, make a cut and either receive a pass or act as a decoy so that Tevez can get on the scoresheet.
All that said, any Manchester United fan worth his salt knows it won't be that easy against the lads of Old Trafford.
Evans has become a fixture on Manchester United's defensive back line. He's easily the most improved player for the Red Devils and according to Goal.com he's been offered a contract package that is in the ballpark of "around £65,000-a-week." 
He's quick enough to be able own a larger chunk of the field than most other defenders, and strong enough to not be run over by opposing midfielders. He's excellent in freeing up teammates to open up the zones they're assigned to cover and therefore make everyone else more effective in defending the goal.
Ferdinand only benefits from Evans and his style. The veteran reads the field better than anyone else on that back line and unlike Evans has incredible confidence and composure with the ball. The 31-year-old has played enough to know intuitively where he is on the pitch at any given moment and can track opposing forwards like it's FIFA.
Oh, and by the way, why do you think David De Gea has only faced 123 shots—tied for fifth-least among starting goalkeepers in the Premier League? Because of the partnership Evans and Ferdinand have forged.
When you're watching the Manchester derby on Monday night, do yourself a favor and don't just watch Rooney and Welbeck tear it up on offense. Spend some time checking out centre-backs Jonathan Evans and Rio Ferdinand as they frustrate Carlos Tevez and Sergio Aguero.
That's the battle that'll decide the match at Etihad Stadium. That's the battle that'll decide who wins this year's league title.