West Point Football: Army All-American of 1950s Honored at Arlington
April 27, 2012
A small group of friends and relatives gathered Friday at Arlington National Cemetery to honor Major Donald Walter Holleder, one of the greats of college football who was heroic in the true sense when called upon to serve in Vietnam.
On November 28, 1955, West Point senior Don Holleder graced the cover of the new sports weekly called Sports Illustrated.  Back then, Army-Navy was as big as any college football game of the year.
Since the 1930s the game was played at the 102,000 seat Municipal Stadium in Philadelphia which is located on the site where the Wells Fargo Center is now located.  Alfred Wright wrote that even at that mammoth stadium, "Army, the host team, could have sold it out three times."
The big story was how gracefully Cadet Don Holleder had made the switch from end, where he had been an All-American the year before, to quarterback when four other candidates were not available to play. 
The 187-pound Holleder learned to make the pitch-outs to the running backs, could throw long or even run the ball himself.  Former Army assistant coach Herman Hickman wrote in the Sports Illustrated article of the pressure on Holleder going into the Navy game, "Operating under more pressure all season than any other QB in college football."
This was still the era of one-platoon football, and Holleder played safety on defense.  Interesting to note that none of the 15 key Army players Sports Illustrated profiled for the game were over 200 pounds.  Navy had just one 200 pound plus player in the lineup.  In 2012 both the Navy center and middle guard were over 300 pounds.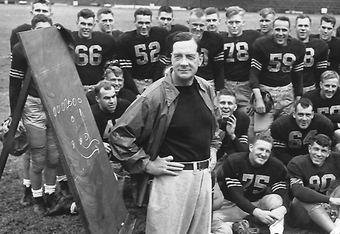 The night before the game, the West Point team went for a walk outside their hotel with head coach Earl "Red" Blaik, who was fretting about having to make the walk across the field at the end of the game to congratulate the opposing coach if Navy won.
Terry Tibbetts in his book, A Spartan Game: The Life and Loss of Don Holleder, recounts that Holleder said to his coach in front of the team, "Colonel, you're not going to have to take that walk!"
With Holleder at QB, Army upset 11th-ranked Navy 14-6.   
Biff Messenger was a young boy growing up on the Post at West Point in those years.  He would run down the hill from the residential areas at the Academy and watch practices and the games.  He idolized Holleder and described him by saying,
Don looked like a hero, tall, square jawed, almost stately in his appearance.  He practiced like he played full out all the time.  He was the obvious leader of the team in addition to being the best athlete and player.
Holleder was from Rochester New York, a star player at Aquinas Institute where he excelled at football, basketball and baseball.  The school built a 25,000 seat stadium and brought in teams from around the northeast so Holleder learned to play against strong competition. 
He decided to apply to West Point since that was the dream of his late father, who had died when he was a boy.  Holleder received his acceptance telegram just days before the July report date.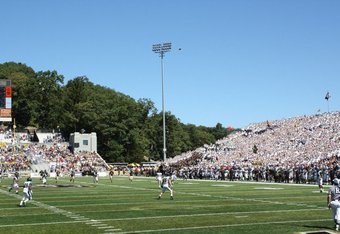 Holleder was impressive playing on the West Point freshman team.  Also, one of his offensive coaches was a young Vince Lombardi, who would go on to fame in the pros. 
In the 1955 Army-Navy game, the Midshipmen came in at 6-6-1 and a top passer in George Welsh who would one day be their coach.  With Holleder calling the plays, Army gained 283 yards, all on the ground.  The eight point win in front of the huge crowd was considered one of the great moments in Army football history.
Holleder's 1956 West Point graduating class included Norman Schwarzkopf, who would go on to fame in the 1990s.  Holleder began his career as an Army infantry officer with a first stop in the Pacific, getting married and starting a family of four daughters.   
Messenger recalls that he and his family followed Holleder to his first duty assignment with the 25th Infantry Division at Schofield Barracks, Hawaii.  There, the former player was dragged into playing "Regimental football," which was popular at the time and provided perks. 
He did not like the fanfare of being an athlete in the Army and got out of as soon as possible so he could concentrate on his military duties.  Messenger went on to describe Holleder as an Army officer,
It came as no surprise to anyone who knew Don that he was a natural leader of men in arms, demanding yet compassionate, dedicated to his men and above all fearless. Sure enough after a couple of TO&E infantry tours his reputation as a soldier matched his former prowess as an athlete.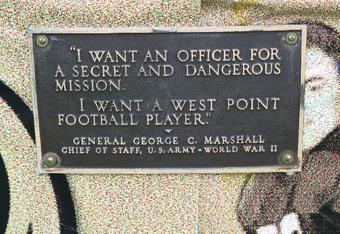 During a subsequent tour at Ft. Monroe, Virginia, Holleder asked to to be assigned to lead troops in Vietnam. 
On October 17, 1967, Maj. Holleder went out to try and help 150 ambushed members of the Army's First Division, which was being attacked by a force nearly ten times its size.  At least 58 Americans were already dead.

He received permission to have his helicopter land amid the battle field chaos.  Holleder tried to run to where American troops were pinned down and was killed a moment later by a sniper who was targeting officers.
Across the street from Michie Stadium is the hockey and basketball arena building which is named, "The Holleder Center"
For years several of his West Point classmates and friends petitioned the Army to upgrade Maj. Holleder's Silver Star decoration to the Distinguished Service Cross.  This is a very high level award, second only to Medal of of Honor.  In April 2011, the Army finally approved this award. 
The presentation will be held at Maj. Holleder's gravesite at Arlington in section one, an older section of the cemetery in the very back near Fort Myers.  They will remember a loved one and a friend who was not only a great college football player but was a soldier committed to serving his country and his fellow soldiers.
More can be read about Maj. Holleder here.  
The 1955 Sports Illustrated article is an amazing read on the differences in the game both in terms of the size of the players and the way coverage of college football was presented.
Ken Kraetzer covers Army football for WVOX 1460 AM and Sons of American Legion Radio in New Rochelle, NY.  Follow him on Twitter on @SAL50NYRadio.