The Rhodes Who Will Be King: Why 2012 Is the Year of Cody Rhodes
April 26, 2012

Now his theme song may speak of smoke and mirrors, but there is no deception when it comes to Cody Rhodes. What you see is what you get.
And what we are getting is a future world champion in the making…you see Cody has…IT
IT…when you have IT, you know it. When you do not have IT, people let you know. IT can be a number of things; charisma, looks, wealth, ability…the list could go on and on. We all know people who do…and do not have IT…
Cody Rhodes has IT…and he has IT in droves, and this is the year having IT, which will catapult Cody to prominence.
Despite dropping the Intercontinental Title to the Big Show at WrestleMania 28, Rhodes is on the brink of something big. He has not lost a step despite the loss, and he did a magnificent job going into WrestleMania, building up the confrontation between himself and the giant veteran. A rematch will ensue, and we will get to see Rhodes showcase the skills he was born with at Extreme Rules this Sunday.
Here is a young man who has constantly improved his promo skills, ring attire and in-ring skillset. His moves are calculated, reminiscent of Flair and Harley Race. He has his father's charisma and is constantly evolving his entrance, style and in-ring psychology.
Now, why do I say 2012 is his year…let us look at a few "things" which made me come to this conclusion.
First, the kid was born to win.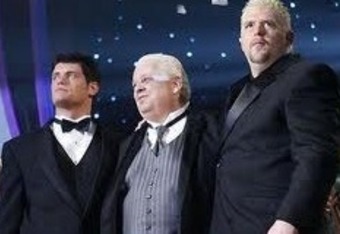 His daddy, the Legendary Dusty Rhodes—aka the American Dream, the White Soul King, a ten-time Florida State Champion and three-time NWA champion—was Cody's first teacher. His father started his career as a heel, teaming with Dirty Dick Murdoch and wrecking havoc throughout the south beginning in 1974.
Big Dust became famous for his promos, which related him to the "common man." His feuds with Ivan and Nikita Koloff, Harley Race, Ric Flair and Tully Blanchard are infamous. After he retired, Rhodes ran a promotion called Turnbuckle Championship Wrestling, and during high school Cody acted as a referee in the promotion, which gave him valuable insight to the ins and outs of a match from the ref's perspective.
Also during high school, Cody won the Georgia High School Wrestling State Championship at 189 lbs. in 2003 and 2004. His brother is Goldust, who despite some personal demons, was also a tremendous wrestler. So genetically, Cody was destined to be exceptional.
Then there was his in-ring "training."
Rhodes earned his stripes in FCW before coming to WWE in '07. He had a feud with Hardcore Holly, which led to them becoming a tag team. Teaming with a veteran such as Holly had to rub off on young Cody, and we began to see his evolution as he and Holly won the tag belts.
Then Rhodes teamed up with Ted DiBiase Jr, and they too won the tag team gold. Soon this duo began a turbulent relationship with the Viper, Randy Orton. The trio formed the Legacy, a group made exclusively of second—in Orton's case, 3rd generation—superstars. (The group also featured Manu and Sim Snuka for what seemed like a minute.)
For the short time they were together, the Legacy made an impact feuding with the Game HHH, Batista and Degeneration X. While teaming with Orton, one can see his influence on Cody.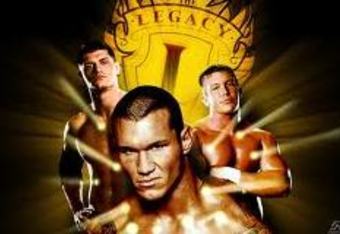 And who did Orton learn from?
During the early part of his career, Randy Orton was teamed with Ric Flair and Triple H. Between the Game and Flair, Orton became a beast, and he shared what he knew with Rhodes.
And it is obvious…Rhodes's dropkick, and knee drop resembles Orton's, and Orton's knee drop resembles Flair's. With all that knowledge, Cody has become a monster in the ring.
Lastly, there has been his recent "push".
Sure, he lost the match to Big Show, but how long before that IC belt is back around Cody's waist? Notice how Show has not defended the belt since WrestleMania.
Cody has cost Show a match against Alberto Del Rio on the April 20th addition of SmackDown, maintaining their heat. In fact, during the main event of the same show, Cody was the heel in the ring most during that six man tag match and made the most of his time on TV, taking his turn beating down all three of his opponents.
Cody and Sheamus showed some great in-ring chemistry, which may be a prelude of things to come.
And when Rhodes put the figure-four on, he went old school, paying homage to those who trained him. He and his team lost the match, and Cody was cold cocked by the Big Show near the end of the match, which continues his losing streak since WrestleMania, which only makes me believe he will get the IC belt back sooner, rather than later.
And then there is the untimely exit of Wade Barrett.
Let's face it, Barrett has IT just as much as Cody does. Now Barrett won't be back until around SummerSlam, so the spot as SmackDowns' No. 2 heel is wide open. Bryan and Del Rio are gunning for the No. 1 spot, as both are poised to feud with Sheamus for the World Heavyweight Title, but then what? Who will we see next ascending up the ladder for a shot at the gold?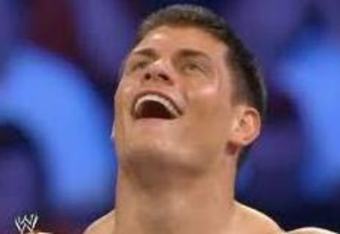 I say Rhodes.
I predict Rhodes will win the SmackDown Money in the Bank Match in grand fashion. Now the draft—if there is one—may alter where he ends up, but whether it is on RAW or SmackDown, Rhodes is going to be in a MITB match and win.
He has developed the perfect heel to have the MITB briefcase. Good mic skills, strong character and an old school mentality have made Cody one of my favorite folks to watch on TV.
So, he has genetics on his side, training from the best of the best in this business and the mindset to win.
Christian and Del Rio are coming off injuries, the Miz is being underutilized, and Bryan is involved with Sheamus. SmackDown is in need of a heel to just take it to the competition with a evil grin on his face, cold intentions in his heart, and Cody is someone who has not made a comeback merely for a paycheck.
Rhodes has IT, and this is his time to use IT. So, before this year is out, when the "Smoke and Mirrors" entrance music hits, the man coming down the ramp will have a big, bright gold belt around his waist.
And the WWE will never be the same again.