San Antonio Spurs Playoffs Schedule: Role Players Who Must Step Up in 1st Round
April 27, 2012

Ronald Martinez/Getty Images
After a dominant regular season in which they won the Southwest Division and earned the No. 1 seed in the Western Conference, the San Antonio Spurs are ready to do battle with the eighth-seeded Utah Jazz. Game 1 is set to take place on Sunday, April 29 from the AT&T Center in San Antonio.
The remainder of the series' itinerary has yet to be released, but it should certainly be a competitive one. While the Spurs won the season series, the Jazz did manage to knock off San Antonio the last time these two teams played, so Utah should enter the postseason with some solid momentum behind it.
There is no doubt that veterans like Tony Parker, Tim Duncan and Manu Ginobili will lead the way for the Spurs in this series, but they have one of the deepest teams in the NBA and will need contributions from everyone. Here are three role players in particular who will have to come up big against the Jazz in order for San Antonio to keep its title hopes alive.
Tiago Splitter
After years of anticipation Brazilian center Tiago Splitter finally came to the NBA last season, and while he was often underwhelming, he has been much better as a sophomore. The 6'11" Splitter has been a key cog in San Antonio's rotation as he is averaging over nine points and five rebounds per game. Splitter figures to play a major role in this series off the bench for several reasons, not the least of which is keeping Duncan fresh.
Spurs head coach Gregg Popovich has done a nice job managing Duncan's minutes this season and keeping him healthy, and he will have to continue that to an extent in the playoffs. If the ultimate goal is to win it all, Popovich can't allow Duncan to expend all of his energy in the first round.
The Spurs should be able to get past the Jazz without wearing Duncan out and the play of Splitter will have a lot to do with that.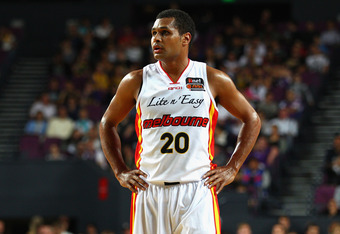 Ryan Pierse/Getty Images
He has only played 16 games for the Spurs this season after stints in Australia and China, but it hasn't taken point guard Patrick Mills long to become a huge part of the Spurs' bench. Mills is averaging about nine points and two assists per game as a reserve and the few times that he has received ample playing time, he has looked fantastic. There is no doubt that Parker is going to be the go-to guy for the Spurs in this series, but Mills will need to make his presence known as well.
Parker won't be able to stay on the floor all game long, especially at his age, so it is quite the luxury to have a backup like Mills who seems to come from the same mold as Parker. The Aussie isn't a pass-first point guard like Parker, rather his first instinct is to score and he often does it by getting to the basket.
The Jazz have had issues all season long at point guard as Devin Harris hasn't been as good as they hoped, so Mills should be productive when he sees the floor.
DeJuan Blair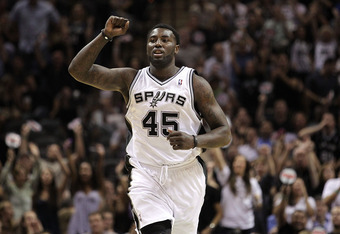 Ronald Martinez/Getty Images
The Jazz aren't a stacked team by any means, but there is no doubt that their biggest strength resides in the paint, as the combination of Al Jefferson and Paul Millsap is extremely tough to handle. Both Jefferson and Millsap are good at scoring the ball inside and they are excellent rebounders as well, so San Antonio won't have an easy time winning the battle on the glass. One player who will have to be good in order to keep the Spurs competitive in that area, though, is power forward DeJuan Blair.
Blair is only 6'7", but his wide body makes him one of the better rebounders in the league. He only plays about 21 minutes per game, but he averages about 5.5 rebounds per contest and averages over six per during the course of his NBA career.
He won't be able to do it on his own, but when he is on the floor he will have to compete during every possession on both ends of the floor because that is precisely what Jefferson and Millsap will do for Utah.