Michael Pineda Out for Season: How Does This Affect the New York Yankees?
April 26, 2012
Hannah Foslien/Getty Images
"I would have double-bagged it."
If you don't get the thinly veiled "Monday Morning Quarterbacking" reference, check out the commercial here.
The point being, it's incredibly easy to look back on something and say, "well I would have done things differently." This isn't a concept unique to sports. It applies to business, family and everyday life.
How many arguments have you ever heard where people debate which roads they should travel on in order to reach a destination. If the road you take is backed up with traffic or construction, inevitably somebody else will say, "See, I told you not to go this way."
Prospect-for-prospect trades are rare in this day and age of baseball. And while pitching is currently ruling the day in MLB, hitters are a more valued commodity, simply because they are less plentiful. If you potentially have an elite batter that can play catcher, that's gold Jerry! Gold! Why do you think Joe Mauer got that huge contract and Matt Wieters was drooled over for years?
Needless to say, if you have one of these types of catchers, you should value them like gold. The Yankees were in a bit of a unique situation with Jesus Montero. They didn't project him as a full-time catcher, meaning he would need at-bats at 1B or DH.
With Mark Teixeira entrenched at 1B, that's not an option. With so many aging players, the Yankees ideally need to keep the DH position open on a regular basis. Not to mention the Yankees have a few other elite catching prospects, notably Gary Sanchez and Austin Romine.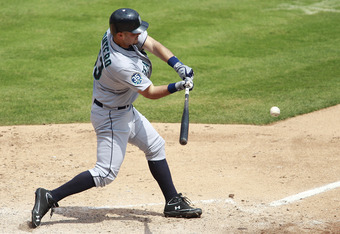 Rick Yeatts/Getty Images
This is why Montero was on the block in the first place. Montero was the centerpiece of the Yankees' trade for Cliff Lee before Seattle turned around and dealt Lee to the Rangers for a package headlined by Justin Smoak. That trade would have been acceptable and the Yankees might have another World Series or two by now.
Michael Pineda was no worse than the second-best rookie pitcher in the American League last season. The Seattle Mariners were (and still are) devoid of MLB-caliber hitting talent. They had a huge organizational hole at catcher. They also have some solid starting pitching prospects in the pipeline. That's why Seattle was willing to deal such an elite young pitching prospect.
Had Andy Pettitte already returned, I suspect the Yankees wouldn't make this deal. But they did. That's really all there is to it. Remember when the Yankees had this wealth of starting pitching depth and we couldn't figure out what they would do with all of it? You should be able to remember this. It was only back in March. Problem solved, right?
We now have a pretty clear idea of what the Yankees rotation will look like going forward.
Is it enough?
If all of the pitchers perform up to their potential, yes it is. You can win a World Series with this rotation. Even if everybody except CC Sabathia and Ivan Nova struggle? Nope, not even close. Remember, the Yankees don't really have long-term dollars to spend right now and they're not going to be itching to trade away prospects after this Pineda debacle. Not to mention the much cheaper prospects are the key to the Yankees being able to get under the luxury tax.
So what you see is what you get.
1. CC Sabathia
Some things never worry me. One is Sabathia starting slow in April. After a lackluster two starts to begin the season, he has won two straight starts going a total of 15.1 innings with a 15:2 K/BB ratio. He will be fine as long as he stays healthy.
2. Ivan Nova
Nova struggled in spring training, then proceeded to pick up right where he left of last season, dominating hitters. Nova has gone at least six innings in all three of his starts, all wins. Right now he holds a 20:2 K/BB ratio with 20 strikeouts in 21 innings pitched.
3. Andy Pettitte
So far through his minor league appearances, Andy Pettitte looks like Andy Pettitte. He's not going to strike a ton of people out, but he will eat innings and make very few mistakes. His playoff experience could be important, but the Yankees will now need Pettitte to help them get to the playoffs first.
4. Hiroki Kuroda
Kuroda has started off slowly before. Plus, you would expect an adjustment period as not only did Kuroda switch leagues, but he also switched to a very different (and less forgiving) ballpark. Kuroda should actually profile very similar to Pettitte once he settles down. Maybe a few more strikeouts, but mostly a ton of ground balls and innings pitched.
5. Phil Hughes/Freddy Garcia
Neither pitcher has been even average so far this season. I suppose Hughes has pitched slightly better, but not good enough to matter. Sure, Hughes has bullpen experience, but the Yankees bullpen might be the greatest strength of their team right now.
They will be better served sticking Garcia in a long relief role and letting Hughes work things out. The kid didn't win 18 games two seasons ago on accident. Garcia just looks done. He's worth hanging onto as an injury replacement, but he looks very doubtful to repeat his success of a a season ago.
Thanks for reading. If you have anything to add or any questions, please use the comments below. 
Follow John on Twitter
Find more from John at SportsSomething