SEC Football Q&A: Can Georgia Withstand Suspensions in the Secondary vs. Mizzou?
April 26, 2012

Kevin C. Cox/Getty Images
Every Thursday on The SEC Blog, we will feature questions from the B/R inbox, Twitter and email.  Do you have a question for next week's Q&A?  Send it to SEC Lead Blogger Barrett Sallee via the B/R inbox, on Twitter @BarrettSallee or at bsallee@bleacherreport.com.
From James (@jcharris08) via Twitter: Can UGA's secondary survive going to Missouri with all the early suspensions?
It absolutely can survive the trip, but it's far from a certainty. Cornerback Sanders Commings will be suspended for that game, and safety Bacarri Rambo is facing a suspension of his own. Cornerback Branden Smith is facing a suspension for the season opener, but he should be back for the trip to the new Columbia.
The Bulldogs moved wide receiver Malcolm Mitchell to cornerback this spring. He was a stud at both positions in high school. Therefore, even though he's inexperienced at cornerback at the collegiate level, he still has the talent.
Don't be surprised to see sophomore Damian Swann get some playing time against the Tigers. He was a big part of the "dream team" class of 2011. I profiled Swann in March for Bleacher Report's Full Ride (0:51 mark).
From Phil Singleton (@pwsing) via Twitter: I fear Arkansas Fans won't like John L. Smith as interim head coach. Thoughts?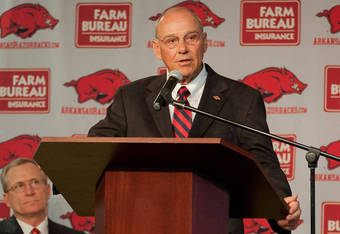 If Smith does his job, Arkansas fans shouldn't have much of an opinion on him, one way or the other. He was brought in because A) he's familiar with the program and B) he has significant FBS coaching experience. It's clear that Arkansas wants him purely in a supervisory role, like a CEO of a major company.
As long as he does that, and lets his coordinators do their jobs, he should be fine. Arkansas fans shouldn't have much of an opinion on him at all.
From Josh Pierce (@MammothHog) via Twitter (regarding weddings in cool places): Even if it is on a fall Saturday?
No—fall weddings should be outlawed.
As a matter of fact, the BCS leaders meeting in Hollywood, Fla. right now should work in a resolution banning weddings from Labor Day weekend through the week after New Year's Day. 
It would boost ratings, since 10 people won't be huddled around one tiny laptop in the basement of some convention center; and would also cut down on postgame remorse for fans that weren't able to watch their team win a big game.
It's a win-win.