Why Albert Pujols' Contract Is a Bad Idea for the Los Angeles Angels
April 26, 2012

Albert Pujols signed the second-highest contract in major-league history this offseason, and so far, it has proved to be a mistake for the Angels, who are known for signing players to ludicrous contracts.
Their current two highest-paid players had mediocre seasons at best last year. Vernon Wells, who will be paid $21 million for each of the next three years, batted .218 with 25 home runs and 66 RBI. While he did have the occasional pop in his bat, that kind of production is not worth $21 million.
The Angels also have $18 million invested in Torii Hunter, and even though they should be free of his contract after this season, the Angels overpaid him, and he never became the player they thought he would be.
Pujols' contract is majorly back-loaded, which will be a problem for the Angels in years to come. Usually, players don't get better with age, and Pujols is already showing that he definitely won't. He is off to his worst start ever, batting just .224 with zero home runs and just four RBI. He just recently broke an 0-for-19 slump, which was the worst of his career.
Albert has definitely shown that he is on the decline because he also is coming off his worst season ever with the Cardinals. He batted a career-low .299 and hit 37 home runs while driving in 99 RBI. Now, that is not bad at all.  Most players would dream of having a season like that, but when you look at his production in the years before, it is bad by his standards. 
The Angels staff must not have seen the season he had last year. His stats went down in almost every major offensive category. Why would you increase his contract amount as the years go on? If you're signing someone to a major contract who most recently showed he is on the decline, you would think that you would start with the big money up front to get the most production for what you are paying him.
The second part of his contract that I noticed is the $1 million annually for 10 years after he retires. $1 million a year may not seem like much, but to pay a guy who is not even playing for you anymore is not a smart move. At the end of that 10 years, you're out $10 million dollars that you could have used for anything besides paying someone who is not even on your roster.
If he can pull himself together and have another average season (by his standards), there might not be reason to panic. If he can stay at a consistent pace for the next 10 years, then the contract won't be so bad, but I can't see him hitting .300-plus with 25 home runs and 100-plus RBI once he reaches 40. That $30 million that could be spent on younger players will be given to a guy who is performing at a less-than-mediocre level.
Albert Pujols was looking to be the Angels' face of the franchise for the next 10 years, but right now, he's looking more like another wasted contract.
Salary by Year
2012: $12 million (32 years old)
2013: $16 million (33 years old)
2014: $23 million (34 years old) 
2015: $24 million (35 years old)
2016: $25 million (36 years old)
2017: $26 million (37 years old)
2018: $27 million (38 years old) 
2019: $28 million (39 years old)
2020: $29 million (40 years old) 
2021: $30 million (41 years old)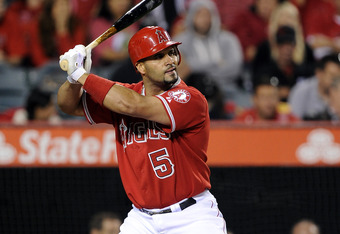 Harry How/Getty Images
Personal Services Agreement
The sides agreed that after the expiration of the contract or Pujols' retirement as a player, they will enter into a 10-year personal-services relationship, for which Pujols will be paid $1 million annually. 
Milestone Accomplishments
The sides agreed they will enter into a separate marketing agreement in which Pujols will be paid for the promotion and marketing of specified milestone accomplishments. Among them are a $3 million payment for 3,000 hits and a $7 million payment for 763 home runs.
Award Bonuses
Most Valuable Player: $500,000
MVP second or third place: $75,000
Gold Glove: $75,000
Silver Slugger: $75,000
All-Star election or selection: $50,000
World Series MVP: $100,000
ALCS MVP: $75,000