Why Calvin Johnson Will Break the Madden NFL Cover Curse
April 26, 2012

Gregory Shamus/Getty Images
The curse of the Madden NFL video game is firmly ingrained into the society of America.
There is supposedly no escaping its wrath once it sets its sights on EA Sports' newest coverboy.
The problem with this theory is that the curse has just run into the one-man wrecking crew that is Detroit Lions wide receiver Calvin Johnson.
See, "Megatron" cannot be constrained by some mythical curse.
At 6'5", 236 lbs., he is a physical specimen the likes of which the NFL has rarely seen.
Johnson is entering the prime of his playing days and gives little weight to the curse.
"I'm not a big guy for curses and I don't even think about it," said Johnson in a recent interview with the Detroit News.
"It's not surprising because you've been hearing about the curse forever. It doesn't surprise me; I hear about it from the fans."
But even beyond Johnson's own disregard for the curse, there is also the fact that he is unlike many of the cover athletes to come before him.
Only once before Johnson has a receiver been on the cover.
That honor went to Arizona Cardinals star Larry Fitzgerald in 2010, but even that year he shared the cover with Pittsburgh Steelers safety Troy Polamalu.
Fitzgerald had a fantastic campaign and made the Pro Bowl. His supposed "curse moment" was when he suffered a rib injury in the postseason.
What this teaches us is that this is a curse destined to really only doom quarterbacks and running backs.
Eleven of the 13 supposed victims played one of these two positions, and each of them suffered to a much greater degree than Fitzgerald.
So by and large, Johnson is entering somewhat uncharted territory.
He is coming off a 2011 campaign in which he had 96 catches for 1,681 yards and 16 touchdowns. 
"Megatron" almost seems too good to fail, and more importantly, he plays for a team that has perennially struggled beyond even the depths that the Madden Curse can provide.
This is a Detroit Lions franchise that has not won a playoff game since 1991 and is coming off their first winning season in over a decade.
Is a little curse really supposed to scare them?
Detroit, as a city, has endured too much and battled so many bigger demons than what a silly video game curse can provide.
Johnson is a shining star in a place so desperate for light.
He is an icon, an ambassador and a role model for the entire area.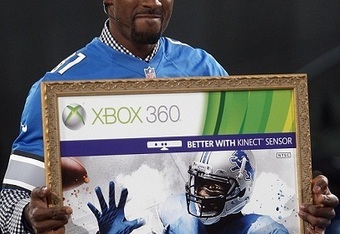 While other cities and teams have rejected the Madden cover because of this supposed curse, Detroit is likely to take it head on and embrace the challenge.
Johnson himself is excited about the prospect of being on the cover, and not because of the notoriety, but because of what it would mean for the causes that matter.
"I'm looking forward to it. It would be very cool to have that. It'd be good for the city, this organization and my foundation," Johnson said. "It's definitely a lot of monetary support that comes from EA and doing things with them that's going to help my foundation tremendously."
This curse supposedly started in 2000 with Barry Sanders. The greatest Detroit Lion of all time and one of the best players in NFL history.
Perhaps it is only fitting that it meet its end in the same city and with the same team that it first began, and with a player who may go down as one of the best wideouts the NFL has ever known.