Toronto Maple Leafs: An Offseason Game Plan to Get Back into the Playoff Picture
April 26, 2012

Jonathan Daniel/Getty Images
It's been a long, tumultuous and agonizing last eight years or so to be a Leaf fan, and this year's collapse after the All-Star break may be a breaking point for Leafs Nation.
From a division contender to start the year, the Leafs slid a little during the course of the season and managed to look like a playoff spot contender.
However, after the All-Star break hit, the Leafs fell off the face of the Earth, and their playoff dreams went with them.
There's a number of excuses and finger pointing going on, but personally, I said it in an earlier article, I did not believe the Leafs were a playoff team. They lacked quite a few necessary pieces to really be considered a playoff contender.
I will get into the key pieces a a moment, but with that said, GM Brian Burke publicly apologized for the franchise's collapse and vowed to change the roster for next season with hopes of it making the promise land and landing the Leafs a playoff spot.
Burke and I share the same sentiment with building a team and that's to build a solid foundation. You do not want to continually sneak into the playoffs by buying necessary rental pieces at the deadline to get you over the hump. Buying those rental pieces likely costs you draft picks which can be used down the road as key trade pieces, or pieces to build your franchise around.
The Leafs, however, are in a world of hurt for this season. Not only are they a little cash-strapped, but they have a few key free agents to re-sign and a number of holes in the lineup left to fill.
Offseason Game Plan: Toronto Maple Leafs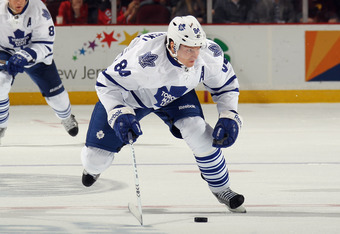 Bruce Bennett/Getty Images
Players Under Contract
Forwards
Phil Kessel, Joffrey Lupul, Mikhail Grabovski, Tim Connolly, Matthew Lombardi, Clarke MacArthur, Colby Armstrong, Tyler Bozak, Dave Steckel, Mike Brown
Defencemen
Dion Phaneuf, John Michael Liles, Luke Schenn, Mike Komisarek, Carl Gunnarsson, Jake Gardiner
Goalies
James Reimer
Key Free Agents
Forwards
Joey Crabb (UFA), Nikolai Kulemin (RFA), Matt Frattin (RFA), Jay Rosehill (UFA), Mike Zigomanis (UFA), Ryan Hamilton (UFA), Phillippe Dupuis (UFA), Marcel Mueller (RFA)
Defencemen
Cody Franson (RFA), Jeff Finger (UFA), Matt Lashoff (UFA), Korbinian Holzer (RFA), Simon Gysbers (RFA), Mark Fraser (RFA)
Goaltenders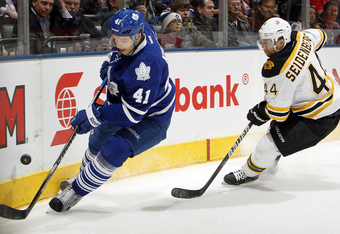 Abelimages/Getty Images
Jonas Gustavsson (UFA), Ben Scrivens (RFA), Jussi Rynnas (RFA) 
Projected Cap Space= $7,596,667
Key Holes That Need to Be Addressed
Lack of No. 1 center
Lack of size and skill
Lack of veteran leadership
Lack of team identity
Lack of legitimate No. 1 goalie
Lack of consistency with regard to special teams
Needless to say, to expect these holes to be filled overnight could be asking a bit too much, but if most of them can be covered up, then the odds of the Leafs making the post-season will have greatly increased.
At the Draft
The Leafs pick fifth overall behind the Edmonton Oilers (first), Columbus Blue Jackets (second), Montreal Canadiens (third) and New York Islanders (fourth).
The Oilers will likely take winger Nail Yakupov of the Sarnia Sting first overall. The Jackets, who are starved for solid defencemen, will likely draft Ryan Murray of the Everett Silvertips second overall. There are also rumors they may select Filip Forsberg second overall.
The Habs, who are still looking for that prototypical large center, will look to no further than the Quebec Remparts and select Mikhail Grigorenko.
After that, I feel the draft will be a crap shoot and any prospect can go anywhere.
With that said, I'll outline three prospects that should be on the Leafs' radar. I've conceited the odds of getting the three players I mentioned is a little unlikely, so I'm not including them in this discussion.
Mathew Dumba
At the age of 17, Dumba collected 20 goals this with the Red Deer Rebels and 57 points in 63 games. He's a hard-hitting, tough defenceman to play against and has drawn comparisons to PK Subban and Dion Phaneuf.
He's likely another two years away from making any sort of impact in the NHL or AHL for that matter, so picking him will be a pick for down the road.
Alex Galchenyuk
Likely the best two-way forward in the draft, Galchenyuk, despite his injury troubles this past season, was a projected top-three pick, but may have slipped a bit with his injured knee that cost him the entire season this year.
His absence not only affected his draft stock, but it also led to Nail Yakupov having a relatively pedestrian year this past season with the Sting. He was good, but injuries and not having Galchenyuk centering his line meant he did not lead the OHL in scoring, that honor went to Sudbury Wolves center and Avalanche prospect Michael Sgarbossa.
Galchenyuk is probably the best pick for the Leafs at five if he's available.
Filip Forsberg
At 6'2" and over 190 pounds, Forsberg already has the NHL body and has played against men in the Swedish Elite League.
Amid reports earlier that the Jackets might pick Forsberg over Yakupov if they landed the first-overall pick, its still entirely possible that the Jackets select Forsberg second overall instead of first. If he's not selected, look for him to fall to fourth or fifth.
His game is very similar to Daniel Alfredsson in his prime. He's got a great game that will translate well to the North American game. Unlike many European players, Forsberg may not need as much time to get acclimated to the NHL game which makes him being a top five pick an almost certainty.
If he lasts to five, look for the Leafs to snatch up the winger.
Canada Day Free-Agent Frenzy
Armed with not a lot of cap space and plenty of deadweight, the Leafs could be major players in both the trade market, and eventually, the free-agent market.
To be major players in the free-agent market, the Leafs will need to unload some albatross-like contracts that are holding them down.
Tim Connolly (over $4 million), Mike Komisarek (over $4 million), Matthew Lombardi ($3.5 million) and Colby Armstrong ($3 million) are the likely players who could and should be dealt to make some extra cap space for Burke and company to work with.
If they manage to clear some space, look for the Leafs to take a long look at Americans Zach Parise and Ryan Suter, and goaltender Tomas Vokoun.
Other under-the-radar type of free agents that could fit the mold for the Leafs could be Ryan Smyth, who would provide veteran leadership and a presence in front of the net. Same goes for Kings forward Dustin Penner, who would provide an even bigger presence at 6'4" and 245 pounds.
Paul Gaustad, Travis Moen, Chris Kelly, Jay McClement, Sami Pahlsson and Dominic Moore can all be added to the Leafs bottom six, and you could see a marked improvement in the penalty kill at least.
An enforcer like Zenon Konopka could be on the radar as well, as he serves two purposes, not just one. He's an incredible faceoff fan, which could mean Dave Steckel gets a promotion to the third line, and Konopka could man the center position on the fourth line. Personally, though, I'd much prefer Mike Zigomanis in that role.
These are just a small sampling of players that could help the Leafs. They will not get all of them, maybe not even any of them, but they are players I would target if I were the GM of the Leafs.
As for re-signing players, most of the RFA's should be retained. Meanwhile, only possibly Ryan Hamilton, Mike Zigomanis and Joey Crabb should be considered when trying to re-sign an unrestricted free agent.
Trade Market
This is likely where the Leafs could make the most noise. With a glut of prospects at the AHL level nearing an impact, the Leafs will need to clear out some space on their roster to make room.
That and well, to make some more cap space, the Leafs may elect to trade some dead-weight contracts.
Lombardi, Connolly, Komisarek, Armstrong and possibly even Luke Schenn could all be on the way out of town.
The Leafs' immediate needs are the No. 1 center and the goaltender, and by the looks of the free agent class, they won't be signing a guy to fill that gap; they will have to trade for it.
The name that immediately jumps into many Leaf fans heads is Roberto Luongo, and for good reason. He's a veteran goalie with playoff experience, and he's a leader who once captained the Canucks from the goaltender position.
His price tag might also be a bit lower because of reports of him demanding a trade . Sports fans in Toronto remember what happened to Vince Carter's trade stock when he demanded a trade out of Toronto and essentially gave up on the organization. Luongo hasn't given up on the organization; he just feels the organization is likely going in another direction, and doesn't want to be the man on the outside, which is entirely understandable.
Other than Luongo, look for the Kings to possibly move Jonathan Bernier, who is stuck behind a Vezina nominee by the name of Jon Quick. Bernier is younger, has international experience with the Canadian World Championship team and is a favorite of Leafs assistant GM Dave Nonis.
Ryan Malone is another player who could be on the Leafs' radar. A major force in front of the net, his price tag is a tad high, but could be had for someone like Colby Armstrong and a second-round pick.
Dustin Brown has long been a target of many Leaf fans, but right now, I'd put him on the waiting list. He's a player who plays exactly how Brian Burke wants his forwards to play; however, the big, bruising right winger's time with the Los Angeles Kings may not be coming to an end. After the Kings acquired Jeff Carter, Brown was looked upon as expendable if the right player came along. If I was the Kings, I'd certainly give Brown another shot with the team.
James van Riemsdyk was rumored to the Leafs earlier this season, and the rumors may again be on the rise heading into the draft and the offseason. JVR hasn't made much of an impact at all this year with the Flyers, and they disposed of the Penguins in six without him for most of the series.
They can win without him up front. The question, however, is on the back end with the Flyers. They will likely not be able to retain Matt Carle because of cap restrictions, so look for them to fill the hole on defence via trade. That's where the Leafs could be in the mix. Guys like Carl Gunnarsson, Cody Franson and yes, even Luke Schenn could on the Flyers' radar.
The last name I'll mention for trade talks is, of course, Rick Nash, who was long rumored to the Leafs prior to the trade deadline.
His price tag will remain high, and to be honest, I would not rule out the Leafs possibly making Phil Kessel available in a trade for Rick Nash. To tell you the honest truth, I wouldn't have a problem including Kessel in Nash trade talks after the disappearing act he pulled after Joffrey Lupul separated his shoulder and was out for the rest of the season.
So there you have it, a game plan, an idea into the thinking of this Leaf fan of how to re-work this Leaf team into a playoff contender.
Feel free to comment on what your thoughts are on this, maybe make a trade prediction or two, and give me your thoughts on the draft.
Thanks for reading!