Charlotte Bobcats on the Verge of Becoming Worst NBA Team Ever
April 26, 2012

Streeter Lecka/Getty Images
With the Charlotte Bobcats losing Wednesday to the Orlando Magic, 102-95, history will soon be made in the NBA. If they lose the last game of the season against the Knicks Thursday, the Bobcats will not only achieve a 23-game losing streak, but also finish with the lowest winning percentage of any team since the NBA was formed in 1946. Currently, the Bobcats sit on a 7-58 record. Here's a breakdown of the all-time worst teams.
Worst NBA Teams of All Time
1972-1973 Philadelphia 76ers (9-73)
1992-1993 Dallas Mavericks (11-71)
1997-1998 Denver Nuggets (11-71)
2009-2010 New Jersey Nets (12-70)
1986-1987 Los Angeles Clippers (12-70)
2004-2005 Atlanta Hawks (13-69)
1993-1994 Dallas Mavericks (13-69)
1998-1999 Vancouver Grizzlies (8-42)
1982-1983 Houston Rockets (14-68)
1996-1997 Vancouver Grizzlies (14-68)
1952-1953 Philadelphia Warriors (12-57)
1949-1950 Denver Nuggets (11-51)
1998-1999 Los Angeles Clippers (9-41)
I'm not going to sit her, and rant about Michael Jordan being a bad owner, but I will say this: The Bobcats did not get this bad overnight. Jordan bought a playoff-bound Bobcats in 2010 and went on to trade away the team's best players and assets over the next two years.
Head coach Paul Silas is used to success (three NBA titles as a player, Basketball Hall of Fame nominee), and that's what makes this even harder to witness—a respected individual in basketball having to suffer and struggle through the deplorable season.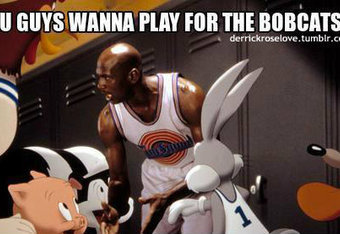 A big issue with the NBA is that, more often than not, the only way for a team to get good is to first get bad. The league has the draft lottery for guys like Anthony Davis to allow a team to win him. Unfortunately to have a chance at that 'prize', you have to get bad first.
The Bobcats have only a 25 percent chance of winning the pick. Let's not underestimate the value of good fortune in this type of situation. For example, San Antonio did a great job of stacking talent around Tim Duncan, and Chicago did the same thing around Derrick Rose. Let's not forget, though, that without Duncan and Rose, the Spurs and Bulls are just a group of nice players.
It's looking more and more as though as long as Michael Jordan owns and runs the Bobcats, they will be linked to bad draft picks, trades and signings. Sure, Jordan was able to will his team to victory during his playing career, but in a front-office position, it will take more than his determination. It will most likely take a miracle.
So here's to the ping-pong ball that holds the fate for Charlotte, the only glimmer of hope in this wretched season.