Barcelona vs. Chelsea Reaction: Ramires Was the MVP over the 2 Legs
April 26, 2012

Mike Hewitt/Getty Images
When referee Cüneyt Çakir reached for his pocket and drew a yellow card in response to Chelsea midfielder Ramires' vehement exclamation to Barcelona's second goal on the night—at that point, with the Blaugrana out to a 2-0 lead after scoring twice within eight minutes—it looked for all the world as if the wheels of the bus Roberto di Matteo's side had decided to park in front of goal would come clattering off.
But oh, how we were wrong, in large part due to the fantastic performance from one man.
Tuesday night's titanic clash was the kind of environment in which legends are forged.
Up was down, and down was up. The most recent Ballon d'Or winner choked on a penalty. The experienced Chelsea captain was sent off for one of the more petulant acts seen in Champions League football this season.
And through it all, the Brazilian Ramires continued upon his sensational recent run of form, which made him, to my mind at least, Chelsea's unequivocal man of the match over the two legs.
It was Ramires, after all, who had provided the searing burst of pace to cut down the left flank in the first leg at Stamford Bridge, controlling Frank Lampard's diagonal through ball with aplomb before eventually collecting himself at the edge of the Barca penalty area and cutting back for the arriving Didier Drogba, whose cool left-footed finish gave the hosts a priceless 1-0 advantage.
That he will now miss the Champions League final after accumulating that third cumulative yellow card during the competition seems far more unjust than it would for most other players.
If anyone deserves to grace the Allianz Arena pitch, which is sure to be immaculate for the May 19 final some three weeks after Bayern play their last game of the season on its turf (April 28), it is Ramires.
The petulance that likely earned him that card during the whirlwind first half at the Nou Camp is regrettable. It threatened to destroy what Ramires had built over the course of some 180 minutes of play.
But he gathered himself and made sure his night would be defined by a far more positive contribution.
Just seconds after picking up that booking, there was Ramires again launching upon a lung-bursting run past the Barcelona defense—headed in the same direction as he'd been six days previously, only this time on the right flank instead of the left.
Teammate Frank Lampard picked out his run (again) with a superb slide-rule pass, and the Brazilian was in on goal before you'd had time to register your shock (or expectation) at Barcelona's second goal.
What happened next was a goal that few would likely ever dare even in the comfortable confines of their homes during a match of FIFA (if you've played the game, you know that to attempt to chip the keeper from any other position than head-on is to effectively concede a goal kick).
As the announcer on the night (no, not Gary Neville's...er...interesting reactions to the two Chelsea goals) rightly said, it was a finish epitomized samba football.
Ramires didn't think twice about the way he would take the goal: Like all gests of genius, it simply came to him, as if it made as much sense to him—as if it were as perfunctory—as breathing.
Barca keeper Victor Valdes could only get a touch, and then the ball was beyond him, nestling snugly into the goal. It gave Chelsea a goal back; it gave Chelsea life.
It tied the aggregate at 2-2 and gave the Blues one foot in the final because of the away goal rule. (Fernando Torres would later seal the match with his 90th minute clincher.)
One assist, one goal. Quite a return for just two matches' work. But if you look only at those stats, you do Ramires a disservice.
He was ubiquitous during Chelsea's "all hands on deck" defending in the face of the relentless Blaugrana onslaught at the Bridge.
Resolute as ever, possessing a steely demeanor that belies his lithe appearance and would bring a smile to any proponent of physical football, Ramires engaged in tackles with a ferocity not often seen in midfielders who enjoy getting forward so frequently.
And as Bleacher Report columnist Mohamed Al-Hendy so rightly said on Wednesday, the Brazilian's work rate would have proven a priceless commodity for either Real Madrid or Bayern Munich during their titillating encounter at the Bernebeu.
It is a testament to the man's fitness that Mohamed believed (and rightly so, I might add) that Ramires could well have proved the difference during the semifinal second leg, which remained deadlocked and eventually headed for penalties.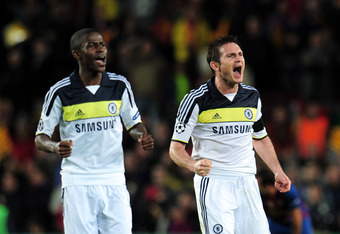 Shaun Botterill/Getty Images
One searing burst of pace during that extra time period (and knowing Ramires, he likely could have banished all thoughts of fatigue and done it) could have provided the difference and saved us all from witnessing some depressing stabs at penalties (looking at you, Kaka, Ronaldo, Tony Kroos and Philip Lahm).
He will have to watch from the sidelines on May 19, but he can do so with a clear conscience. Giving your all for nearly 180 minutes' time (he was substituted in the 88th minute in the first leg) allows you that peace of mind.
Unlike his captain, John Terry, Ramires' booking did not prove detrimental to his side on that night. Instead, he was able to remain on the pitch and provide some sort of saving grace.
And what grace it was.