Bayern Munich V Chelsea: Predicting Starting Lineups for Champions League Final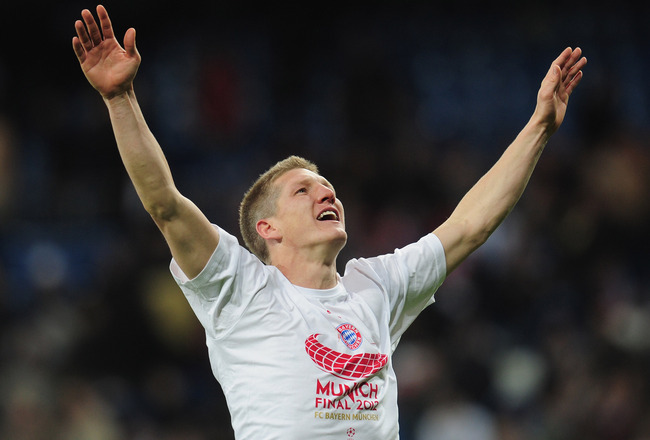 Shaun Botterill/Getty Images
So it's Chelsea FC Reserves vs FC Bayern Munich II that will compete the 2012 Champions League final in the Allianz Arena on the 19th of May.
It may as well be due to a cruel but kosher suspension rule that will rule out seven players from the final.
Football is an entertainment sport with paying fans who want to see a spectacle in Munich, not two teams hashed together due to the many suspensions. Once again, the archaic rulers of our immaculate footballing world need to remove their digits from a certain orifice.
Put injuries on top of that, we're looking at a less than spectacular UEFA "Main Event." What a travesty for Platini and his cronies.
The rule regarding suspensions (two yellow cards over two legs) for a final need to be changed immediately.
Anyway, less of my thoughts on UEFA and boring rules; indulge me for the next 25 or so odd slides as I become Roberto Di Matteo and Jupp Heynckes and pick the starting lineups for the final.
Chelsea FC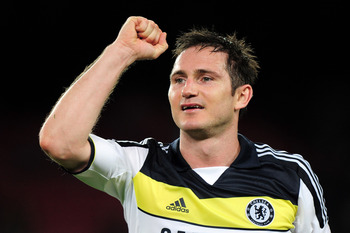 Shaun Botterill/Getty Images
(As I put my fake-tan on and start to chew gum, I transform into Roberto Di Matteo, less the accent) I have put Chelsea in a similar formation to the way they started against Barcelona on Tuesday night, 4-5-1.
Here is the starting 11 and why I would have them in the team if I was Di Matteo.
Goalkeeper: Petr Cech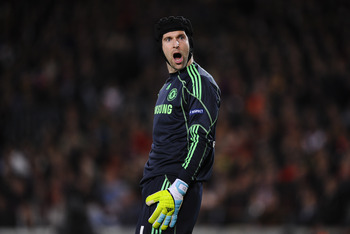 David Ramos/Getty Images
Cech's performance in the Nou Camp was outstanding.
Looking back at some of the great performances against Guardiola's Barcelona (i.e Inter—2010, Real Madrid—Copa Del Rey Final 2011, Chelsea on Tuesday), they have all been epitomized by great goalkeeping performances.
Talk of Chelsea trying to replace the Czech shot-stopper in the summer have to be wide of the mark, and I can't see Di Matteo selling him on if he gets the full-time job.
A no-brainer decision to have him starting.
Right-Back: Jose Bosingwa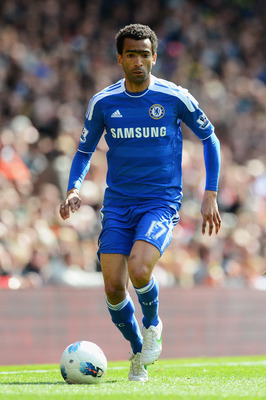 Mike Hewitt/Getty Images
After excelling at centre back against Barcelona, Bosingwa may have to play there once again should David Luiz or Gary Cahill not make the final.
However according to the Independent, it looks like both centre haves are expected to make the final, therefore forcing the deployment of the Portuguese to right back.
He will have a very tough job assignment with Frank Ribery ready to inflict damage, but he does have the pace to deal with the Frenchman's direct running.
Centre-Back: David Luiz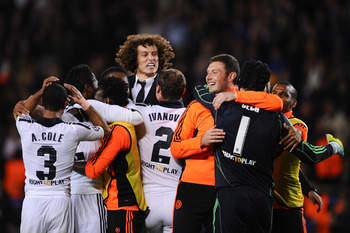 David Ramos/Getty Images
(That picture sum's up Luiz's character completely)
As I have said in the last slide, Luiz is expected to be fit enough to face the goal machine in Mario Gomez.
Pretty sure he would not be playing if Chelsea had a full compliment of players, but I'd rather have the impulsive Luiz to a young, inexperienced rookie.
Will have to be on the top of his game.
Centre-Back: Gary Cahill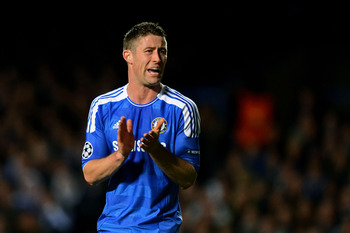 Mike Hewitt/Getty Images
He is in the same situation as Luiz.
If he is to be fit for the showdown with Bayern, he will need to play a game like he's never played before.
It is only a couple of months since his last game for Bolton at Goodison Park against Everton. Now he will be playing in possibly the biggest night of his new club's history.
That's some change in surroundings for the Yorkshireman.
Left-Back: Ashley Cole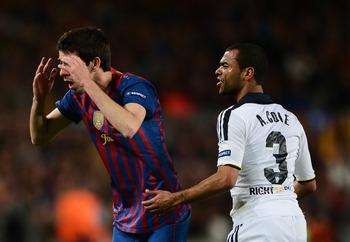 Jasper Juinen/Getty Images
One of the best left backs in the world for seasons now, Cole is possibly the first name on the team sheet.
If there is one left back around that I would feel comfortable playing against Arjen Robben, it would be Cole.
Another certainty in defense.
Holding Midfield: John Obi Mikel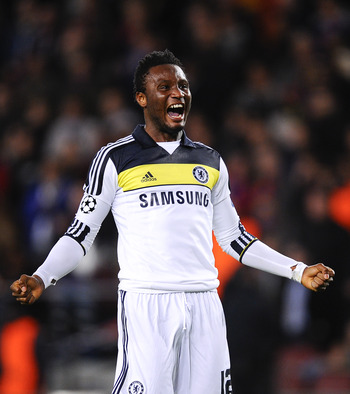 David Ramos/Getty Images
To stop the inverted wingers, Robben and Ribery, you need a solid holding midfielder to come across and protect the inside space.
Mikel will have to be the one to do step up, and with this possibly being the area with the most tactical importance, concentration will be key for the Nigerian.
Played very well against a rampant Barcelona midfield in the second half.
Centre Midfield: Michael Essien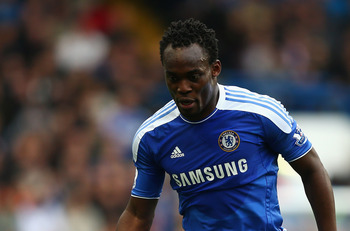 Clive Mason/Getty Images
Let's face it, Essien hasn't returned from his injury the player he used to be.
There is no drive, no intensity, no physicality of old.
Di Matteo and Chelsea must hope that he can have one great game in the area of the pitch that will be vital against Bayern.
The centre of the park will feature Schweinsteiger, Kross and possibly Ribery and Robben at times. If Essien plays like he did before his injury, Chelsea have a great chance.
Centre Midfield: Frank Lampard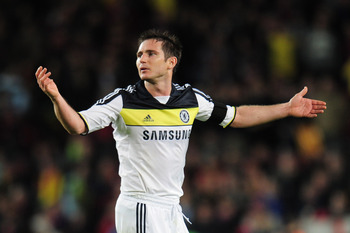 Shaun Botterill/Getty Images
Mr Chelsea Mark II.
Will be the man to possibly lift the trophy for the team he has served so well.
Wide Left: Florent Malouda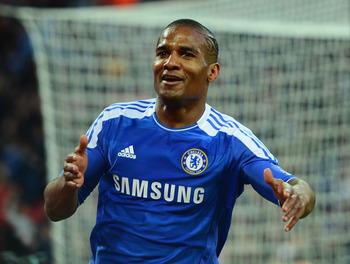 Mike Hewitt/Getty Images
Malouda just beats Salomon Kalou to the right side berth.
This is for the simple fact that Rafinha will possibly play at right back due to suspensions and will be marauding up the right wing. It will be a major job in keeping the Brazilian at bay.
Defensively, he edges out his Ivorian teammate.
Wide Right: Juan Mata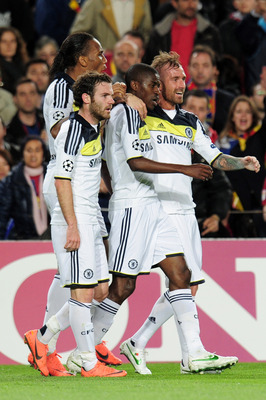 Shaun Botterill/Getty Images
It will be up to Mata, coupled with the striker, to exploit the biggest weakness in the Bayern's team.
For the final, they will be without the left-sided centre midfielder, Gustavo; the left back, Alaba and the left sided centre back, Badstuber.
Coming inside will be a big threat to Bayern, even with Lahm possibly stationed at left back due to suspensions.
Tracking the Bayern skipper will be high up on the lost of priorities for Mata.
Striker: Didier Drogba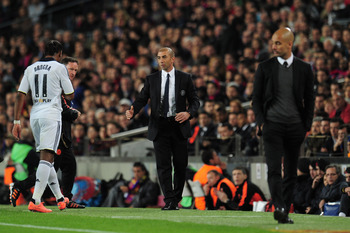 Shaun Botterill/Getty Images
I'm sorry, Fernando, I know you scored a very important goal, and I'm very proud of you, but Didier just provides more of a threat.
Regards,
Di Matteo.
FC Bayern Munich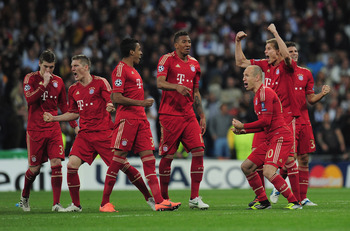 Shaun Botterill/Getty Images
(As I wash off the fake tan and spit out the gum, I change into my 'red-faced-after-first-sun-holiday-in-years' look, aka Jupp Heynckes) The set up will once again be a 4-2-3-1.
Here is the team.
Goalkeeper: Manuel Neuer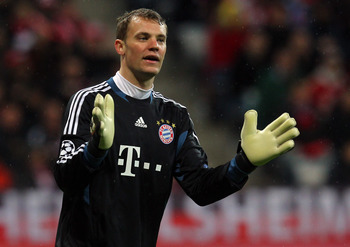 Martin Rose/Getty Images
Best goalkeeper in the world? Probably.
As simple as putting Cech in goal for Chelsea.
Right Back: Rafinha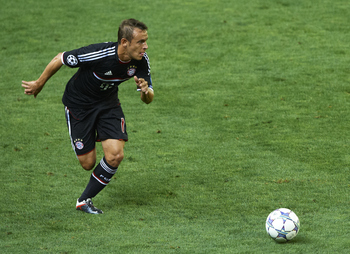 Manuel Queimadelos Alonso/Getty Images
Lahm will have to move to left back it seems.
Rafinha will come in to his usual position of right back, hopefully supporting Robben sufficiently to allow the inverted wingers tactic be used to its maximum potential.
Centre Back: Jerome Boateng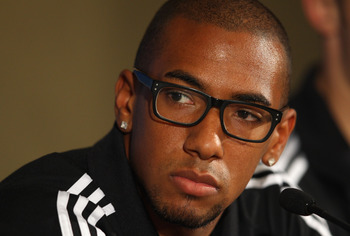 Alex Livesey/Getty Images
Again, he would probably start anyway, but is a definite now due to Badstuber's suspension.
Looked pretty composed against Real Madrid and will need to be even better against Drogba.
Centre Back: Anatoliy Tymoshchuk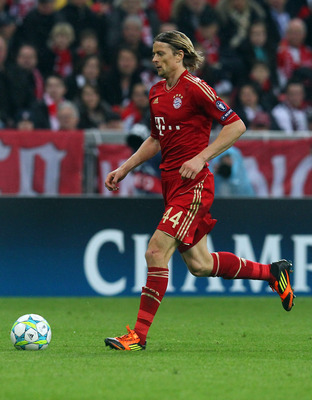 Martin Rose/Getty Images
He has filled in at centre back before, but it will be a different kettle of fish up against the physicality and raw power of the 'Drogs.
Tymoshchuk is nearly six foot, which will work to the obvious advantage of Chelsea.
Left Back: Philip Lahm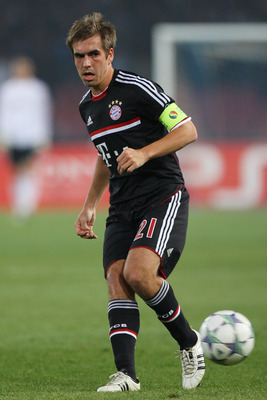 Paolo Bruno/Getty Images
A great captain and full back.
What a fabulous player. Bayern are lucky to have him in the final after spending the second leg on a tightrope after a first leg yellow card.
First name on team sheet.
Centre Midfield: Bastian Schweinsteiger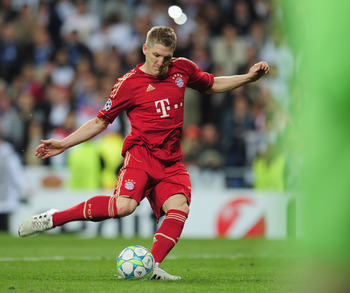 Shaun Botterill/Getty Images
Bayern are back in the Champions League final after this man's decisive penalty kick.
A most worthy vice-captain of a great club.
Showed true class in midfield play against Real. International colleague Sami Khedira looked average against the future Bayern legend.
Centre Midfield: Toni Kroos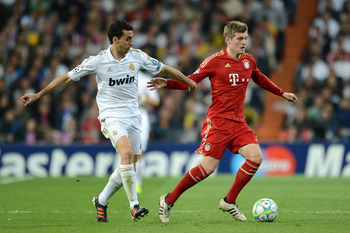 Jasper Juinen/Getty Images
While I have been something of a critic towards the young midfielder before, he must play in the final after accomplished displays in both games against Real.
He will possibly move deeper to play beside Schweinsteiger, a"double-pivot" of immense technical quality.
Wide Left: Frank Ribery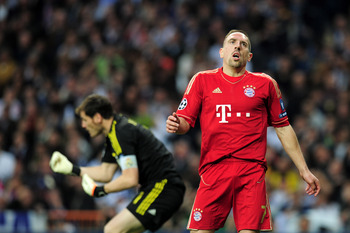 Shaun Botterill/Getty Images
Wide Right: Arjen Robben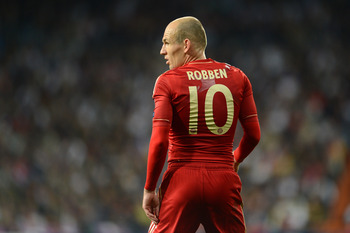 Jasper Juinen/Getty Images
Obvious.
Best winger in the world on his day.
Attacking Midfielder: Thomas Muller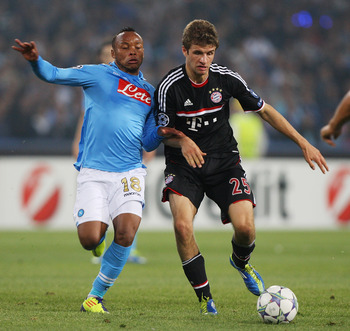 Paolo Bruno/Getty Images
I expect Muller to play off Mario Gomez.
Muller was outstanding in the last World Cup and will hope to reproduce some of the same quality against Chelsea.
We know Muller will work and try to stop the Chelsea midfield getting into any sort of a rhythm.
Striker: Mario Gomez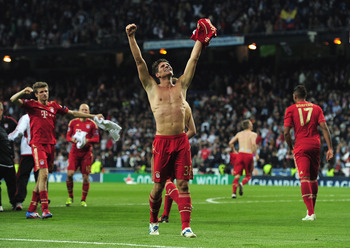 Shaun Botterill/Getty Images
If you want goals, goals and more goals, Gomez is your man.
He will be hoping to exploit the makeshift defense of Chelsea.
He could have scored five or six against Madrid; he won't get the same chances against Chelsea.
Recap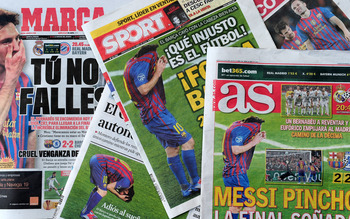 Shaun Botterill/Getty Images
There we have it. The starting lineups for the Champions League final.
I would like to apologize in advance to the lads that I have replaced the suspended players with. I have more than likely jinxed you and you will probably only make the bench.
So Barca are apparently finished as a club, Mourinho is a failure, Di Matteo is a god and Jupp Heynckes is still frowning somewhere.
Let's hope the final will be as interesting as the semis!!!
Keep Reading

Chelsea: Like this team?