Bridge to Somewhere: Find Your True South Golfing in Mississippi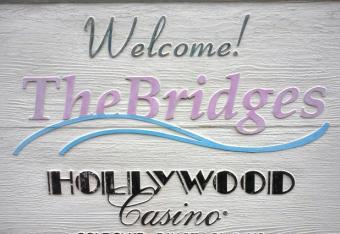 The Bridges, Mississippi's only Arnold Palmer designed golf course.

Golf Writer Andy Reistetter continues his exclusive "Play-Write" series with The Bridges Golf Club on the Mississippi Gulf Coast. Located on what is known as the West Coast, this was no ordinary experience golfing with Head Golf Professional Billy Baumgartner on Mississippi's only Arnold Palmer-designed golf course. Interwoven in the story is a couple's survival through Katrina, and what it means to be part of a community when disaster strikes. Friend Reistetter on Facebook for a look at more behind-the-scenes pictures and insights on his GolfWriter59 page.
One Mississippi, two Mississippi, three Mississippi…
Fore Mississippi!
Yes you can count more, but there is only ONE Mississippi, and it is your true SOUTH...
"We knew 2012 was going to be our year," shared Myrna Green who manages Mississippi's West Coast tourism promotion.
This is the year for Mississippi's Gulf Coast to fully recover from Katrina, the 2008 downturn and the BP oil spill.
Six-and-a-half years later, the lives of those who survived the troubling trifecta are better for it. In the midst of the storms, they have found their inner strength, their true south, and want to share it with the world once again.
Myrna's husband Richard was there for her making a generator and gasoline run to the north in his pickup truck. He armed himself to avoid 21st century pirates along the highway on the way back to the devastation. Then he hooked up power to their FEMA trailer and tapped into the sewer pipe in the remnants of their home, all in a matter of a few days.
After that, the Mississippi couple set out to help their friends, neighbors and strangers get back on their feet. When bad things happen, good people become better. That is the only way to survive and thrive when tragedy strikes.
"All along there were answers to our prayers," Myrna continued as she gazed at her man. "From finding a shelter, to the FEMA trailer, to forgetting to put my artwork underneath the bed to protect it. Surprisingly, the artwork lying on top of the bed was protected. When the water came, the bed floated and saved my artwork from being destroyed like everything else."
The water and the silt came and overwhelmed The Bridges golf course at the Hollywood Casino. "In some places on the golf course, the water was 30 feet deep, and the silt left behind was two feet deep," said Billy Baumgartner, Head Golf Professional and now also the Director of Golf. "Surprisingly, the water somehow protected our bridges; they remained intact when the 30-foot water surge came through."
While knowing himself to be fortunate to never have missed a paycheck from the Hollywood Casino during the tumultuous period, Baumgartner's employer was even more fortunate to have such a hard working, dedicated person in place when the worst storm on record came.
"Katrina hit on August 29, and we overseeded and reopened by October 1, more for a sense of well-being than anything else. We had six-inch holes just for fun," said Baumgarnter. "When the overseed died off in May we closed down for six months and renovated the golf course."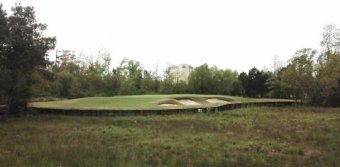 What remains today is a strong, yet enjoyable test of golf. The Bridges is ranked among the top casino golf courses in the country and is the first resort golf course in the world to obtain Audubon International's Certified Silver Signature status showcasing Palmer's design strengths of working in harmony with nature.
Even in the midst of troubled nature, there was harmony over time. Shortly after Katrina, a dolphin was rescued from the pond near the fourth green. Today in the same pond, saltwater mallets remain and have adapted to their new home.
The game of golf is often an adaptation of one's original intent with or without skillful performance. I recall the wise inscription of my older brother in the Ben Hogan's Five Lessons book he gave me when I was a young boy: "The more you learn and understand about life, the easier it is to meet its challenges."
I learned a lot about the people and golfing in Mississippi during my short visit.
Like Myrna, I think 2012 is going to be my year because of the inspiration I found there.
If you are looking for a golfing destination, want to be treated like a star at the casino, enjoy some beautiful beaches and be inspired, look no further than Mississippi's Gulf Coast.
For more information on golfing in Mississippi go to their website where you will be able to access complete information about the golf courses throughout the state, including stay-and-play packages.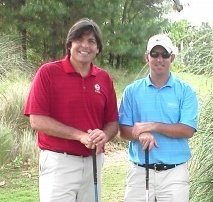 Andy Reistetter is a freelance golf writer as well as a Spotter, Research and Broadcast Assistant for The Golf Channel, NBC and CBS Sports. He spends time on all four major American golf tours—the PGA TOUR, Champions, Nationwide and LPGA Tours.
Reistetter resides within two miles of the PGA TOUR headquarters and the home of The PLAYERS Championship at TPC Sawgrass in Ponte Vedra Beach.
A lifetime golfer, Andy enjoys volunteering at the World Golf Hall of Fame and THE PLAYERS while pursuing his passion for the game of golf and everything associated with it.
Friend Andy Reistetter on Facebook to enjoy daily updates on his GolfWriter59 page. Or contact Reistetter by e-mail at AndyReistetter@gmail.com
This article is
What is the duplicate article?
Why is this article offensive?
Where is this article plagiarized from?
Why is this article poorly edited?