On Tuesday night, the White Sox suffered a 2-0 shutout at the hands of Oakland A's left-hander Tommy Milone. It was the second time the Sox have been shut out this season, and not a surprising result given that this is a lineup not destined to score a lot of runs. Nonetheless, Chicago's American League entry is presently tied for first place in the AL Central with a record of 10-7, the result of pitching that has allowed just 3.24 runs per game thus far.

To paraphrase Shakespeare, sometimes fortune favors the foolish and saves us from our own worst intentions. Kenny Williams went through the offseason looking for offers on Gavin Floyd and Jon Danks, and it is a certainty that he would have dealt Jake Peavy and his onerous contract if he could have found a buyer. Finding none, he largely stood pat, with the result that his team finds itself in possession of a very strong starting rotation.

A strong pitching staff is only half the battle, however. You have to outscore your pitching staff by a significant margin to win. In fact, we know by exactly how much you have to outscore it thanks to Bill James and the basic Pythagorean theorem. Say the White Sox continue to allow 3.24 runs per game over the rest of the season. That would mean allowing 525 runs in total. How do you win 95 games while allowing that many (or few) runs? Easy: either be very lucky or score a minimum of 625 runs, or 3.86 per game.

That's not a lot of runs—all but four AL teams are above that mark right now (the Mariners, Twins, Royals and A's are the exceptions), but there is no guarantee that the pitching will remain this good the rest of the way, and as the number of runs allowed goes up, the offensive requirements go up proportionately. If the White Sox are going to keep up, they will need all of their hitters to perform above expectations.

That's a tall order, because the aforementioned expectations were meager. Paul Konerko is a reliable producer (his 2003 slump and 2007-2009 slowdown now seems well in the past), but everyone else had be regarded with suspicion. Catcher A.J. Pierzynski is barely a league-average hitter in most seasons—which is to say OK for a catcher, but no big deal otherwise.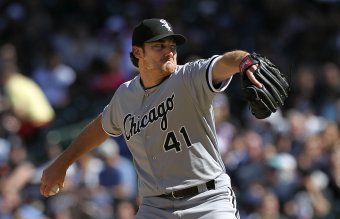 Otto Greule Jr/Getty Images
Second baseman Gordon Beckham has gone from top rookie to outright disaster. Third baseman Brent Morel is totally unproven. Shortstop Alexi Ramirez is like Pierzynski, a decent hitter for his position, but no more. Dayan Viciedo is so impatient he may never hit enough to make up for it.
Centerfielder Alejandro De Aza is an oft-injured journeyman. Right fielder Alex Rios is an enigma whose bat seems to waver with the wind.

That leaves the designated hitter Adam Dunn, and even greater mystery than Rios. As Baseball Prospectus put it in their 2012 annual, "There have been 2,300 qualifying player-seasons where a batter slugged over .500, and last year Dunn became the first to follow up such a year by slugging below .300. Whether due to age, changing leagues, adapting to the DH spot, or some random Ozzieball curse, Dunn spent the season at sea, unable to catch up to the fastballs he has traditionally crushed and posting a stomach-churning .064/.235/.074 line against lefties."

In short, what Dunn went through last year was completely unprecedented, with the possible exception of Lou Gehrig '39, and thankfully, there is no indication that a serious health problem of that nature was at work. Players have slumped before, players have had off-years, but Dunn was the first in history to lose almost all semblance of major-league ability at 31 without suffering from a critical injury.
Think of two-time MVP Dale Murphy, who fell off badly at 32. Murphy hit .295/.417/.580 in 1987, then .226/.313/.421 in 1988. That's bad, especially compared to what came before, but as per OPS+ it's still above-average offense; he went from 157 to 106. In contrast, Dunn went from 138 to 56.

Dunn is signed through 2014, and when playing well, is one of the best pure power hitters in the game. If the Sox were going to contend this year, he would have to snap back. It wasn't out of the question—if his collapse was inexplicable, why not a miraculous return to form as well? That's what happened this season, plus a little more: Dunn's career averages are .243/.374/.503; he's currently hitting .246/.361/.541 with four home runs and 11 walks. He's striking out more than he used to (and he always struck out a lot) and walking a little less, a sign that things still aren't quite right, but his home run rate of 5.6 percent is identical to his career figure.

Dunn's turnaround gives the Sox the complement to Konerko they were missing last year, but usually, two hitters is not enough to pull a poor offense through a season, especially not one dragging Beckham and Morel. The White Sox have been helped by Pierzynski's hot start (.340/.382/.640 with four home runs), the good version of Rios showing up (.340/.393/.491) and surprisingly, robust production from De Aza (.266/.333/.516).

Not all of these things will last. Someone will regress, be it Rios, who gets bored or confused or insecure or hungry or something that causes him to veer between competency and incompetency, or De Aza, who seems an unlikely candidate for a 30-home run season. Beckham, Ramirez, Morel and Viciedo may do better than they have thus far, but they won't get so much better that you wouldn't want to upgrade if you had any choice in the matter.

With one of the worst farm systems in baseball, the White Sox have little choice indeed. Triple-A Charlotte is stocked with the likes of Greg Golson, Conor Jackson, Dan Johnson and Dallas McPherson—a congeries of busted prospects to rival anyone's collection of Darryl Boston rookie cards. Bringing in help would mean trading from the pile of starting pitchers—sapping the club's strength to address a weakness. It won't work, unless, say, Nestor Molina, (currently at Double-A) proves ready to displace of the starters later in the season, but that would be a huge gamble given how much of the club's success is predicated on starting pitching.

Actually, it may be more likely that Williams deals Molina than the other way around; he hasn't been shy about trading both established pitchers and pitching prospects to help the major league team in the past, dealing James Baldwin, Keith Foulke, Frank Francisco, Jon Rauch, Esteban Loaiza, Gio Gonzalez, Damaso Marte, Brandon McCarthy, Jon Garland and many more over the course of his long tenure with the Sox.

In short, as good as the White Sox have looked so far, as much as the revived Dunn helps give the lineup a potency that the club wasn't expected to have at the start of the season, their chances of winning the AL Central rely on maintaining their current state for the rest of the season. None of the elements in place can falter, and some of the laggards are going to have to get hot. As long as the Tigers are scuffling, there's a chance that it will happen, but we would be wise to hold on to our skepticism for a while longer.