Real Madrid vs. Bayern Munich Highlights: Germans in Driver's Seat for Euro Cup
April 25, 2012

Shaun Botterill/Getty Images
It took Real Madrid and Bayern Munich 210 minutes across two matches, plus a round of penalty kicks, to decide which side would return to Allianz Stadium to face Chelsea in the 2012 UEFA Champions League final.
But, after a tense shootout, Bayern emerged victorious, and will return to their home ground for their first crack at the European Cup since losing to Jose Mourinho's Inter Milan side in 2010.
David Alaba and Mario Gomez put Munich up 2-0 on penalties after consecutive stops by Manuel Neuer on Cristiano Ronaldo and Kaka. Whiffs by Toni Kroos and Philip Lahm, along with a slot home by Xabi Alonso gave Madrid some life, until Bastian Schweinsteiger finished it off after Sergio Ramos sent his attempt high.
Like their Clasico rivals Barcelona on Tuesday, Los Blancos erased their one-goal disadvantage early on, with a pair of scores by Cristiano Ronaldo in the first 14 minutes. Ronaldo slotted home the first on a penalty kick awarded in the fifth minute for a (questionable) handball by Bayern's David Alaba on a long pass into Angel Di Maria.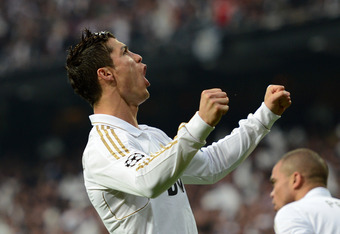 Jasper Juinen/Getty Images
The second was almost as simple for Cristiano, who took advantage of some poor Munich defending and a lovely pass from Mesut Ozil to give Madrid a decisive lead on aggregate at the 14-minute mark.
Alaba will miss the Champions League final 
That luxury didn't last long, though. Bayern earned a penalty all of 13 minutes later when Pepe was booked for taking down Mario Gomez in the box. Arjen Robben squeezed the shot just inside the left post, barely past the outstretched hands of Iker Casillas.
Robben's goal pulled the two clubs even at 3-3, with any advantage for away goals effectively nullified.
The pace of play slowed down considerably in the second half, presumably on account of Madrid's tired legs following a physically and mentally draining match against Barca this past weekend.
Gomez had a golden opportunity to put Bayern back ahead in the 86th minute, but took too long to get a shot, allowing Sergio Ramos enough time to block it away.
Shaun Botterill/Getty Images
The first 15-minute extra period was largely subdued, as Los Blancos continued to lack the same spunk on the attack that gave them the early advantage.
Kaka had an excellent chance to put the game away in the 112th minute, but failed to make a decisive move in time. He eventually managed to get the ball to Esteban Granero, who came on for Ozil just moments prior, though the Spaniard could do little with the ball before getting booked for a dive next to Neuer.
As a result, Bayern will move on to face Chelsea for the right to hoist the European Cup. The Blues battled their way to the final against defending champions Barcelona. A 1-0 advantage at Stamford Bridge allowed Roberto Di Matteo's men to park the bus in front of Petr Cech for most of the return leg at the Nou Camp.
A pair of goals in the latter stages of the first half by Sergio Busquets and Andres Iniesta changed the tenor of the tie considerably, as did John Terry's sending-off in between.
But a surprising chip by Ramires on a brilliant lob in from Frank Lampard shifted the odds back in the Blues' favor shortly thereafter. Chelsea spent the entire second half bunkering down with 10 men, before Fernando Torres, of all people, sealed the deal with a breakaway goal in stoppage time.
Both Bayern and Chelsea figure to field subpar sides, particularly in defence, with Alaba, Luis Gustavo and Holger Badstuber out for the hosts and Terry and Ramires disqualified for the visitors.
Of course, the fact that Chelsea won't have a goal advantage on which to rest should open the game up a bit more regardless.
Still, the Blues will need something on par with a miracle to steal the Cup from Bayern in Munich, especially with the likes of Gomez, Schweinsteiger, Robben and Franck Ribery putting pressure on the Blues' back line at every turn.
Then again, the same could've been said for Chelsea against Barca, and against Napoli before that, and following the sacking of Andre Villas-Boas.
Lady Luck has smiled on Stamford Bridge since then. The West Londoners will need her to be just as kind, if not more so, in the Champions League final on May 19th.