Ryan Zimmerman: Will Shoulder Injury Derail Potentially Historic Nats Season?
April 25, 2012
Greg Fiume/Getty Images
The Washington Nationals were projected by many baseball writers (including this one) to compete for a wild-card playoff spot and perhaps even the NL East title. 
But even with such expectations, the Nats have been one of the most—if not the most—surprising teams in baseball. Davey Johnson's club has compiled the best record in the National League, and the second-best mark in all of baseball, with a 13-4 record going into Wednesday night's play. 
What's most impressive is that the Nationals have done this despite dealing with several injuries since spring training. But they're now confronted with an injury to their cornerstone player, one which might be the tipping point for a promising season.
Third baseman Ryan Zimmerman has been fighting a right shoulder injury that's kept him out of the lineup since Apr. 20. It's not known exactly how the shoulder was hurt, as the Washington Post's Adam Kilgore explains, but it might be a cumulative injury. He jammed the shoulder several times recently while making diving stops on defense, and diving into home plate to try and score a run on Monday surely didn't help matters.
Zimmerman underwent an MRI exam Tuesday afternoon, and Johnson told reporters that he was hearing that the results were "not real favorable." 
Fortunately for the Nats, Johnson is not a doctor. The Washington Times' Amanda Comak reported via Twitter that the MRI revealed no structural damage. However, there is inflammation in the AC joint of the shoulder, and that could still send Zimmerman to the disabled list. 
Can the Nats sustain losing Zimmerman for an extended period, even if the injury isn't as serious as originally feared? Obviously, they're a better team with him in the lineup. But Zimmerman hasn't exactly been mashing the ball all season. 
Strangely, the sore shoulder doesn't hurt him when he throws. Zimmerman says he feels the injury when he hits, particularly when he makes contact. 
If that's the case, Zimmerman was fighting through the pain impressively. Before sitting down, he hit 6-for-19 (.316) with one home run and five RBI in his last five games. 
But even with that recent surge, Zimmerman is only batting .224 with an OPS of .668. The Nats have sprinted out to their great start without much production from one of their best hitters. Outstanding pitching is what has pushed this team to the top.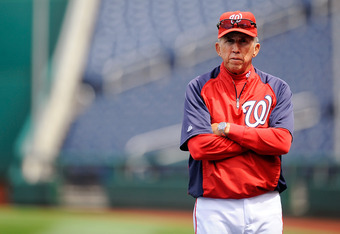 Patrick McDermott/Getty Images
So that bodes well for staying competitive in the short term. Johnson's plan is to rotate several players at third base in Zimmerman's absence. 
Steve Lombardozzi replaced Zimmerman on Tuesday night and batted 0-for-2. While he likely won't be a full-time player, Lombardozzi has been one of the Nats' best hitters since spring training and Johnson has been looking for ways to get him in the lineup more. 
If Zimmerman does have to go on the DL, Johnson told reporters that Mark DeRosa and Chad Tracy will also be in the mix. Considering that those two are hitting a combined .125, Johnson is probably better off sticking with Lombardozzi. 
However, Zimmerman apparently won't be out as long as closer Drew Storen or outfielder Michael Morse, each of whom are likely gone until midseason. 
The Nats appear to have dodged a bullet that would have knocked their season off track. And if rest allows Zimmerman to recover and perhaps clear his head, this could turn out to be a fortunate development in the long term. 
Follow @iancass on Twitter.