Norwich City vs. Liverpool: Preview, Live Stream, Start Time and More
April 25, 2012
Richard Heathcote/Getty Images
Liverpool are in a fierce battle for the seventh place in the Premier League.
Norwich City are sitting comfortably at the 13th rank, not in danger of dropping from the championship race in the English football league system's second-strongest division overall. They could jump about three spots, as the point difference between the teams in the middle of the table is four points.
Norwich want to win and improve their rank so that they can prove that they are in fact better than the other newbie in the Premier League—Swansea, who are just one spot higher, also with 43 points.
Here is the breakdown of the Norwich City vs. Liverpool matchup.
Where: Carrow Road Stadium, Norwich, England
When: Saturday, April 28, 12:30 p.m. EST
Watch: Fox Soccer Channel
Last Time the Two Clubs Met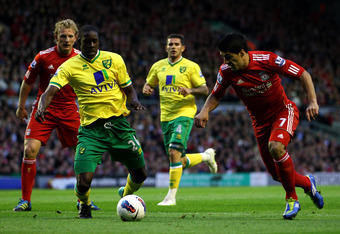 Richard Heathcote/Getty Images
The Reds and the Canaries tied in October, finishing 1-1 at Anfield. Grant Holt came in as a substitute to rescue the team from a wasteful Liverpool.
In fact, in the last four games the two teams played at Carrow Road, Liverpool have won twice, lost once and drawn once.
Liverpool is the better team, winning five of the last nine meetings between the clubs. They lost only twice.
Norwich City's Strength
Norwich continually change their system routine and tactics. They keep their opponent guessing. That's one reason why, as a newly promoted team, they have been doing well in the Premier League.
Manager Paul Lambert is not afraid to experiment, but he doesn't do it just for the sake of it.
Liverpool's Strength
Liverpool lacks depth as a team, but has terrific individual players. Midfielder Steven Gerrard has proven many times that he can single-handedly lead the Reds to victory.
Luis Suarez and Andy Carroll have often been criticized, but they seem to be on a road to recovery after scoring against local arch-rival Everton, and helping to win the FA Cup semifinal.
Prediction: Liverpool 2, Norwich 0
Liverpool plays away, and this could be a problem for them. Nevertheless, I don't think they'll give in. The match is a week before the FA Cup Final against Chelsea, which is the real game Liverpool manager Kenny Dalglish needs to worry about.
Liverpool will take it easy, but they won't allow a second consecutive loss three games before the end of the regular season.
Norwich City have not won at Anfield, according to Scott Murray from The Guardian, since Jeremy Goss scored the last goal in front of the Kop at the tail end of the 1993-94 season.
I like underdog stories, but I just don't see one here.