Carl Crawford: Latest Updates on Red Sox Star's Elbow Injury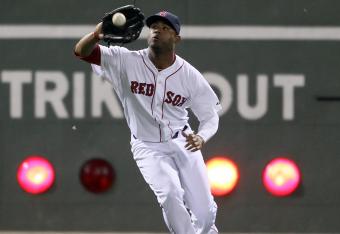 Elsa/Getty Images
The 2012 season for the Boston Red Sox was supposed to be all about redemption and turnaround. However, now it's about survival of the fittest.
The Red Sox opened spring training down two starters already with both Daisuke Matsuzake and John Lackey recovering from Tommy John surgery. Before camp broke, they lost new closer Andrew Bailey to thumb surgery, and just a few games into the regular season, Jacoby Ellsbury, last year's AL MVP runner-up, went down with a shoulder dislocation.
In addition, one of last year's prized free agent acquisitions, left fielder Carl Crawford, was already on the shelf at the beginning of the season after wrist surgery in January. Crawford began working his way back through extended spring training, but started experiencing soreness in his left elbow two weeks ago.
So, if all that news wasn't depressing enough for Red Sox fans, it's now being reported that Crawford will seek a second opinion after returning to Boston to have his elbow examined on Tuesday morning.
According to Sean McAdam of CSNNE.com:
Carl Crawford, still experiencing soreness in left elbow, will visit Dr. James Andrews soon. Exact date not known. #RedSoxTalk

— Sean McAdam(@Sean_McAdam) April 25, 2012
ESPN's Buster Olney confirmed Crawford's upcoming visit as well:
Carl Crawford's lingering elbow trouble means he is not close to coming back; he's had pain only when he throws. Going to see Dr. Andrews.

— Buster Olney (@Buster_ESPN) April 25, 2012
Crawford's targeted date for return was May 1, however, that certainly seems to be in jeopardy at this point.
At least one fan pointed out that visits to Dr. Andrews never seem to end well in terms of good news:
@Sean_McAdam when was the last time someone visited Dr. Andrews and came back with good news, see you in 2013 Carl! #RedSoxTalk

— Arthur Rogan (@Rogie21) April 25, 2012
According to Sox beat reporter and ESPNBoston writer Gordon Edes, GM Ben Cherington said that Crawford was seeing progress, but pain was lingering.
Cherington says "likely" Crawford to see Dr James Andrews. Elbow "improving but still sore"

— Gordon Edes (@GordonEdes) April 25, 2012
We will continue to provide updates on this developing story as news breaks, so check back regularly.
So now we have it, and the news out of Boston is worse than previously thought.
Nick Cafardo of the Boston Globe reported that Red Sox left fielder Carl Crawford will likely be out of action until at least early August.
Looks like Carl Crawford will miss three months. Sox issuing press release shortly on details.

— Nick Cafardo (@nickcafardo) April 26, 2012
The news was also confirmed by ESPN's Pedro Gomez, who was told through a source that Crawford will need at least three months to rehab a partially torn ulnar collateral ligament in his left elbow.
Crawford has opted for rehab rather than having surgery, which would likely end his 2012 season before it ever started.
To say that Sox fans are rather disheartened by the news would be a complete understatement.
@nickcafardo Here are the only details you need to know: The Sox blew $142 million on him. Next.

— Ed Hannan (@ehannan73) April 26, 2012
Danny Knobler of CBSSports.com opines about the value of Crawford's contract with the latest news.
The gamble on Crawford contract was supposed to be years 6 and 7. Now, it's been awful in years 1 and 2. cbsprt.co/Kf1MC1

— DKnobler (@DKnobler) April 26, 2012
One really can't even debate that point right now.
In light of the ongoing health issues of Boston Red Sox left fielder Carl Crawford, Twitter has been abuzz with several comments, rants and thoughts concerning the embattled speedster.
One tweeter in particular brought up the fact that maybe Sox principal owner John Henry was correct in February 2011 when he was caught on radio saying that he opposed the signing.
So wait...John Henry was RIGHT?? about Carl Crawford?? #RedSox

— Mark Murin (@markmovies2) April 26, 2012
Of course, Henry later apologized to Crawford, saying that his comments were taken out of context.
Another tweeter is starting a new contest centered around Crawford's health.
I'm 2.57 seconds away from starting a "Guess Carl Crawford's Mysterious Injury This Week!" betting pool. Winner gets $142 mil over 7 years.

— NotWallyTheGreenMons (@NotWallyGM) April 26, 2012
And of course, another tweeter chimed in on the state of guaranteed contracts in Major League Baseball.
bit.ly/IUqhFO . carl crawford Change Major League Baseball Contracts to Incentive Based

— Dane Boyer (@6eusenpai) April 26, 2012
Um, yeah, like THAT will ever happen.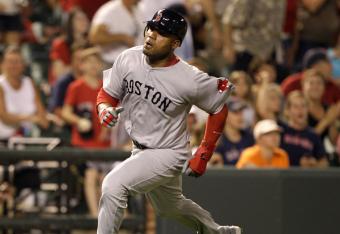 Count ESPN's Buster Olney among those who believe that Boston Red Sox left fielder Carl Crawford will be sidelined for a lot longer than originally anticipated.
Olney tweets: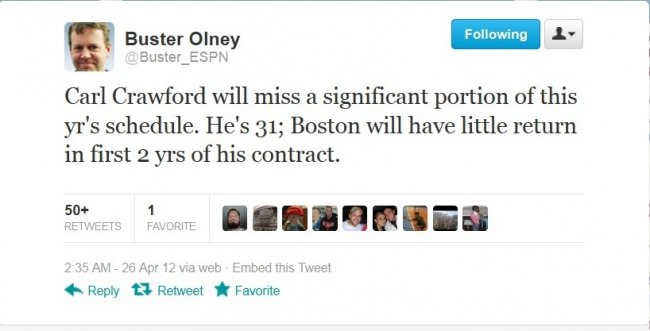 The Sox have been mum about Crawford's anticipated trip to see Dr. James Andrews regarding his ailing elbow.
With Crawford, Jacoby Ellsbury and Jason Repko all on the disabled list, the Sox outfield corps is certainly running thin, so fans are hungry for any news regarding the state of Crawford's elbow at this point.
According to the Boston Globe's Nick Cafardo, Carl Crawford's elbow injury could be worse than feared.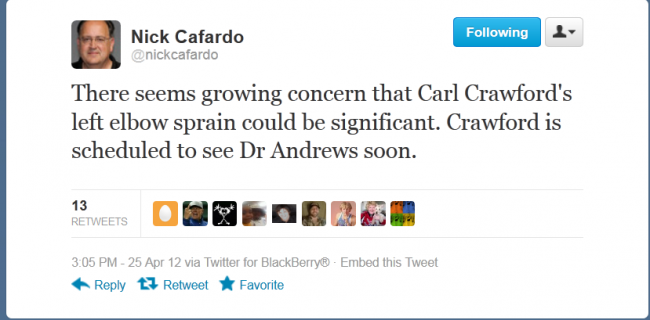 There has been no news about exactly when Crawford will be paying a visit to Dr. James Andrews other than sometime in the very near future. We'll keep you informed when that news is made available.
In the meantime, Cody Ross has proven to be a more than capable replacement, hitting .263 with five HR and 13 RBI in 16 games. Right fielder Ryan Sweeney has done his best to pick up the slack as well, hitting .392 on the young season thus far, leading the league with nine doubles.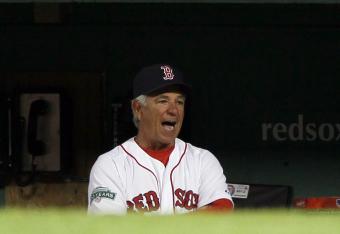 In what can only be described as a "curious" comment regarding the condition of Boston Red Sox left fielder Carl Crawford's left elbow, Sox manager Bobby Valentine was decidedly confusing regarding his thoughts about his injured star.
"It's always serious, the way I look at it,'' Valentine told ESPNBoston.com's Gordon Edes, "but it doesn't seem major.''
Okay, maybe I'm just not awake enough and am in need of a second pot of coffee. But isn't anything serious fairly major by comparison?
According to an earlier update that described Crawford as not being able to throw beyond 15 feet without experiencing pain, that would seem to qualify as fairly major to me.
At least one Tweeter offered his take on how Crawford could possibly put his elbow to better use.
Carl Crawford can talk to Metta World Peace if he needs pointers about how to better use his elbow...#RedSox #MLB

— Danny Williams (@TweetsDanny) April 25, 2012
I'm not quite sure how that would help to heal Crawford's elbow, though.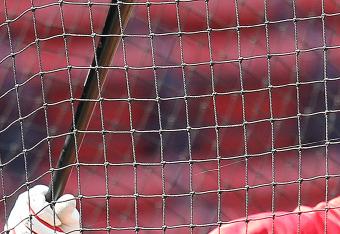 To give you an indication of just how serious the elbow soreness is that Carl Crawford is experiencing right now, witness this recent tweet from Mike Mutnansky of Boston radio station WEEI:
Buster Olney just told us his sources tell him Carl Crawford "is experiencing pain trying to throw the ball over 15-feet." #wellthen

— Mike Mutnansky(@MutWEEI) April 25, 2012
Now, I'm no doctor, nor do I play one on Bleacher Report. However, anyone with half a brain can't be encouraged by that news in any way.
Crawford suffered through the worst season of his career last year after signing a seven-year, $142 million contract with the Red Sox, hitting just .255/.289/.405 with only 18 stolen bases. In Crawford's absence, Cody Ross has seen the bulk of playing time in left field. Now, with both Jacoby Ellsbury and Crawford on the shelf, GM Ben Cherington made a deal with his former boss in Chicago, Theo Epstein, obtaining center fielder Marlon Byrd to help fill the void.
This article is
What is the duplicate article?
Why is this article offensive?
Where is this article plagiarized from?
Why is this article poorly edited?

Boston Red Sox: Like this team?