Kevin Love: Why Twolves F/C Is the Most Complete Player in Western Conference
April 25, 2012

When it comes to all-around players in the NBA's Western Conference, Minnesota Timberwolves forward Kevin Love takes the cake.
He may play for a team with a losing record.
He may no longer be in contention for the 2012 MVP award.
He may even need to bolster his defense a bit.
However, Love still comes out as the most complete player in the Western Conference, and there are a few categories with which to measure this claim.
Point Totals
Love averages 26 PPG.
Certainly, there are players who have a higher shooting percentage than the fourth-year forward out of UCLA. However, when evaluating the package as a whole, Love proves to be more consistent.
Love connects on 45 percent of his shot attempts, not too shabby in itself. The number is more impressive, though, when considering that he ranks No. 2 in minutes per game at 39. Love entered this season 25 pounds lighter and more quick on his feet. He's able to play almost the entire 48 minutes and keep his percentage stable.
Points win games, and Love definitely doesn't disappoint in this area.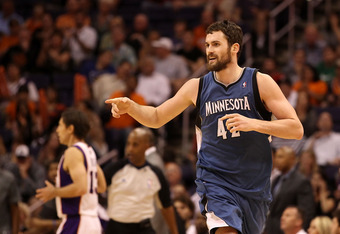 Christian Petersen/Getty Images
Free-Throw Line
Love proves reliable for Minnesota at the free-throw line, landing an impressive 83 percent of his attempts.
Even some All-Stars who make the highlight reel week after week—ahem, Blake Griffin—perpetually struggle at the line.
Love shoots incredibly well for a big man, and the Wolves can count on him to make those crucial free throws during crunch time.
Three-Point Line
Most people wouldn't expect a player of Love's build and position to excel from downtown, but he knocks them down with regularity.
Not to mention, the former Bruins star took home the trophy for the three-point competition over the 2012 NBA All-Star weekend.
Rebounds
It's no secret Love currently ranks No. 1 in the league in double-doubles, and his rebounding, especially, holds the record strong at 48 games (five ahead of Orlando's Dwight Howard).
Love cleans the boards with efficiency, averaging 14 rebounds a night.
Love ranks No. 2 in the league for rebounds—behind Howard with 15—and Griffin comes in at No. 6.
Conclusion
A lot of people criticize Love's defensive play, and that argument may be valid—to a certain extent. At 6'10", the forward/center should be expected to get more blocks than he does. Though he's improved this season, he needs to be more aggressive in the post.
On the other hand, Love makes his defensive presence known by grabbing 9.2 defensive rebounds per night to add to his four offensive rebounds.
His low block totals are the only fault I find against the Minnesota forward, and these four categories he thrives in make him the most well-rounded player in the West.