BCS Leaders Are Wise to Eliminate Conference Championship Mandate in Plus 1
April 25, 2012

Kevin C. Cox/Getty Images
The future of the college football postseason is going to be shaken up, and this week's BCS meetings in south Florida will provide fans with an idea of how things will look in 2014 and beyond.
While no firm decision will come out of the meetings, leaders hope to have rough outlines of a few formats to tweak before finalizing the format this summer.
An ESPN.com report by Mark Schlabach made headlines on Tuesday when it was revealed that the proposal to play semifinal games on campus was "all but dead." 
It certainly would be a home-field advantage for the higher seeds, and fans in northern cities have always complained about bowl games being played in southern cities.
Disappointment is understandable, but it's a business, and I certainly understand why the power brokers passed on pageantry in favor of the almighty dollar.
While the semifinal structure made headlines, it wasn't the most important piece of information in the report.
The big news in the report is that the proposal that would mandate that playoff participants be conference champions is also "all but dead." 
The source said a proposal that would require teams to win their respective conferences to participate in a playoff is also all but dead. Under that proposal, Alabama, which didn't win the SEC last season but defeated No. 1 LSU 21-0 in the Jan. 9 Allstate BCS National Championship Game, wouldn't have been eligible for the playoffs.
A round of applause for the decision-makers.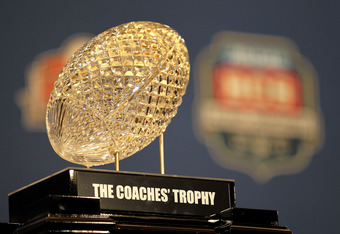 Andy Lyons/Getty Images
Winning your arbitrarily determined conference does not make a team national-championship worthy. A team's resume throughout the season makes it national-championship worthy.
If we had a four-team playoff that reserved spots for conference champions in 2011, No. 1 LSU would have played No. 10 Wisconsin and No. 3 Oklahoma State would have played No. 5 Oregon.
Nothing against Wisconsin. The Badgers were two plays from being undefeated. But losses are losses, and they didn't deserve a shot at the national title.
It's pure speculation on my part, but I think that voters would have moved Oregon ahead of Stanford last year if this system existed, since Oregon beat Stanford 53-30 in Palo Alto.
You tell me. Is the scenario described above a better solution than debating over which one-loss team—Alabama or Oklahoma State—was more worthy to play then-undefeated LSU in the Superdome?
Absolutely not. Wisconsin was good enough to win two games last season in this hypothetical playoff and take home the crystal football, but it simply didn't earn it during the regular season.
College football leaders appear to have chosen merit over access. For that, they should be applauded.